Restaurant Review: Hugo's Bistro, City
Hugo's is a great option for inner-city diners, finds Jesse Mulligan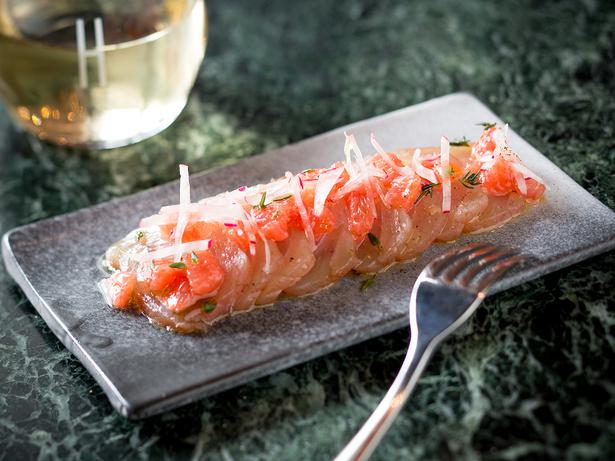 Wednesday Sept. 13, 2017
Cuisine: Modern bistro
Address: 67 Shortland St, City
Phone: (09) 320 4387
Drinks: Fully licensed
Reservations: Accepted
From the menu: Kingfish $14, capsicum $14, salt fish fritters $13, brisket $24, veal schnitzel $32, pear and gingerbread pudding $15
Rating: 7.5/10
For most of us, the city is a fun place to dip in and out of, but for the lawyers and money men who have to spend 60 hours a week trudging about the CBD, life is immeasurably improved by a good new restaurant — particularly one that serves three meals a day.
"First class porridge!" was the early report on Hugo's from a share-trading friend whose job I don't fully understand. In fact, I spent 20 minutes staring at his text message thinking it was a stock tip, but it turns out he was just really happy to have somewhere reliable on upper Shortland St for breakfast.
READ: Discover This Inner-City Garden Bar
Hugo's definitely gives off the "reliably excellent" vibe, and its prospects were improved further when I found out that it's owned by the people behind Odettes, a huge and beautiful cafe/restaurant in the City Works Depot complex on Nelson St.
Odettes still feels new though it must be three years old at least, and despite the food being a touch cheffy for my tastes in the day time, it must be the single best place in Auckland to meet a client for coffee.
Some days you walk in there around 10am and every one of the 40 or so tables is hosting a business meeting. Is this an advertisement for today's ultra-flexible work environment, or a sign that nobody's doing anything in 2017 besides drinking macchiatos and gossiping?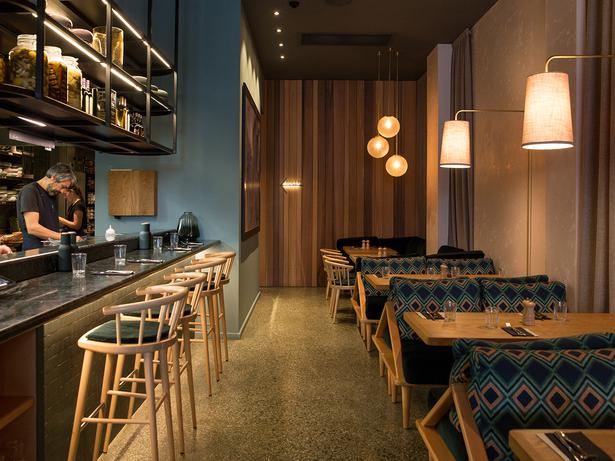 So how good is Hugo's, the little brother up the road? Good enough to come back again for porridge, definitely, though on my visit slightly off the pace when judged purely as a restaurant.
We'll come to the food but first there's a small problem with the layout — long and thin with the tables lined up next to each other along one wall. As well as the person across from you, you can hear at least two other people talking loudly at any given time.
They're close enough to hear but, sadly, not far enough away to mock. Thus one of the great joys of dining out is removed from the experience — when the woman next to me asked the waitress, "Is the gingerbread pudding gluten-free?"
READ Restaurant Review: Namo, Ponsonby
I daredn't even roll my eyes, and was forced to wait until the Uber ride home before observing, drily, "Well there's a bit of a clue in the name of the dish".
The wine list is good though the beer list isn't, which seems unbelievable given the number of overpaid IPA bores working in the immediate vicinity. I got a good Sawmill Pilsner on tap but everything else was generic corporate "craft" beer, the sort of thing you'd buy at Thames Pak'nSave when Waikato Draught was your only other option.
The menu choices are mostly tasty twists on standards, a selection of small plates for sharing and then some bigger dishes which act as mains.
One favourite from those tapas was the capsicum, grilled, peeled and stripped then served with goat's cheese and smashed almonds — with beautiful ingredients like that, simple is good. A kingfish "pancetta" had a bit more to it — the fish salted and rolled like its porky Italian namesake then topped with tiny diced grapefruit.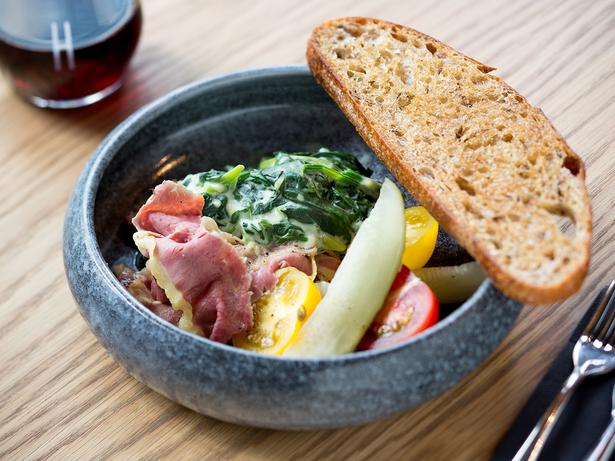 A lot of work goes into the food — even a simple croquette involves hours of salting a bluenose fillet, rinsing it in milk, simmering it with potatoes then passing it through a mouli, cooling it, crumbing and deep-frying it.
But complexity should always be in pursuit of flavour and, at least on the night I visited, the fish was a little absent on the palate, a saffron aioli adding a nice colour but little taste.
I had a nice brisket dish, brined and smoked then sliced thin and fried. I couldn't pick the Dijon mentioned on the menu but the creamed spinach on top worked all right, I just wish they'd served it with something more exciting than quartered tomatoes and halved gherkins.
READ: 12 Spots with Cosy Booths
It seemed so primitive given all the prep that went into the rest of it. A veal schnitzel was good, the usual crumb almost a bubbly batter and the pale meat contrasted with dark mushrooms and a deep jus. It could have used a little more oomph but the parmesan set it off nicely, and if it had an egg on top like they do at The Engine Room I would have been really happy.
So I reckon I was probably unlucky to be underwhelmed. The service was unimpeachable and perhaps I would have left much happier if I'd ordered differently and hadn't had to sit through someone else's Tinder date.
That gingerbread pudding, by the way, is the best thing I ate all night. I recommend my gluten-free neighbour return for it in the future should her condition ever improve.
Share this:
More Food & Drink / Dining Out