Restaurant Review: Janken, Herne Bay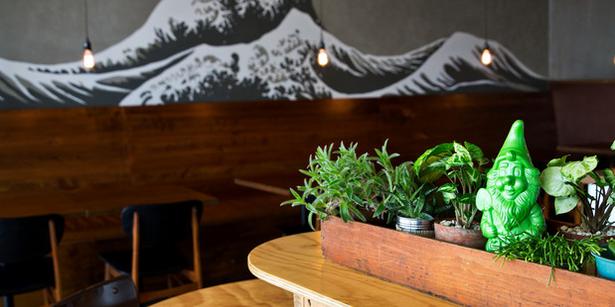 Wednesday Feb. 4, 2015
Address: 158 Jervois Rd, Herne Bay
Phone: (09) 360 0555
Cuisine: Japanese
From the menu: Pork belly buns $10.50, Portobello tsukune $15, Saikyo sweet miso salmon $14, Soba noodle salad $14, Crockpot chicken $26, Seafood miso nabe (hotpot) $27, Carrot dressing salad $12.50, Chicken sushi $17, Dark chocolate cake $14, Blueberry cheesecake $14, Coconut icecream $8.
Drinks: Fully licensed
Rating: 8/10
I've been missing out big time. Since Janken opened over a year ago, every time I've driven past the small nook of an eatery on Jervois Rd, it's looked so busy that I figured I'd be in for a long wait for a table. But with Auckland still somewhat emptied out, and trying to stay resolute in my intention to eat healthily, it was time to pay a visit.
What I hadn't realised is that Janken bucks the trend and takes bookings which, for our group of five, saved us from having to chance it. What a wonderful way to start a night out - knowing you have a table. I'd almost forgotten what it felt like.
The design and fit-out of this casual Japanese eatery is cute and interesting with golden wood and gleaming tiles, stylised murals and old-fashioned maps adorning the walls. Rustic pavement seating resembles old wooden crates and, inside, a communal table is in the mix.
It may be small but, somehow, Janken manages to feel fresh and spacious.
The evening menu is full of pleasant surprises in what it includes - steamed buns, crockpots and hotpots - and what it leaves out. There is no predictable tempura or stodgy donburi, and sushi options are concise. The focus is on organic produce, with plenty of gluten-free and vegetarian dishes. I'm sure I wasn't the only person at our table to spy the decadent selection of desserts too, all claiming to be "macrobiotic". That means they're healthy, right?
We started with steamed buns - milk buns made in-house - which arrived warm and smeared with hot wasabi, and bursting with lettuce, carrot and a decent slab of dark, soy-glazed and caramelised free-range pork. Scrumptious.
For a hot, sticky Auckland evening, we found ourselves tucking into dishes that might have been more apt for cooler days - a seafood hotpot served on its own tray with a small cast iron pot of bubbling broth cooking prawns, scallops and more.
This was accompanied by a bowl of udon noodles and fresh salad, and a chicken crockpot of soft, succulent thighs in a light teriyaki gravy, which was just sweet enough without being cloying. Dark, flat, meaty portobello mushrooms came stuffed and roasted. They were moist, rich and flavourful and their subtle, soothing flavours hooked us in.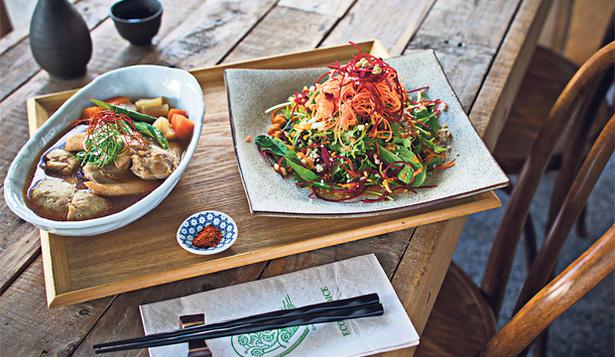 There was plenty to freshen things, like the delightful salad of greens, quinoa and pine nuts, all tangled up with bright tangerine ribbons of carrot and dressed with a gorgeous concoction of carrot pulp and miso.
A cooling udon salad was crammed with avocado and crisped tofu on chilled buckwheat noodles and dressed with light, tasty dashi and soy.
Another dish seemed to typify Japanese food with its simple form and clean flavours: a slender salmon fillet marinated in white miso over two days then grilled briefly and served naked but for two perfectly steamed green beans.
As always with Japanese cuisine, the aesthetics and presentation are paid as much attention as the food. Dishes are enhanced by being served on beautiful ceramic plates or in gently curved bowls. Chopsticks rest on gracefully indented pebbles, serving utensils are slender, perfectly hollowed wooden spoons.
Eating at Janken leaves you feeling virtuous.The kitchen has a philosophy of sourcing organic and free-range produce where it can and this extends to the drinks list, which includes a selection of organic wine, beer and sake plus a variety of organic Japanese teas and cold-brew coffee.
Of course the desserts are healthy - they're free from flour, eggs, white sugar and dairy. How could we resist the coconut icecream, served in small glasses with meticulously cut fresh fruit, a perfect wedge of rich, dark chocolate cake and a serving of blueberry cheesecake? We couldn't, and they went down a treat.
They may be missing some of the current "baddies" of the food world, but I've no doubt they still trebled the calorific intake of our meal. We didn't care as eating at Janken had left us feeling uplifted and delighted, nourished and replenished. All we could think of as we emerged into the cool breeze was when we'd return for more.
Share this:
More Food & Drink / Dining Out