Restaurant Review: Kazuya, Symonds St
Some things in life are worth splurging on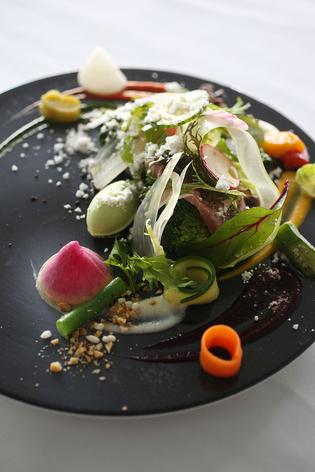 Cuisine: Fine dining
Address: 193 Symonds St, Auckland
Phone: (09) 377 8537
Bookings accepted
Website: kazuya.co.nz
Drinks: Fully licensed
From the menu: Seven-course tasting menu, $100
Rating: 9.5/10

You may notice a certain … price-consciousness creeping into these reviews over the coming months as the money starts to run short in the Mulligan household. I've always preferred to earn much more than I spend, so that I can go on holiday at short notice or buy the kids a pony if they ask for one, but I took some financial advice recently and it appears I'd be better using this spare money a bit more wisely, lest I get to age 65 with nothing in my retirement fund but a well-stamped passport and three elderly ponies.
As I hunt through my monthly budget for extravagances, the Sky TV bill looks very conspicuous. We hardly watch the Sky channels, though I would miss the MySky machine which we use to tape stuff for later ("why do you call it 'taping'?" my 5-year-old is bound to ask me at some point). Still, you take my point — when my children grow up and start asking about their inheritance what am I going to tell them? That for 20 years at the turn of the century I spent $100 a month on the privilege of pausing the news?
So maybe once Game of Thrones is over I'll cancel and start spending that money on things I actually enjoy. Even luxury needs to have value, which brings me to Kazuya, a fine dining restaurant where your meal will cost you $100, but where you'll get more for your buck than anywhere else in the city.
READ: Restaurant Reviews by Jesse Mulligan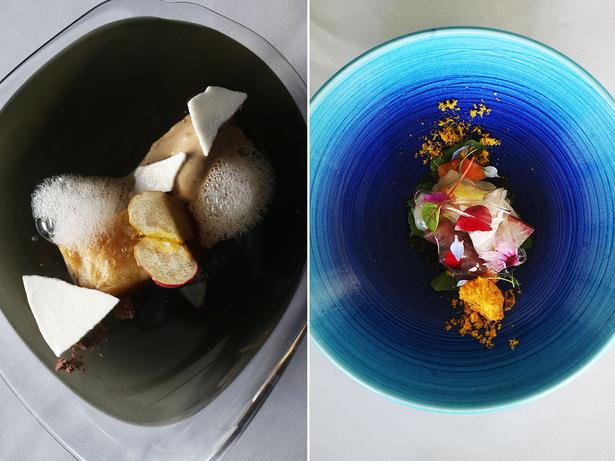 Do what the table next to me was doing and compare it to, say, Jervois Steak House, where a typical three-course experience will cost the same amount. Now I like JSH, but if you're dropping an Apirana Ngata on a special night out look what you get at Kazuya (clears throat): amuse bouche, fresh bread, seven courses of food, a palate refresher course, a bonus pre-dessert and petit fours.
Also, it's cooked by one of the city's most awarded chefs and delivered with old-school charm by a young man in white gloves, and you get a little present at the end.
This week is Viva's art issue and aside from Sidart, previously lionised in these pages, Kazuya makes Auckland's best claim to being "art on a plate". Actually since I last visited, chef Kazuya has started designing his own plates, too. They're so beautiful he could put a mince pie on one of them and they'd still look like they belonged on a plinth at the Dowse.
But of course the food is stunning, to look at and to eat. Each dish was just a few mouthfuls and very light — not the usual degustational trudge through duck/venison/beef but half a dozen vegetarian and seafood delicacies, finished with a satisfyingly substantial eye fillet.
They've totally nailed the visual aspects of the meal, which comes in a variety of shapes, colours and forms.
First a yolk-like spheroid of pumpkin and ginger soup suspended in fine jelly on a flat spoon; then tiny loaves of bread in a wooden box with a cylinder of butter on a marble slab; then a triangular glass containing, from bottom to top, mussel and clam, onion puree, soy caramel and clam foam.
The fourth thing they bring to your table is finally on a plate, if you can call it that — a handmade, chef-designed bright blue glazed disc, on which sits tuna, kingfish and scallop sashimi under a delicate blanket of champagne vinegar gel, a subtly citric freeze-dried mandarin providing orange colour contrast to the azure dishware.
This course is a good indication of the food here, which has strong influences from both Europe and Japan.
READ: Restaurant Review: Sidart, Ponsonby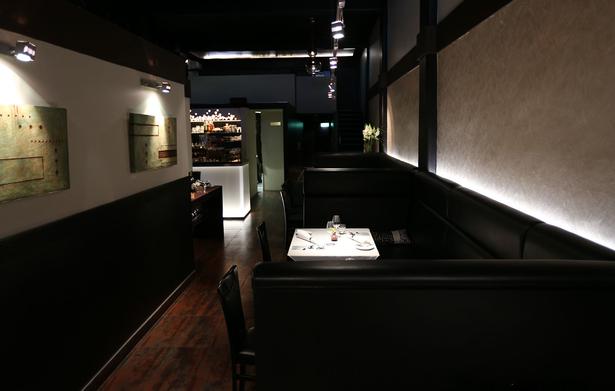 Later comes the chef's masterpiece: a plate displaying 30 different vegetables, each prepared in a different way. Some are just fragments — a slivered cross section of fennel, or one solitary brussels sprout leaf. Kazuya must baffle its suppliers: "yeah we've got a full house tonight, Pete. We're going to need you to drop off a whole brussels sprout."
Service is outstanding — charming and precise — though I think they're missing their original maitre d', Mojo, a legend of Auckland hospitality, who has returned permanently to Japan to marry his sweetheart. Mojo wouldn't have needed me to spell out the wine I'd ordered, and when the women next to us asked for a recommendation he would have poured three tastings to choose between, not left them hanging.
I wonder if Mojo ever wakes up in the middle of the night in his apartment in Kanagawa and worries about the cheese trolley he so lovingly curated at Kazuya. Is it being kept at the right temperature? Are there enough different blues?
He is irreplaceable, but the perfection in the kitchen demands the same obsessive passion on the floor, and I think a confident new sommelier might be the last piece of the puzzle for Kazuya. Nonetheless, dining here is an almost flawless experience. Go here before you die — or at least before you retire.
Share this:

More Food & Drink / Dining Out