Restaurant Review: Lantern Alley, K Rd
A K Rd newcomer is not quite up to scratch for Jesse Mulligan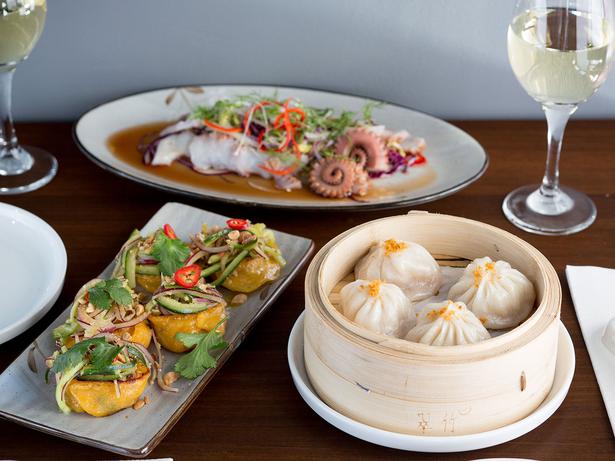 Wednesday June 21, 2017
Address: 258 K Rd
Cuisine: Chinese/Korean
Phone: (09) 366 3938
Drinks: Fully licensed
Bookings accepted
From the menu: Giant soup dumpling $10, roasted duck dumplings $10, brisket bao bun $8, scotch fillet $21, deep fried chicken thigh $10, duck stir-fry $23, assorted pickles $7
Rating: 5.5/10
When I ordered a chardonnay at Lantern Alley the waitress said, "Do you mean the viognier?" and I said, "Yes, the viognier" though I'm not quite sure why because I really did want the chardonnay. Perhaps she is a wine expert, I thought by way of justification. Then Jon ordered a merlot and she corrected his pronunciation with a firm "mer-LOTT", and I realised that perhaps she wasn't a highly-trained sommelier after all.
Given that the servers in dumpling restaurants can be openly hostile, it would be wrong to expect fine dining service at this low to mid-range restaurant on K Rd. Later we saw two of the waitstaff standing next to the kitchen openly smooching. You don't get that at The French Cafe (although like everything else it's probably available on request).
Still, a little more finesse would be nice. It's one of those places where, as customers, you sometimes feel like you're getting in the way of closing time. Certainly nobody looks delighted that you've chosen to eat here. They leave you alone as much as possible, perhaps afraid that if they're too nice to you, you may come back.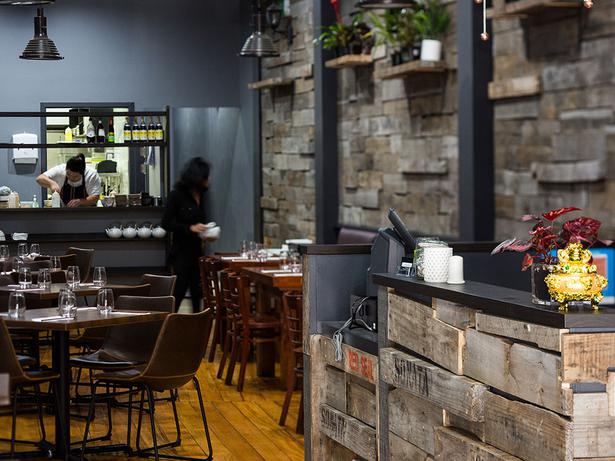 The centrepiece of the menu is a giant dumpling, which takes up the whole of the bamboo steamer. When you open it you feel a bit like Brad Pitt at the end of the movie Se7en. But inside it's not Gwyneth Paltrow's head — that would contain much less gluten — it's an oversize pastry dumpling filled with chicken and corn soup.
To eat it you each take a straw and poke it through the top so you can suck out the tasty innards.
But here's what you don't do: when you get bored of sucking you don't pick up the steamer and start picking away at the dumpling shell, because if you do at some point you will pierce the pastry floor with your fork and the piping hot broth will gush out, pour through the steamer vents and cover your table, soak your pants and foul your viognier, and your dining companions will yell: "WHAT ARE YOU DOING, IT'S GOING EVERYWHERE".
Order that dumpling for show but not for taste. The shell bears so much engineering weight it's almost inedible and although the soup was good, the corn kernels were undercooked. Better to go small and choose the duck dumplings, which are agreeably roasty inside and come with a fresh little Thai-style garnish on top.
The rest of the menu has a problem with flavour deficiency. Soft bao buns were filled with the tastiest cut of beef — brisket — but it was thin and dryish and had been cooked long ago. Scotch fillet was perfectly cooked but if it had indeed been "marinated in Galbi marinade" they need to work on a new technique of infusing the flavour into the meat.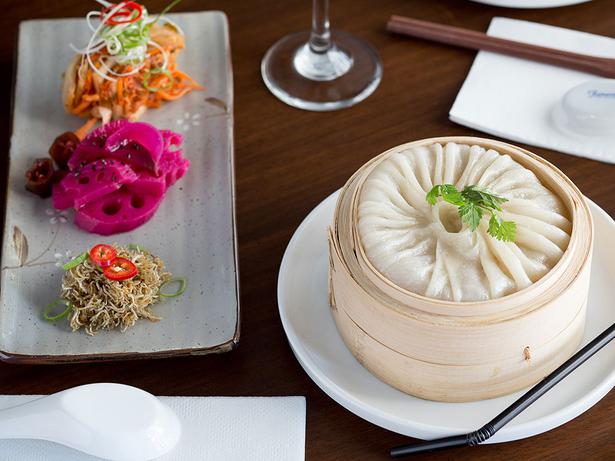 Deep-fried tofu-crusted chicken thigh was recommended but they'd got the temperature wrong because the skin was dark almost to burnt and the insides were the wrong type of juicy. Fortunately, it came with a passable Korean sweet chilli sauce, in which we dipped everything else to flavour it up.
On the bright side you can order a daily-changing dish of bright and delicious pickles, including a solid kim chi and a preserved, dried fish thing that will be too much for some but at least showed the chef isn't afraid of pushing the boat out.
A couple of days before our visit the restaurant closed temporarily so, according to their Facebook page, they could try out some new recipes. A refreshed menu was promised on the day we arrived but was still a work in progress and should be in action now.
There is no decent beer and a very limited winelist. This seems like a restaurant that shouldn't have opened, at least not yet. It will eventually, hopefully, find a home among K Rd locals who want a cheap tasty feed without fuss.
Until then two out of three isn't enough.
Share this:
More Food & Drink / Dining Out