Restaurant Review: Le Bistro Des Gourmets, Parnell
Jesse Mulligan bravely visits a French bistro that's delivering the real deal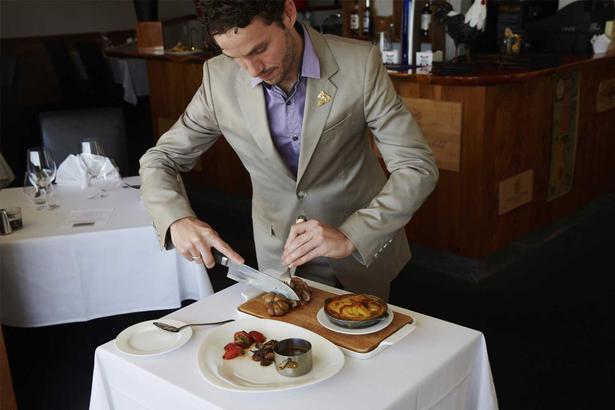 Wednesday May 16, 2018
Cuisine: French bistro
Phone: 09 374 3938
Address: 237 Parnell Rd, Parnell
Drinks: Fully licensed
From the menu: Pork terrine $16, Salad of gizzard and livers $15, Roasted fish and fennel $30, Roasted kidney $29, Lemon creme legere $15
Bookings: Accepted
Rating: 15/20
Score: 8-12 Disappointing, give it a miss. 13-15 Good, give it a go. 16-18 Great, plan a visit. 19-20 Outstanding, don't delay.

I risked divorce and cooked tripe over the weekend. We'd been wandering through an Asian supermarket, this crazy family of five, and while my wife picked through the shiitake mushrooms I spotted a honeycomb cow stomach in the chilled section and snuck it into our trolley beneath the dumpling wrappers. Two hours later it was bubbling away on the stove beginning the slow process of tenderisation.
"Why? That's what I want to know," said my wife as I studied the large organ bobbing and floating in the pot.
"It's high in selenium," I offered, but that wasn't it. Yes, offal is nutritious and, yes, you are on strong ethical ground by ensuring the cow didn't die just to give up its eye fillets, but there is something experimental, elemental about the idea of eating a mammal's innards.
RECIPE: Devilled Lamb's Kidneys with Cherry Tomatoes
I had this one Roman style with tomato, pecorino cheese and fresh mint, and if you are keen on exploring the quinto quarto or "fifth quarter" of the beast in your own time, I can recommend Katie Parla's Tasting Rome cookbook, which has all the best recipes for all the worst cuts.
Or you could eat at Le Bistro des Gourmets in Parnell, a beautifully authentic French restaurant run by beautifully authentic French people, where the star dish on the night I visited was an entire roast kidney, and yet the maitre d' was looking around his half-empty restaurant with a confused look on his face, like "why aren't we as busy as McDonald's?".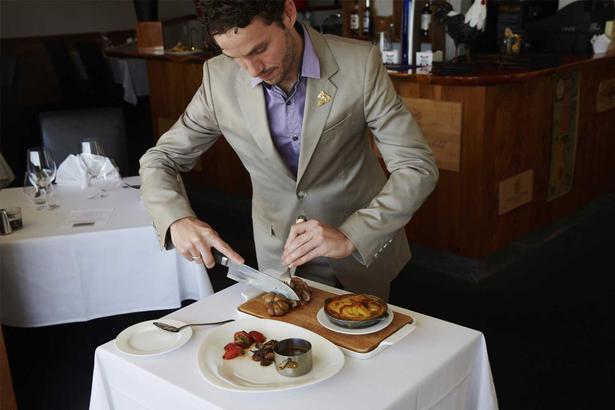 I should add quickly that you don't have to order the kidney (or the salad of gizzards and duck liver), as there is plenty for the less adventurous too. Next time (if it's on, they change the menu very regularly) I will order the flank steak, which is safe enough to keep most people happy but will delight and surprise with its extra flavour.
READ: Restaurant Review: Barulho, Parnell
Someone told me once it picks up extra minerality by being near to the organs of the beast but I don't know if this is physically possible. It is yum though and you should immediately trust any chef who wanders past the big name cuts at his local butcher and chooses flank as the animal part he most wants to serve you.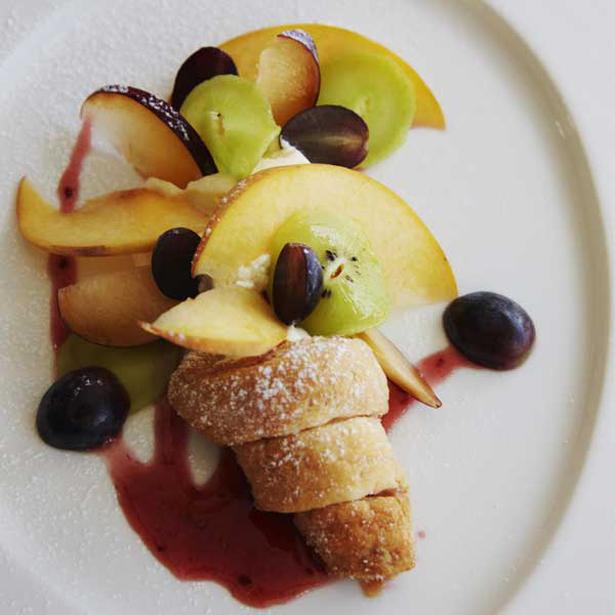 The food is really good, whatever you choose. That liver salad is just what you want it to be, the meat cooked confit until perfectly done then tossed with fresh green leaves and a vinegary dressing. The kidney comes rare and is carved by the maitre d' at your table, then plated with a deep-tasting mushroom sauce next to a perfect little clay pot of potato dauphinoise.
READ: Restaurant Review: Apero, K Rd
But kidney is kidney and, unlike the salad, if you're 50/50 on it this dish won't change your mind on offal — it has a faint dirty gumboots aroma, which is not for the faint-hearted (or indeed, the faint-kidneyed). If necessary, stay in completely safe territory and order the roasted sea perch, which comes with chorizo and fennel and doesn't require somebody getting elbow deep in livestock to procure the ingredients.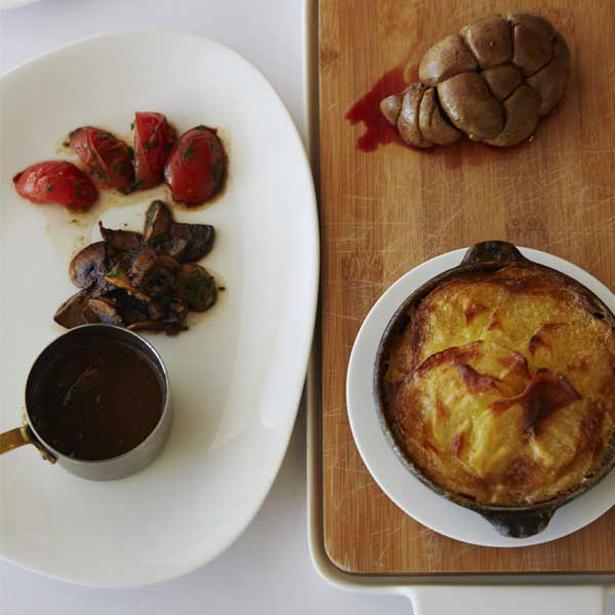 The restaurant atmosphere might need some work. I can live with the minimalist decor — this is the dream restaurant of three presumably not wealthy hospitality workers so I can take the toilets not being repainted, and the curling, multi-leveled dining room not being refurbished. I love the idea that they would take over a space as is and that over time the fantastic food and drink will slowly start to pay for improvements.
READ: A Taste of France at The Hilton
But nobody likes a dead-quiet restaurant, and being able to fully hear the conversations (in this particular case, video Skype calls) of our neighbours made us feel like eating and escaping. Crank the music guys, put up some screening or seat people apart; do what you otherwise can to make this feel less like an undertaker's waiting room.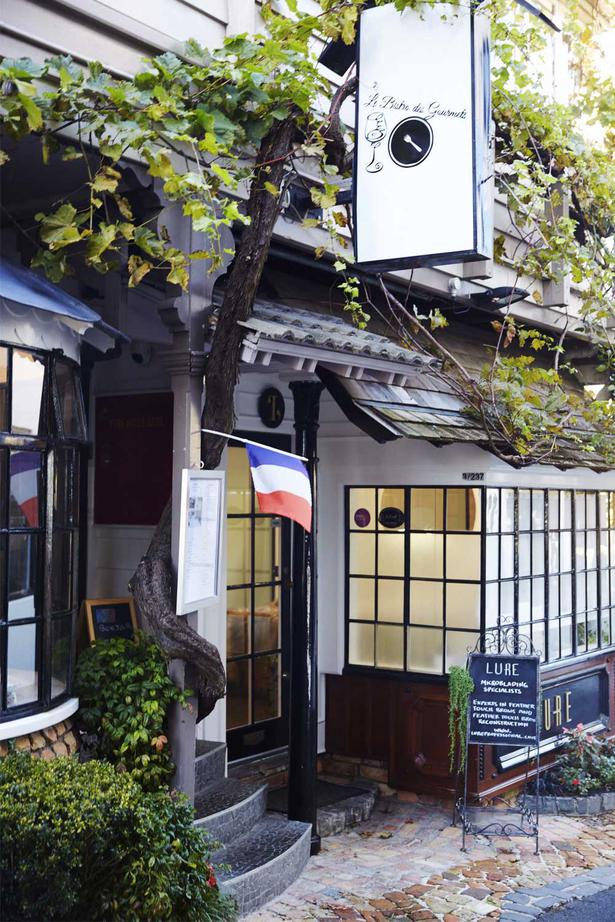 I think you'll enjoy the staff, who are eager to please and charming. The guy really knows his wine and you'll do well to hint at what you like and let him choose — it's all French apart from one or two New Zealand wines made the French way. Yes, it's that sort of place.
If you're up for something different, order a rinquinquin while you're looking through the menu — a fortified peach wine, it's the sort of thing you could only get somewhere like this. And that's why you're here, isn't it?
"Are you being well supported by the French community?" I asked, and he replied that no, they were not. So far it's just Parnell types, who no doubt scrutinise changes to the village landscape and move quickly to investigate.
But this restaurant should have a much broader appeal — it's a unique culinary experience, and the owners deserve that you give it a go. Bring along an adventurous friend and embrace this French immersion experience.
Share this:

More Food & Drink / Dining Out