Restaurant Review: Lokanta, Grey Lynn
Jesse Mulligan finds plenty to warm the soul in a small Grey Lynn restaurant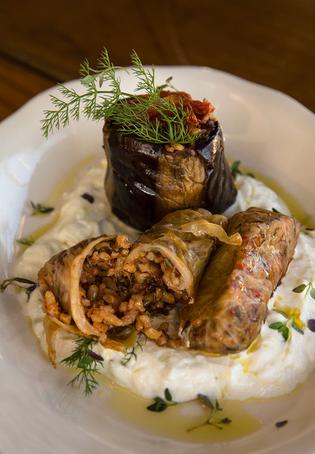 Cuisine: Turkish/Greek
Address: 137a Richmond Rd, Grey Lynn
Phone: (09) 360 6355
Bookings accepted
Drinks: Fully licensed
From the menu: Olives $7, flaming haloumi $17, stuffed vegetables $17, grilled octopus $18, market
fish $29, braised goat $30, sauternes cake $12
Rating: 7.5/10
This week we're at Lokanta, a word you can't say aloud without giving the people around you a bit of a fright. Go on, try it. Wanaka's restaurant Kai Whakapai is no longer the New Zealand business most likely to risk a BSA complaint just by having its name read out on the radio.
Occupying a lonely spot on Richmond Rd, Lokanta is a warm and inviting dining room with more tables than you'd expect. Out back, behind the main restaurant is a sort of semi-outdoor area, which they manage to keep heated and comfortable. When both spaces are full the place must absolutely hum, and even on a quiet Tuesday the dozen or so diners created enough atmosphere to make it feel like a proper night out.
The style is authentic Aegean — named after the sea shared by Greece and Turkey — and the staff are authentic Aegean too. They're proud of the food, keen to impress and they speak good English, with just enough grammatical tics to make the conversations fun.
"Is this 'flaming haloumi' actually flaming?" I asked.
"You will see" said the waiter. "Order it and you will see that it is flaming."
We looked through the menu and asked about the octopus.
"The octopus looks like this," said the waiter, pointing to a portrait of a healthy living octopus, conveniently hanging on the wall next to our table.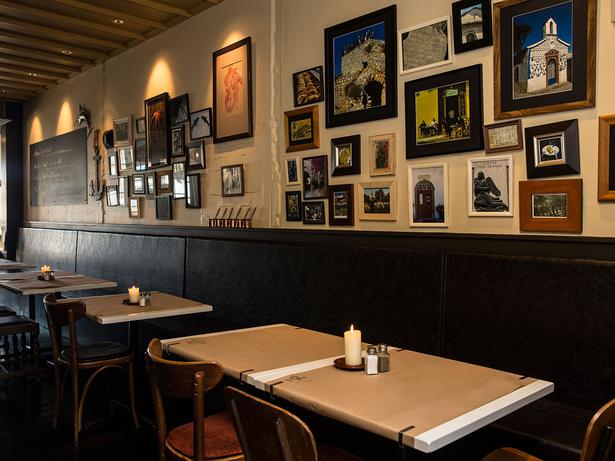 "But then we cut it like this," he said, pointing to the less happy picture next to it of a severed octopus tentacle. "We leave the skin on. It is tough at the beginning but we hit it on the rocks many times. One thousand times!"
I liked him. I decided to let him in on a little secret that would create a warm bond between us.
"This is my sister," I said. "It's a big night for her, because it's her birthday!"
"I see," he said seriously, then waited for us to continue ordering. Perhaps he didn't hear me properly, or perhaps in Turkey a birthday is a solemn affair, to be commiserated rather than celebrated. Either way it didn't quite create the party atmosphere I was hoping for.
We ordered and the food came quickly, that octopus not tough exactly but a decent mouthful. Served skin-on, it had the consistency of a sausage sizzle sausage, nice enough but it could have used something sharper on the side than the bland fava bean hummus that came with it.
The haloumi though, was a great success — arriving in a skillet under blue, ouzo-fuelled flames. It was a perfectly singed oblong, which was then laid on a garlicky baguette cut to the exact same size and covered with sweet roasted capsicums.
Meanwhile, the waiter was pouring from a beautiful selection of wines — some familiar names, plus some Old World options and even a couple of Greek varietals. I used to work for a company that did PR for Wines of Greece, and I would take home any bottles they couldn't fob off to journalists. I don't know if you can imagine how bad a free wine has to be for someone in the media to turn it down, but suffice it to say I was delighted at Lokanta to learn that not all Greek wine tastes like minotaur sweat. I recommend giving it a go.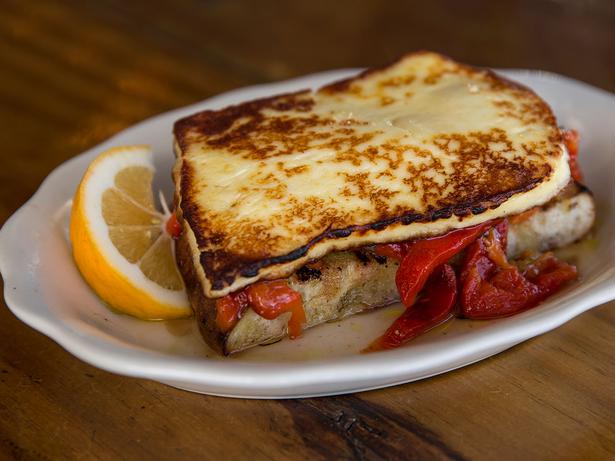 None of the food here will blow your mind, but it's well cooked and mostly delicious. The seasonal entree featured a cabbage leaf, steamed transluscent and wrapped around a filling of rice, pinenuts, currants and spices — unlikely to be the first time you try a stuffed cabbage leaf, but I'd be surprised if you've had one better.
Fish of the day was a perfectly cooked skin-on snapper fillet on a cheesy, gluey risotto with fresh spinach leaves stirred in for interest. You can keep eating a good risotto long after your stomach has started saying no, and this was the case here. It made up for the braised goat, which was cooked well enough but could have used a sauce or jus to make it interesting. A few mouthfuls of dark meat, no matter how tender, is usually enough, unless there's something more compelling happening on the palate.
We were going to leave without dessert, but I'm glad we lingered. Unexpectedly, from the kitchen, came our waiter, carefully carrying another flaming dish: a piece of Turkish delight with a birthday candle stuck in it.
"Haaaappy Birthday to yooou … " I began singing quietly, but by the second line all the other tables had joined in. I was stoked, and my sister was mortified. It was the perfect combo. Lokanta have created something special in this little restaurant by the bus stop in suburban Grey Lynn. It may not be the slickest new restaurant in town, but sometimes slick is overrated.
Share this:
More Food & Drink / Dining Out