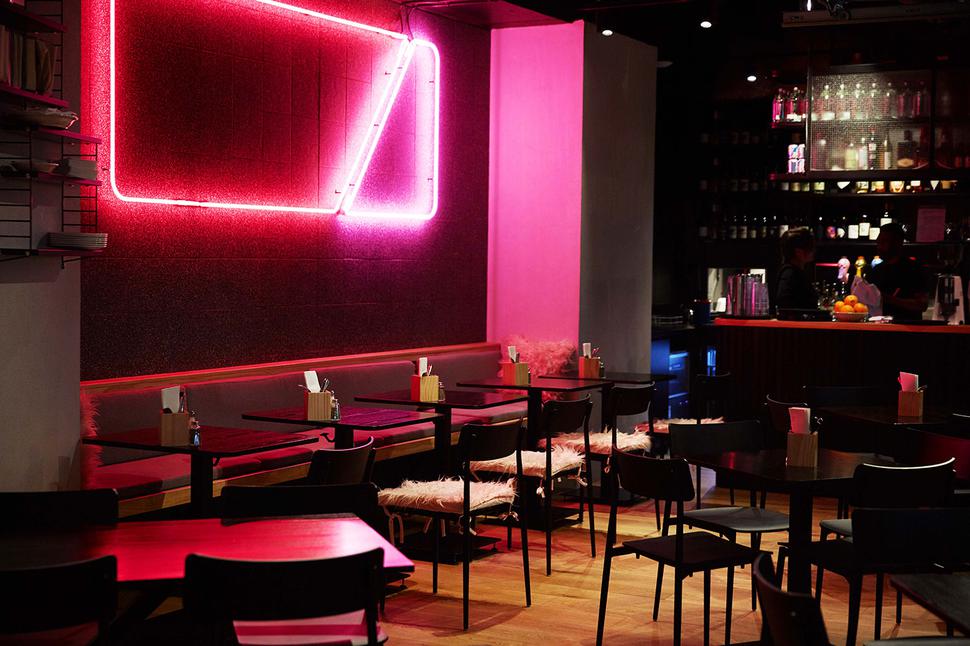 Restaurant Review: Lowbrow, Queens Rise
Jesse Mulligan visits fast food mecca Lowbrow and finds the best brisket in town
Wednesday Sept. 26, 2018
Cuisine: Short-order bistro
Address: Queens Rise, 125 Queen St
Phone: (09) 379 9285
Drinks: Fully licensed
Bookings: Large tables only
From the menu: White bread tacos $10, ceviche $13, cabbage slaw $6, chicken wings $4 ea, smoked brisket $25, salted caramel and pretzel sundae $9
Rating: 17/20

Due to a clerical error I found myself wandering through the central city on Friday night, looking for somewhere to eat on my own. It's usually easy to find a dinner date when you're paying, but I'd reached a point in the day where I couldn't really invite anyone without them guessing that they were a last resort. Better, I thought, to suck it up and eat like an out-of-town sales rep — proudly alone, and increasingly drunk.
The ideal scenario as a solo diner is a restaurant with a bar, so that you can sit facing something. I'm comfortable in my own company, but staring at an empty chair or blankly into the middle distance does rather tend to sharpen the experience. You don't stick out as much at a bar either, because really when you're all sitting next to each other who knows who is with who?
READ: The Viva Team's Favourite Happy Hour Spots For Top-Notch Drinks
This restaurant doesn't have a bar but it does have a window seat, which is almost as good. Instead of a bartender to project your socialising on, you have the restaurant manager who buzzes up regularly to serve and banter. I didn't much fancy staring at my phone all night but I could have done with a book, ideal for filling in the long minutes between ordering and eating. Instead I read and re-read the menu, which was as sexy and exciting as the best novel.
Lowbrow is the little sister of Culprit, one of Auckland's most exciting places to eat and prominent on the handwritten list of must-visit restaurants I hand out to international guests (whether they ask for it or not). To be honest, Culprit was off the boil last time I visited but I don't doubt it will be running at full steam now that Lowbrow's first nervous months are out of the way.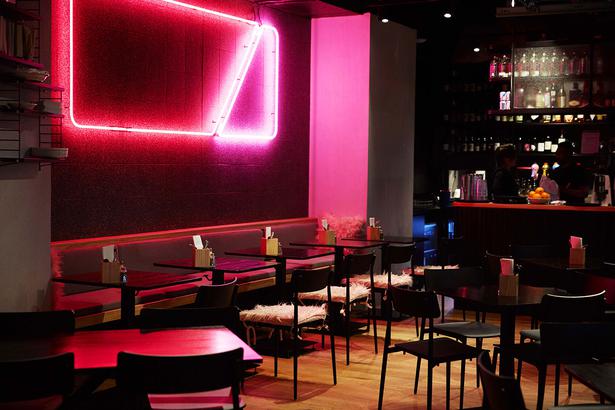 This new place is one of the tenants of Queens Rise, a nifty collection of eateries near the bottom of Queen St. I was about to describe it as an upmarket food court but I see their press release has settled on "laneway-style dining precinct", which is a much nicer way of putting it.
I had no idea how this precinct was going to work until I got there, and I encourage you to drop in for a squizz.
A security guard at the top of the escalator is the only shopping mall-ish flourish, and although I'm sure he has bigger things to worry about, he may want to make himself a little less prominent as people alight — the flash of high-vis made me flinch and head in the other direction, which may be affecting business for the restaurants he's standing in front of.
READ: Where To Find: Auckland's Best Bar Food
I circled back and found Lowbrow, which feels pretty much like a regular restaurant when you're inside. They have a flash natural wine list, which really does elevate the game, and the menu is a fulsome list of fried and grilled delights. Maybe I got lucky but next time I visit I'm going to order all the same things again.
I often find myself thinking about the "tacos", a simple, beautiful idea featuring triangles of white bread, each topped with chopped iceberg, thousand island dressing and a deep-fried clam. What a perfect little mouthful of soft/crunch, hot/cold, salt/tang. Make sure these are on your list.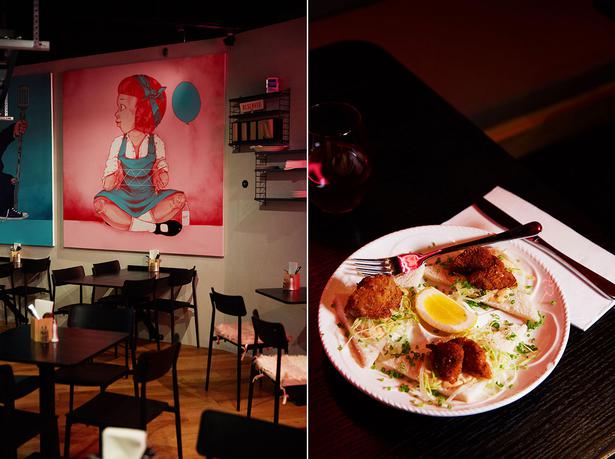 Then there was the brisket, a perfect expression of this difficult cut. There's no US-style barbecue joint in the city doing brisket this good, and every chef who has it on their menu should immediately visit Lowbrow to remind themselves how good it can get. It's proper, melt in your mouth, smoky, barky meat — I asked how and where they cooked it but apparently they buy it in.
Good for them. If you're buying bacon and ham from suppliers why wouldn't you do the same with brisket, which is even more labour intensive? They serve it here with an agro-dolce peperonata and a curious courgette puree, which may be there for its bright green colour as much as anything else. This is my Auckland dish of the year so far.
READ: Restaurant Review: Chicka, Kingsland
Culprit collaborated with Belle's Hot Chicken last year so hopefully they have permission/blessing to serve a chicken wing straight off Belle's Melbourne menu. Original or spicy, it comes deep-fried with chilli sauce on a piece of white bread to soak up the hot juices. I ordered one, ate it, then ordered another. God bless them for using organic Bostock wings — a sign the chef cares about his meat and the life it had before we ate it.
This is not health food — I don't think I could visit more than a couple of times a year. But it is delicious, inventive, flavour-first cuisine that I'm glad I didn't have to share.
Share this:

More Food & Drink / Dining Out