Restaurant Review: Lucky Lucky Dumplings, K Rd
Auckland's new dumpling offering is worth a trip to K Rd finds Jesse Mulligan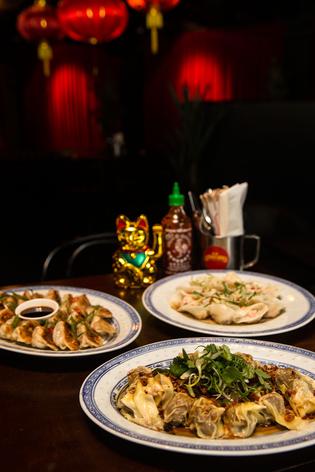 Cuisine: Modern Chinese
Address: 339 Karangahape Rd, City.
Large group bookings accepted
Drinks: Fully licensed
From the menu: Dumplings (10) $8, Bao buns (2) $12, celery and kale salad $12, pickled cucumber salad $12, duck pancakes $25, can of dace $5, okra chips $5
Rating: 8.5/10
Recently, while mooching about in Aotea Square between Writers Week sessions, I ran into a group of young Wellington women who'd done a road trip up for the event. They asked me for some suggestions of cheap but excellent places to eat, and it was only after I'd recommended "Burger Burger, Zool Zool, Kiss Kiss and Lucky Lucky" that I realised why the rest of New Zealand hates Auckland.

That's not even all the double-word names in Auckland at the minute — there's at least one more in Fish Fish, which is quite confusing as there's also a restaurant called just Fish, but they're at different ends of the price spectrum so it's unlikely anyone's ever said "shall we go to Fish or Fish Fish?" out loud (you could say it right now and be the first).
I don't know if the girls followed my recommendations but I do know they had a few restaurant meals in their future, because earlier that day, their Air BnB host had dropped in unexpectedly while one of them was making an omelette and yelled "YOU CANNOT COOK HERE!" which had rather put them off self catering.
Anyway, as out-of-towners they could have done far worse than Lucky Lucky Dumplings, which has sprung up inside Las Vegas Strip Club on the famous K Rd. I don't (truly) know what the original interior looked like but it can't have been much different to this: cabaret seating, a stage in the corner and lots of red decor. This makes the whole enterprise feel quite dingy and dangerous – in a good way – and I can't decide whether the 80s and 90s mixtape playing at maximum volume makes it feel more or less like a girl named Ash-Lee-Cayte is going to walk out and take her pants off, but I've got to say it all works.
READ: Restaurant Review: Kiss Kiss, Balmoral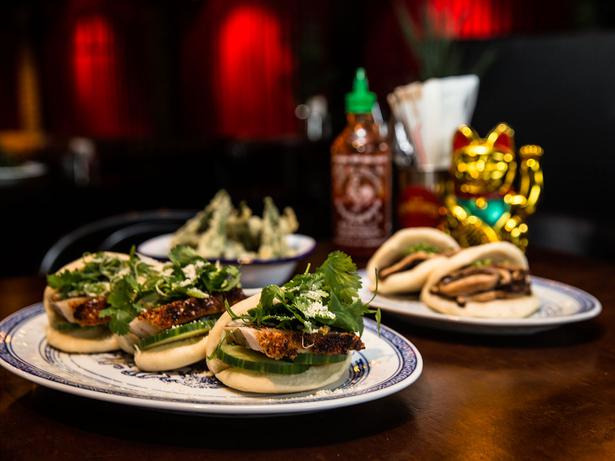 This is dining unlike you'll find anywhere else in Auckland. When was the last time you listened to Pet Shops Boys' West End Girls at full volume? For too long this four-minute masterpiece has been relegated to wallpaper music at Kmart, but it works much better when you crank it on K Rd. And if you can stop yourself singing along to that one there's no way you'll resist Whitney Houston's I Wanna Dance With Somebody (Who Loves Me).
I loved the wait staff (maybe that's why they were dancing). They have that high energy speed that makes other restaurants feel like rest homes, and they're opinionated about the food in a way that makes you want to take their advice. Admittedly, we were served mostly by the manager, who has had some say in the menu, but it's wonderful and rare to see that much connection between the service staff and the food.
There are dumplings, as you'd expect, and they are hot and quivering and firm to the bite. I would have liked some condiments — soy, chilli and vinegar — but you couldn't fault the dumplings themselves, a combo of prawn, pork and lamb spiked with cumin. They're going to change out those fillings on the regular so there have probably been at least two new iterations between my visit and this review, but you can guarantee they'll be good. It's great drinking food, particularly combined with the "bao" buns, a sort of soft dough taco filled with juicy pork belly, cucumber and spring onions.
The duck pancakes are another tasty Chinese classic, though you're asked to strip the meat from the leg bones yourself, which is awkward with the utensils and plate space provided. Still, it's good fun sharing a dish like this and adds to the informal, communal feel of the place.
READ: Restaurant Reviews by Jesse Mulligan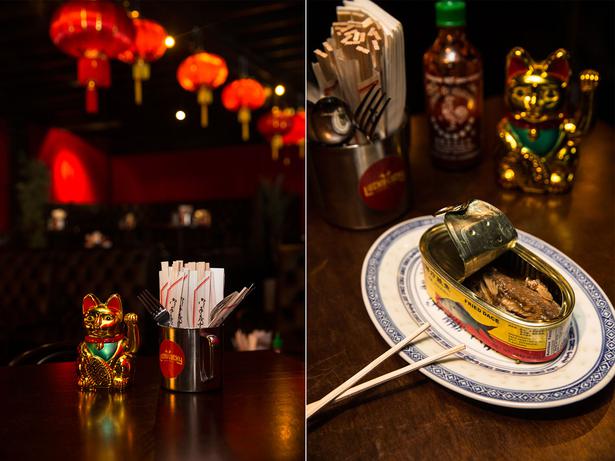 Actually my favourites on the menu were the random elements — the okra tempura and slices of pickled cucumber with coconut cream. Then there is the "Dace", a tin of small oily fish, heated in the oven and served in the can with the lid peeled back — the way the manager used to eat it when he was growing up. Given that the restaurant is owned by an upmarket ad agency, bright personal touches like this do much to reduce the corporate shadow.
I'd say it's a great place to park up, have some drinks, order some snacks and see where the night leads you, except that there is another element that makes this different from other bar-restaurants in the city: each table gets a 90-minute time limit to eat their meal and move on. That must be good for business, and it's not unheard of in Chinese restaurants, but it does jar slightly with the generosity shown elsewhere.
For now though, Lucky Lucky dumplings is packed all night, with large groups queuing up to book sections of the restaurant to themselves. There's no sign the time limit is slowing them down, and after all this is K Rd — when the timer clock runs out you can always do what we did, and pop over to Coco's Cantina for dessert.
Share this:

More Food & Drink / Dining Out