Restaurant Review: Madriz, City
Jesse Mulligan discovers Madriz, Auckland's newest tapas restaurant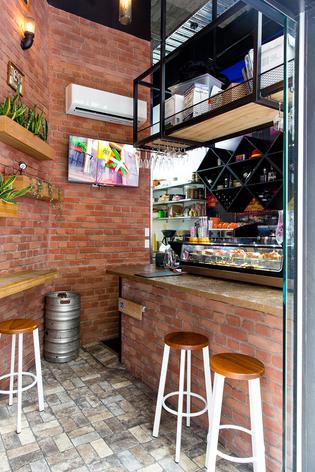 Cuisine: Tapas
Address: Cnr Fort and Snickel Lanes
Phone: (09) 869 4328
Drinks: Fully licensed
Reservations: Not accepted
From the menu: Eight mixed pinxtos, $35
Rating: 7/10

The owner has big plans for Madriz, and it's impossible not to get caught up in his grand vision. Like when I was scouting around for somewhere to review, and I called him up to gauge the restaurant's suitability, and I asked, "Could I book a table for four at 8pm?"
He replied, presumably after scanning the reservations book, that "we'll be full inside but there should be room in the courtyard. There's a DJ playing out there tonight!"
So what are you picturing in your mind right now? Because in my head it was a bustling bistro spilling out into a noisy garden bar, the formal diners enjoying the tinkling sounds of Spotify's "Soft Dinner Jazz" playlist inside, while outside the younger generation stand around quaffing flutes of cava and nodding their heads almost imperceptibly to the mixmaster's upbeat party set.
When we arrived, the reality was something quite different. I would estimate the restaurant area at about three or four square metres. Put it this way, there were six people inside and, having just arrived from the airport, I literally didn't have room to put down my overnight bag.
The "courtyard" is Fort Lane, the restaurant's outdoor area designated by two bar leaners and a gas heater.
READ Restaurant Review: Indochine Kitchen
There was also, as promised, a couple of DJ turntables though at this stage of the evening most of the entertainment came from watching the owner affix the extension cord to the paving stones with masking tape to minimise the chances of a pedestrian tripping over and killing either himself or the DJ in a bizarre gas heater-/amplifier-/chorizo-based explosion.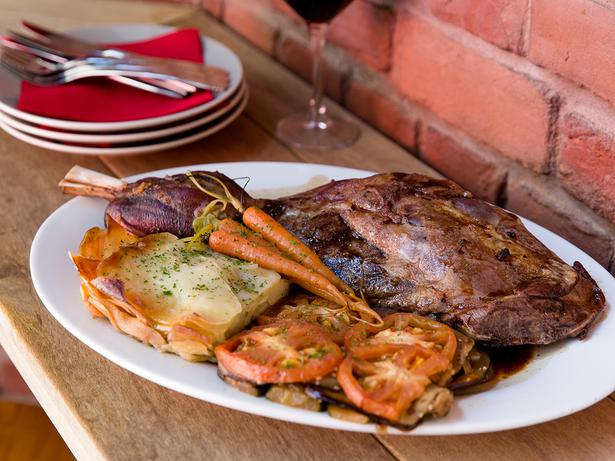 The boss is authentically Spanish — in a Manuel from Fawlty Towers sort of way — and while he busied himself with gaffing, we were served by his bearded friend from Christchurch, a no-nonsense Kiwi happy to pitch in and help his mate realise his dream of creating a traditional tapas experience in the middle of Auckland city.
"How's the sangria?" he asked
"Great thanks!" we replied.
He stopped, looked me in the eye very seriously and said, "Are you telling me the truth?"
"Yep," I said, a little nervously and necked the rest of my glass to prove it. He told us it was made with a secret recipe using extra Cointreau and brandy, which the chef had brought over with him from Mallorca.
RECIPE: White Wine Sangria Ice Block
He's arrived with some authentic food recipes too, most notably the pinxtos. This is a subset of tapas popular in Basque country, where the chef whips something tasty up then balances it on a slice of bread.
These can get pretty fancy up north in towns like San Sebastian, where bars try to outdo each other with their culinary imagination and architecture. But at Madriz they're less ambitious — a bit of meat here, some seafood and mayo there. They go down great with a glass of dry sherry but you wouldn't put them on the cover of a magazine.
The Christchurch bloke dropped a plate of them off to us and outlined his Spanish buddy's vision. "He hopes people will come in, have a drink and a snack and then go away," he said, though it didn't sound as harsh as that reads.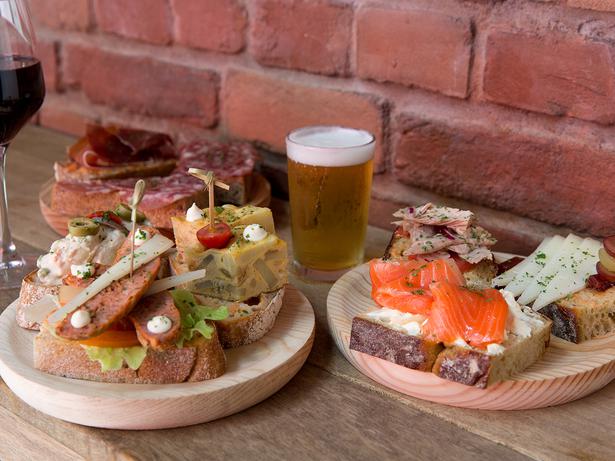 Eight mixed pinxtos on the menu at Madriz. Picture / Babiche Martens

I knew what he meant — this is not a place to linger over a multi-course dinner, more like a half-hour pit-stop when you're on your way somewhere else and have forgotten to eat at home.

You can get a platter of multiple pinxtos at a small discount and you should make sure these include the chicken and manchego, and the spicy sausage.

The salmon and potato salad is pretty good too (you can see why Spanish food is sometimes described as "a cuisine based on leftovers"), and if you're staying a little longer you might ask for something off the kitchen menu — the lamb shoulder looks particularly promising, and is available for takeaway if pre-ordered.

Even with the heaters though, sitting outside is a bit cold this time of year, and though there are blankets available they're a bit unwieldy when you're trying to balance a piece of canned tuna belly on a baguette disk.

The outdoor area will make much more sense in summer, but in August we were eventually forced to retreat inside to the nearby Jefferson, where (jalapeno poppers aside) the food is not much chop but the service, atmosphere and drinks list are superb.

Madriz is another jewel in the crown of the new Auckland. We should celebrate every time an immigrant opens a restaurant that is true to their home country, not to their best guess of what Kiwis are comfortable eating.

A tiny, quirky bar down an alley way that only the locals have any chance of stumbling across — what could be more European? Welcome to New Zealand, Juanma Lumbreras, we hope you'll stay a while.
Share this: