Restaurant Review: Meadow, Meadowbank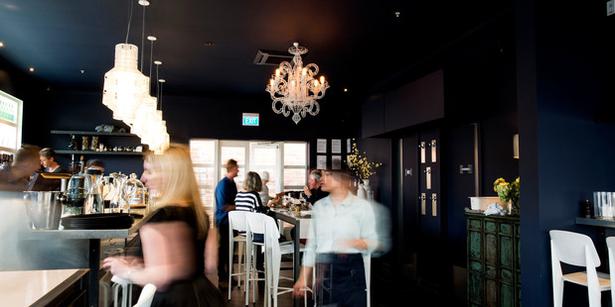 Wednesday Oct. 8, 2014
Address:
 20 St Johns Rd, Meadowbank
Facebook.com/meadowrestaurant
Phone:
 (09) 521 1462
Cuisine:
 Casual
From the menu:
 Calamari $12, Pork terrine $17, Pappardelle & duck $24, Butcher's block — lamb shoulder $30, Seasonal veges $7, Sticky pudding & pear $14, Lemon meringue $15, Dark chocolate terrine $15
Drinks:
 Fully licensed
Rating:
 7/10
Giant blue letters spell it out against a pristine skyline - MEADOW. If you have in your mind, as I did, an atmosphere of gentle summery tranquillity, think again. Meadow, the new bar and eatery in Meadowbank was heaving when we arrived and was far from being the quiet suburban retreat that I'd conjured from the name.
The design is impeccable, as you'd expect when you discover the creative mind behind it is Virginia Fisher, the genius behind the gorgeous aesthetic of some of New Zealand's finest luxury lodges. She's chosen a stylish palette of navy and powder blues, with furniture of stark snowy white and slate grey concrete.
Tulle, tutu-like lampshades hang in the conservatory and the bar has a gorgeous line-up of wire shades and chandeliers.
A huge outdoor fireplace, with real wood and real smoke, crackles in the outdoor courtyard and staff buzz around in a smart casual uniform of mint green shirts, jeans and matching Chuck Taylors.
It's all so casually elegant and well-designed that I suggest if you can't afford to retreat to Huka Lodge, Kauri Cliffs or Wharekaukau, then scuttle off to Meadow and consider it a mini-mini-mini-version of one of these luxury lodges.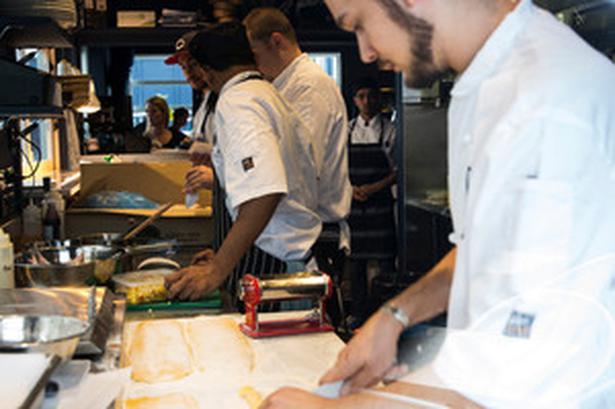 Where the design is effortlessly beautiful and coherent, the evening menu attempts to cover all bases and in that I fear they've missed a golden opportunity to put Meadowbank on the map as a serious dining destination. Name a recent food trend of the past decade, and they've got it - tacos and sliders, pizza and wagyu gourmet burger - and though that's not a bad thing in itself, it lacks imagination.
Calamari is served in tender chunks and is predictable enough, something I wish I could say for the pork terrine. It comes in the form of a crumbed rissole of shredded pork and is served on a pile of crushed, minted peas with some less than snappy pork scratchings.
It makes no sense to use French culinary terms to describe dishes when they're not. The butcher's block main course, a lamb shoulder, took our fancy but, when it arrived, I wondered why the kitchen would serve this rustic-sounding lamb dish as such a neat square, more suited to a finer style of dining, and call the mash "Paris mash" when, in reality, it was not the silky puddle that makes this potato preparation "Parisian".
Our other main dish of house-made pappardelle with duck, mushrooms and pecorino should have been better but the pasta stood little hope of being cooked to al dente as it was rolled too thin. However, a side dish of crisp asparagus, from the restaurant's own gardens out Clevedon way, was cooked to perfection.
I'm pleased we stuck around for dessert because here the kitchen excelled. A soft mound of ginger sticky date pudding draped in a thick, sweet dulce de leche sauce was deliriously good. Sharing the plate was a poached pear bursting with flavour, and a decent dollop of mascarpone flecked with gingerbread crumbs brought each mouthful together in full, creamy delight.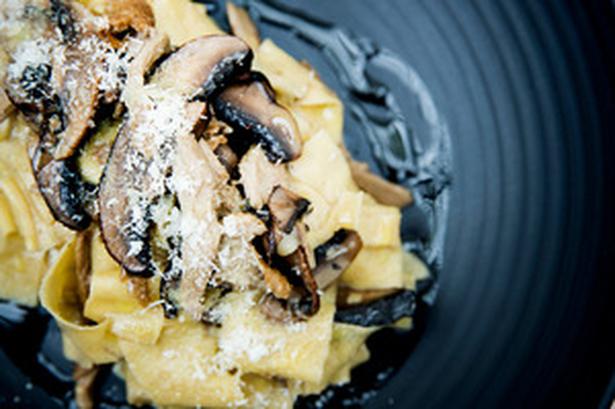 Our waiter, who'd been excellent all night, had recommended the chocolate terrine and I'm happy to say in this instance it was true to its definition: a thick finger of smooth, dark chocolate cream, buttery and rich, served with tart plum gel and vanilla icecream.
Our final dessert, a deconstructed lemon meringue, sang with sharp deliciousness. Candied lemon peel, tangy lemon curd, crumbed shortbread and torched meringue made for a perfect dessert plate.
Before we left I took a wander out to the back courtyard and there found the tranquillity I'd been hoping for; a lemon tree trussed against the wall dripping with sun-coloured fruit, herbs and trees shining with lushness and new spring growth, and the resort-style patio furniture holding the promise of long, lazy days of summer. Here was the haven of Meadow and I'd have sat there happily all day and night, quietly drinking in the stunning design and perhaps sneaking in a dessert or three. I'd have left feeling more than replete, I'm sure.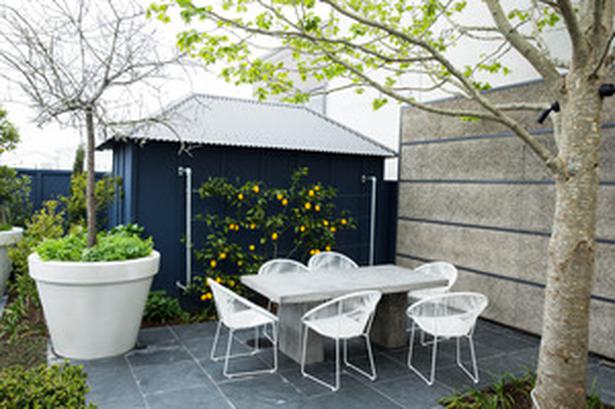 Instead, I jostled my way out through the humming dining area, past the bustling kitchen and through the bar that was jam-packed with locals who've found their new favourite watering hole.
Share this:
More Food & Drink / Dining Out