Restaurant Review: Molten, Mt Eden
A new chef is heating things up in the kitchen at Molten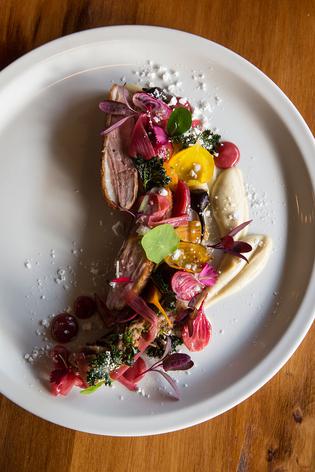 Cuisine: Modern bistro
Phone: (09) 638 7236
Address: 422 Mt Eden Rd
Bookings accepted
Drinks: Fully licensed
From the menu: Seared tuna and ceviche $23, beef tartare $23, smoked duck breast $38, lamb shoulder $34, Brussels sprouts $9, lemon meringue $15
Rating: 8.5/10
I recently chatted with one of the big names in the Auckland fine-dining scene, who's about to make a significant, exciting change at his restaurant. He was talking to me about what it takes to be special and different in 2016. "There are so many places doing what we do now," he said. "A nice bit of protein, a puree, a gel — it's everywhere."

He's right, and he has only himself to blame. The next generation of chefs, who learned to cook at places like his, are moving into head chef roles themselves and taking their fancy tricks with them. You no longer have to drop $45 to get a perfectly cooked piece of fish with texturally interesting accompaniments — you can get it at a neighbourhood corner eatery, from one of the dozen or so young chefs bringing high-end cooking to the middle of the market.
Molten in Mt Eden is a great example. It's always been well supported by locals without quite becoming a destination restaurant for those of us living in other parts of town. But now it has a new chef, who trained under Ben Bayly at The Grove, and suddenly it's turning out the sort of food that is worth crossing the city for.
I visited with my mum, who likes to eat early. She's also pretty keen on as little waiting time as possible between courses, so at this time of year if she's not back at home with a cup of Earl Grey before the sun sets you can assume something has gone drastically wrong.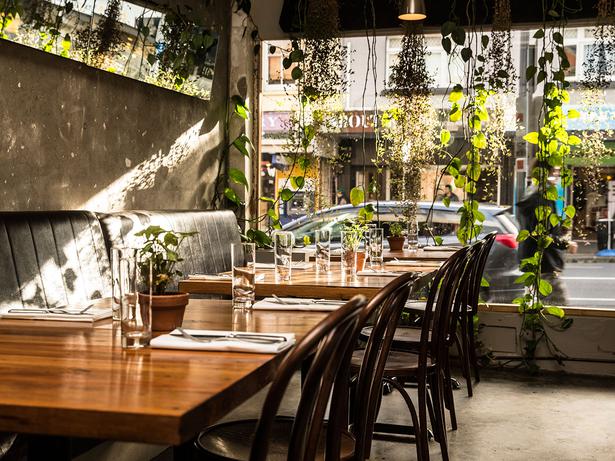 She fitted in well at this restaurant, where the customers gave out a strong vibe of "let's make sure we're home in time for Nigel Latta". By 8.30pm mum and I were virtually the only ones left, our arrival time having been slightly delayed by the small matter of getting three kids to bed. Interestingly, there's at least one retailer next door still open as the restaurant is closing. You know you're in middle-class suburbia when the closest thing to a nightclub is a twilight bookstore offering 20 per cent off Anais Nin.
I don't know exactly what the new owners of Molten have done to the room, but it feels warmer and less formal than the last time I came, when Michael Van de Elzen owned the place. The service is warm too, if a little absent from time to time — our guy was an otherwise lovely Frenchman, who didn't seem keen on our ordering a second glass of wine. Je suis thirsty.
But the food is fantastic. The worst you could say is that the options are a bit limited — just four entrees and five mains with a couple of sides — and the usual bistro suspects are all here: pork belly, duck breast, lamb shoulder, fish of the day.
But as soon as the plates start arriving at your table you realise things are going to be different. For a start, as these photos attest, the dishes are just beautiful. Gasping is underrated in this age of the fuss-free feast, and it's a pleasure to eat a meal regularly punctuated by the sound of intaken breath.
I ate the beef tartare, a dish I can't help but order if I see it on the menu. This one was a beauty, the raw meat cut into tiny cubes rather than minced and given a light smoking for an extra layer of flavour with the usual sharp and piquant accompaniments, including pickled shallot leaf cups.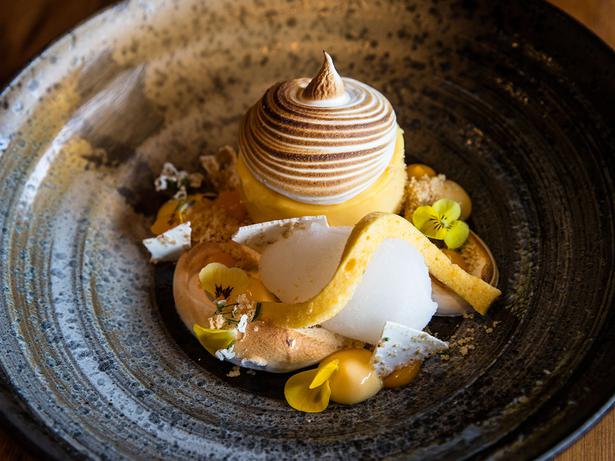 Mum started with a perfectly balanced plate of seared blow-torched tuna and a ceviche dressed lightly enough not to have yet been cooked by the citrus. It was decorated with curly slivers of nashi pear and radish, with dots of wasabi mayo and a dark, citrusy Ponzu liquid on the bottom of the plate.
Then I had a fall-apart lamb shoulder which had been compressed into a tidy oblong and served up with peas, tiny fried goats cheese cylinders and salty white anchovies. The only bum note was the accompanying sweetbreads, which sounded good but were chewy and texturally suspicious, a bit like you were eating an eyelid.
The brussels sprouts we had on the side were disappointing too — under-done and under-loved — but everything else was superb, from Mum's smoked duck breast with confit leg on a tiny sort of puff-pastry brioche, to a lemon meringue dessert served with mandarin textures and a gin-and-tonic sorbet.
We occasionally found ourselves waiting too long for the next course, and while the kitchen works madly on the food they could use someone with a bit of urgency out front — changing the overflowing toilet bins, for example. But I'd like to think we caught them on a bad night. So much of what this restaurant is doing is great; with a few tweaks it could be perfect.
Share this:

More Food & Drink / Dining Out