Restaurant Review: Morepork BBQ, Herne Bay
Do yourself a favour and get to Morepork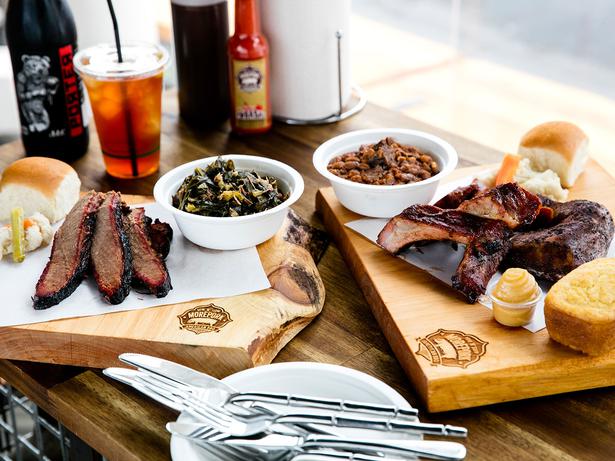 Wednesday Oct. 19, 2016
Cuisine: US barbecue
Address: 5/1 Jervois Rd, Herne Bay
Phone: (09) 303 0477
Bookings not accepted unless you have a group of 12 or more
Drinks: Fully licensed
From the menu: Platter of four meats and two sides $65, baked beans, potato salad, coleslaw, mac 'n' cheese $5 each, devilled eggs, tater tots, hushpuppies, cornbread $6 each
Rating: 7.5/10
Creative opening sentences are all very well, but this week I'm just going to say it: this is the best barbecue brisket in the city. Brisket is a meat sub-genre that emerged in Auckland about 18 months ago and promised so much — a notoriously dense, notoriously tasty piece of meat from the lower chest of the cow which needs to be cooked slowly for half a day before it transforms into something special.
It's such a tricky cut of beef to cook that there's a special term for the moment when its internal temperature stops rising and you try to work out what's wrong with your oven. But experienced brisket cooks (not me — I'm no virgin but I wouldn't charge for it either) know that this is merely "the stall". You'll want to know it's coming because once it hits 65C (you guys all have remote-monitored meat temperature probes, yeah?) it will stay that way for four hours before it begins to creep up again.
All of which is to say that there are no shortcuts to creating quality brisket, and many ways to fail. But that adds to the pleasure when you finally get a slice, the meat so tender, juicy and tasty it almost qualifies as a different animal. Not to mention the US barbecue element, which requires the channelling of smoke through the meat until it has toasty wood notes and a satisfying pink ring around the outside of each slice.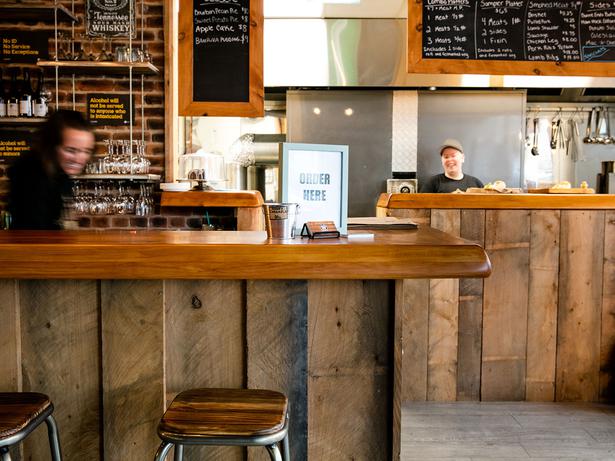 Clint Davies, the chef/owner of brand new restaurant Morepork is clearly committed to this end game, because he's built his own smoking machine out of a colossal imported rotisserie oven connected by a tinfoil tube to a Masport fireplace your dad owned in the 80s. The fire is stoked by a mysterious second employee who arrives at 1am each night, takes a couple of No-Doze then sits beside a pile of wood for the next eight hours holding a temperature gauge and a steel poker.
God knows how he is paid — in Milo? — but while the economics are ironed out you should make an appointment to eat here and taste the fruits of indentured labour. There are many other meats on offer too — homemade sausages are deliciously spicy, and the ribs are the first to sell out. Some of the meat starts to dry as it cools but you can remedy this with the squeegee bottle of barbecue sauce supplied with your dinner (according to where you live in the US there are rules around what you can sauce and when, but to his credit the owner seems relaxed about what you do in Three Lamps, Ponsonby).
You can build yourself a little banquet at no great expense — the tater tots are insanely moreish, the collard greens flavoured with smoky ham hock and the baked beans enriched with the burned ends of the aforementioned brisket.
This is not a health restaurant, nor is it a good option for vegetarians, though the coleslaw is cold, crunchy and dressed to refresh — particularly good between mouthfuls of meat.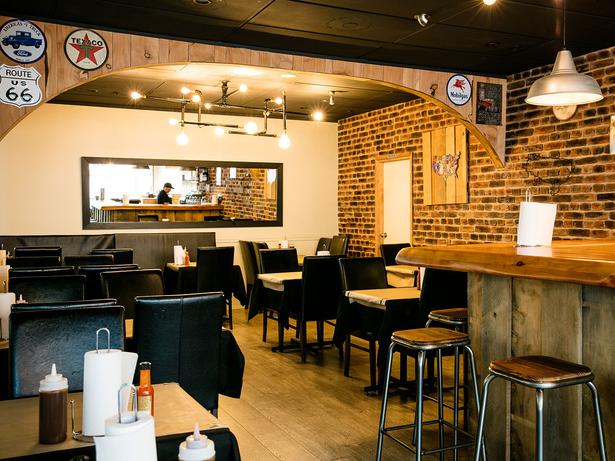 The hushpuppies are pretty amazing too — I had to Google these I'm afraid but am happy to pass on my research to you: deep fried balls of cornbread batter, in this case served with a piquant remoulade. If you want to skip the vat you can order your cornbread unfried — it's unsweetened but comes with a honey-butter emulsion on the side for spreading.
They have a bit of beer and not much wine and the service is at a level I'd describe as "Northland fish and chip shop". They're helpful enough, and fairly friendly, but you wouldn't drop in just for the banter.
Likewise the atmosphere is a little lacking — the room is over-lit and under-decorated. This really does feel like a man obsessed with authentic barbecue who's found somewhere to put all of his energy into the oven and not quite enough into the everything else.
Sadly for him it won't be a truly authentic US barbecue joint until the whole place burns down in a grease-fuelled fire — this happens surprisingly often in the southern states, according to Cooked, Michael Pollan's excellent book on the subject — but he has totally nailed it with the food and it's worth visiting for that alone.
Hopefully it will be a hit with the MediaWorks staff who work in the same building. Radio people have a funny approach to healthy eating — they'll bring an undressed heap of spinach leaves in a Tupperware container for lunch then for afternoon tea drink a crate of expired Up & Go from the prize cupboard. But hopefully they'll support their new neighbour with their custom as he gets his feet on the ground and works out how to turn his passion into a successful business.
Share this:
More Food & Drink / Dining Out