Restaurant Review: Mulan, Birkenhead
The latest addition to Birkenhead's array of eateries has a few too many options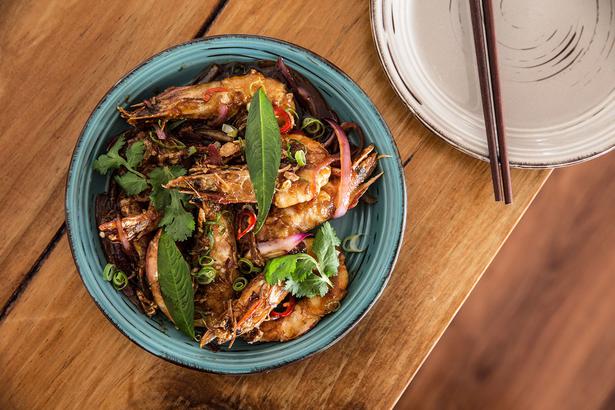 Wednesday March 23, 2016
Address: 243 Hinemoa St, Birkenhead
Phone: (09) 480 2806
Cuisine: south east Asian
Reservations accepted
From the menu: steamed chicken bun $10, pork ribs $18, fried squid $16, banana prawns $18, beef massaman $25, penang chicken $25, ice kacang $10
Drinks: fully licensed
Rating: 6/10

The last time I was in Birkenhead was to visit an acupuncturist with my heavily pregnant wife. Word on the antenatal grapevine was that this old Chinese woman could turn a baby the right way around in the womb just by the application of needles and, given that our baby girl was currently attempting to escape the building feet-first, that sounded pretty good to us.
"Tell me if the current gets too strong", the doctor instructed as she attached one of the needles to a small electrical box.
"It's too strong, it's too strong!" my wife said. But it hadn't been turned on yet. Carefully, the wrinkled one turned the knob to a point half way between the zero and the one. My wife fainted. When she came to, the three of us decided that perhaps electroacupuncture wasn't for her.
That little baby flipped around though, and so the legend of Birkenhead was maintained at coffee groups and bootie stalls across the city. It was our family's most successful experience with Chinese medicine, narrowly edging out the time a knuckly man in Dominion Road spent 40 minutes exfoliating my face with half a raw garlic clove.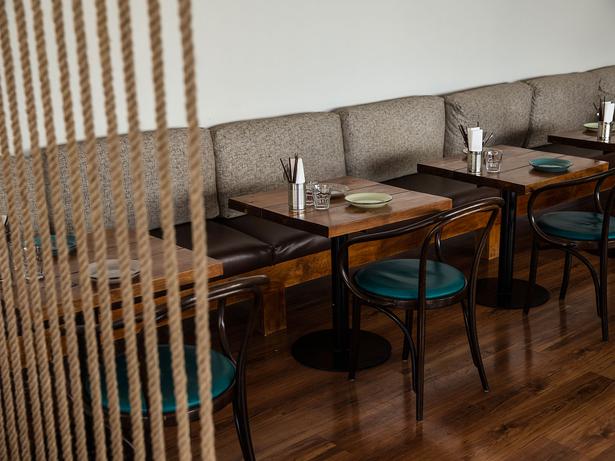 The new Mulan on Hinemoa Street has all the ambience of an acupuncture studio, housed as it is in a large rectangular room with no soft furnishings or decorations, each table grimly illuminated by a cheap wall sconce.
The service is more appealing, led by a handsome tattooed maitre d' with energy and speed, who's backed up by a team of hard working local girls fresh out of The Babysitters Club. Everybody is very keen to ensure you're having a good time, and they manage this by stopping by your table during every course.
This constant checking in is pretty standard behavior for wait staff, although Mulan is the first place I've seen the chef come out and do it. The feedback from the tables around us seemed to be good, though you have to wonder how many people could look into the pleading eyes of the man who just cooked their meal and tell him that they hated it. It's like seeing an actor in the bar after a play — if you were honest, you'd tell him he's made a horrific vocational error and that he like you, should be at home watching The Bachelor. But instead you lie and say you enjoyed it.
If the chef had arrived earlier in the meal we wouldn't have had to lie, because the entrees were pretty good. This is southeast Asian fusion, and the kitchen does a particularly good job of replicating the bright flavours of Thailand.
Best of all was the flash fried calamari, sticky and spicy-sweet in a chili jam. As at the chef's previous home at Madam Woo Takapuna, the squid is fried to perfection, so tender it almost dissolves in your mouth. The buns are not bad either — borrowing the Momofuku style where instead of meat enclosed in the bun you have it tucked into a small taco-shaped piece of dough. Again the flavours were spot on but the dough wasn't fresh enough, so what should have been soft and pillowy was instead chewy and dense.
READ: Restaurant Reviews by Jesse Mulligan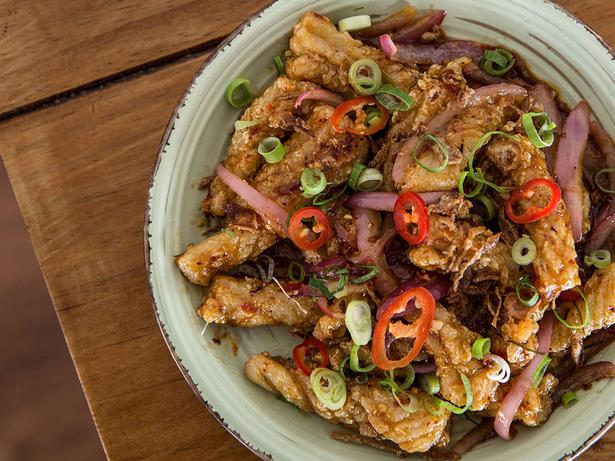 I have to warn you away from the banana prawns, which are deep-fried in their shells. At this size, a prawn has a lot of internal compartments, and even as fresh as these were you end up getting mouthfuls of creamy, salty, shelly detritus that make you long for the bland predictability of chicken breast.
The pork ribs were lovely — meaty and tender, like belly on a stick. And I also want to shout out to the green beans, an afterthought on most menus in town but here an exquisitely flavoured side dish — blanched and charred with spikes of garlic in every mouthful.
The mains — massaman beef and Penang chicken — were fine, if a little forgettable. And I deeply wish I could forget the dessert, a ball of vanilla ice cream balanced on a shaft of ice, garnished with red kidney beans, corn kernels and bright green cubes of jelly. As the various components melted it became a sort of sweet, milky vegetable soup. I understand that beans are a common dessert ingredient in some Asian countries, but if they're to catch on in New Zealand they'll need a better advertisement than this.
There's a lot of talent in this kitchen, but I feel it may be missing a guiding voice of reason — someone who can say "yes, that's a great idea, but have you considered that it will taste disgusting?". They could afford to go tighter and safer on the menu, and pour some of that excess energy into improving the decor. I hope Mulan sticks around, but for now I'd advise driving another ten minutes to Madam Woo, where the room is beautiful and the food almost flawless.
Share this: