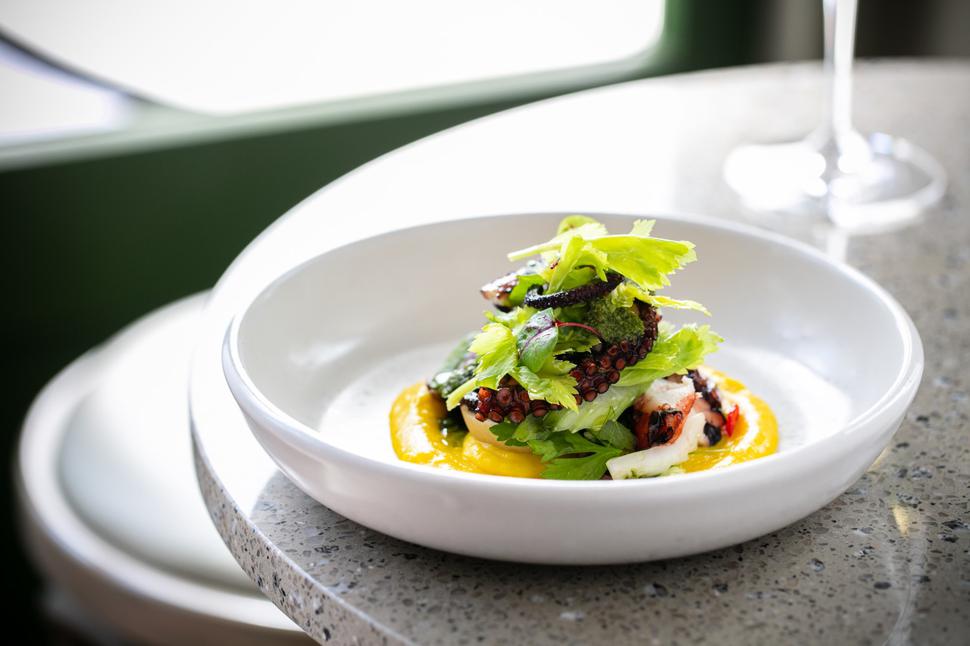 Discovering The Italian Flavours At Non Solo Pizza
Jesse Mulligan dines at the Parnell favourite
Thursday Nov. 26, 2020
NON SOLO PIZZA
Cuisine: Italian
Address: 1052/259 Parnell Rd, Parnell, Auckland 1052
Phone: (09) 379 5358
From the menu: Crudo $36; octopus salad $21; spaghetti vongole $30; T-bone steak $110; Nerano pizza $26; wagyu and pork bolognese $32
Drinks: Fully licensed
Reservations: Accepted
Rating: 15/20
Score: 0-7 Steer clear. 8-12 Disappointing, give it a miss. 13-15 Good, give it a go. 16-18 Great, plan a visit. 19-20 Outstanding, don't delay.
Non Solo Pizza (NSP) is a good restaurant, though sometimes it gets trapped inside a bad one. I mean this metaphorically but also literally, as to get to a nice table with nice food you have to first get past the bar and garden areas, each of which comes with its own set of hurdles. I tried to get in on Melbourne Cup night but nobody picked up the phone — photos I saw later on Instagram indicated they'd been partying hard since the afternoon. I came back a week later and ran into the dregs of another high-fashion event, but this time I was determined to persevere.
"I'm sorry, we're fully booked tonight," said the woman at the door.
Could we wait at the bar for one to
become available?
"Yes," she said reluctantly. "But it will be a long time."
On a hunch I stuck my nose into the dining room and asked the maitre d' how long the wait might be for a table of two. She looked around.
"You could have this one?" she said, pointing to one of the five empty tables in the room. And so we took it. Shortly afterwards a couple of other groups finished up, leaving us, at 8.30pm, in a mostly empty restaurant. It would have been peacefully quiet, but in the garden bar there was still a lot of shrieking laughter, with revellers occasionally stumbling through the dining room to the bathrooms. It was party noise without the atmosphere.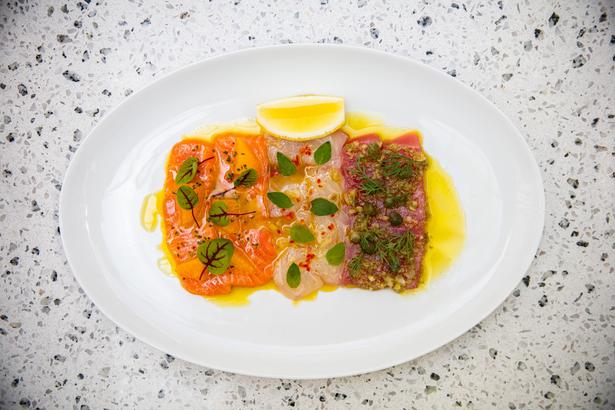 You can't blame a restaurant for its customers (so far there's been a different Real Housewife dining each time I visited) and to give the place a fair go I returned with my family on a Saturday afternoon where we had a very pleasant outdoor lunch in what is, along with Cibo, one of Auckland's loveliest courtyards. But even then we had to sit next to a boozy couple who were making out while we ate. The two of them were serving up more tongue than a tasting menu at Cazador.
Like I said, there's a good restaurant at the heart of all of this. It's been fairly recently taken over by the owners of Azabu, who know more aboutgreat dining than anyone in the city. Though you wouldn't say the place was unrecognisable, the interior has been redone and the restaurant staff are of the high quality you'd expect from one of the industry's most discriminating employers.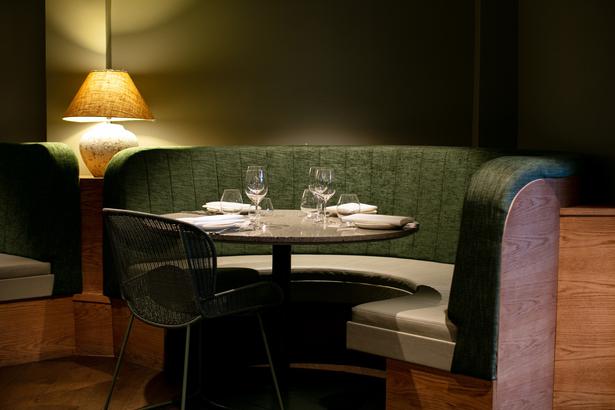 NSP has been recently refurbished with a smart new look. Photo / Babiche Martens

The waiters are Italian and you get the feeling they know as much about each dish as the chef, not through staff training but through having been raised eating this stuff every day in their home country. They ad lib insights on what region a dish is from, how it differs from the traditional recipe, what you should be drinking with it … it's a restaurant where you should take a breath and properly engage with the staff before making your final choices.

I'd like to see some more surprising choices on the menu but I doubt anybody else is complaining about a pretty solid list of pizzas, pastas and other Italian favourites. There is a small list of daily specials where we found a fantastic spaghetti vongole, the clams cooked just enough to open and the pasta moreishly al dente. The garlic came in big slices (traditional for this dish, the waiter reassured us) and when you took a mouthful of the pasta the olive oil ran down your chin. It was a beautiful thing.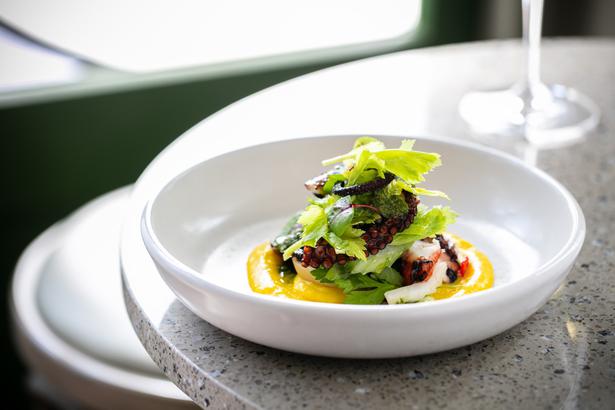 After watching My Octopus Teacher on Netflix I thought I'd never order it again but, numbed with wine, I stuffed memories of that little undersea chameleon into a little rock hole in my head and munched through a plate of his arms. This is an exceedingly beautiful dish — a curated pile of shape and colour — and tastes pretty wonderful too. Order if your conscience allows it.
The three fish crudo was only a mild success for me — not horrible, just not as exciting as raw seafood can be (I'm thinking, coincidentally, of the exceptional sashimi options at Azabu). And the T-bone for two was cooked expertly but could have used some sauce that really stood up to it — I've tried that salmoriglio herb oil in Sicily, but it works better with swordfish rather than a hulking piece of beef. The pizzas are great, and you can't go wrong with the pasta.
Interestingly, the restaurant is wonderful with children, offering high chairs, really decent activity packs and a kids' menu which takes their tastebuds seriously. Ponsonby Rd's Prego is good at that stuff too, and maybe it's best to think of NSP as a Prego for this side of town: a strong, dependable Italian that can be many things to many people, so long as you're aware that, occasionally, you're better to turn around at the front door and eat somewhere else.
Share this: