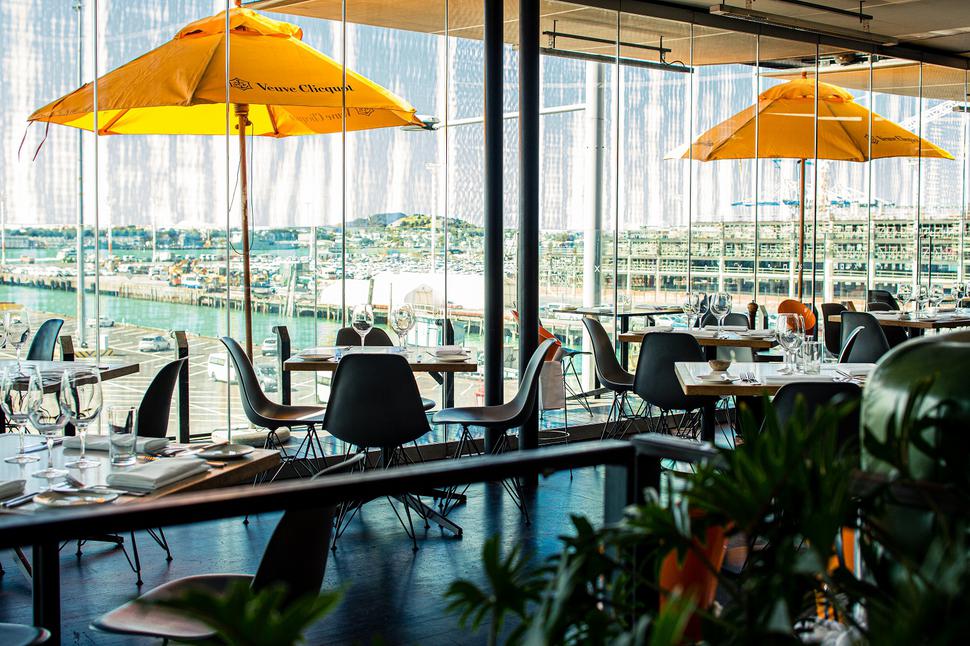 Restaurant Review: Ostro Tempts Diners To The Waterfront With Tasty New Menu
Waterfront bistro Ostro has a new menu and dining out editor Jesse Mulligan is right on board
Wednesday Oct. 16, 2019
OSTRO
Cuisine: Bistro
Phone: (09) 302 9888
Address: 52 Tyler St, City
Drinks: Fully licensed
From the menu: Crayfish toastie $23; terrine $18; snapper $38; baby chicken $38; zucchini flower $22; asparagus $12
Rating: 17/20
Score: 0-7 Steer clear. 8-12 Disappointing, give it a miss. 13-15 Good, give it a go. 16-18 Great, plan a visit. 19-20 Outstanding, don't delay.

I particularly enjoyed Ostro on this visit, and not just because of the new menu. I'd only ever eaten here for work-related meals, usually lunch, and though it is the ideal restaurant for that — consistent, professional, immaculate — there's something sad and awkward about any group of people who have gathered to eat not because they like one another, but because somebody else is paying. Has anyone had a really enjoyable work lunch before? They're meant to bring people closer but in my experience it's just a hyper-social way to feel lonely.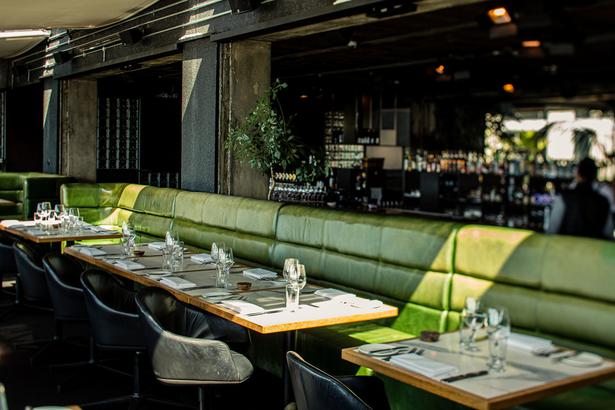 On Monday night, however, I visited with one of my oldest, bestest friends and it was like a different restaurant. When you have loads to talk about, great wait staff just do their job and stay out of the way: we chatted for a couple of hours, we never went one minute without a drink and the food kept arriving like these little treats we almost forgot we'd ordered. Through the huge glass windows a massive cruise ship slid out of port and into the harbour, a floating city with lighted cabins full of couples heading for 30 degree temperatures somewhere in the Pacific. In that moment I wouldn't have switched places with them.
READ: Jesse Mulligan Reviews Takapuna's Best Kept Secret
Ostro has a new menu for what feels like the first time ever (you don't become the safe corporate choice by changing things up on the regular) and the only dishes to survive the cull are the smoked kahawai omelette and a fancy fish pie. As I look on the website now to give you a run through the new stuff, I see the menu is either not available online or impossible to find, which might interfere with the marketing push somewhat. There is, however, a large photo of handsome Josh Emett, who wrote the menu, so at least they included an appetiser.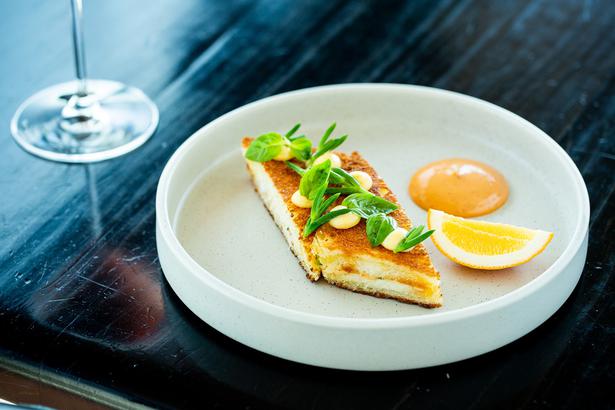 It's hard not to order octopus when you see it, though I have one particular acquaintance who opposes it on ethical grounds — she reasons that the smarter the animal, the more it feels like murder to eat it. I don't see it quite like that — I've met loads of people in Hamilton who couldn't outsmart a chicken, but I'd still swerve to miss them on the way to buy a quarter-pack.
No, I avoided the octopus because I was worried there would be tiny bits of it dotted around a huge fine dining plate — I want my cephalopods in big rustic hunks or, even better, served whole, as infants.
READ: Jesse Mulligan One Of The Inner-City's Most Stylish Eateries
Instead I ordered an exciting new menu item which continues the Ostro theme of upmarket Kiwiana. The new "crayfish toastie" features buttery soft, crustless bread, toasted and sandwiched around generous pieces of cooked crayfish. It's served with a sauce that probably has its own name but as I can't check it we'll call it a spicy, thousand-island roux.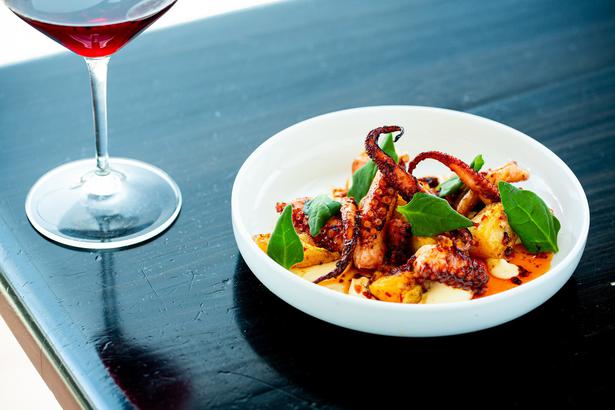 My best bud went for the leek terrine, a chilled vegetarian dish which I secretly think he panic-ordered in a moment of indecision, but it was done very well — you almost wouldn't regret missing out on something more exciting.
READ: Jesse Mulligan Reviews An Italian Institution On Ponsonby Rd
The leek is cooked just enough to be tender but retain its bite, and it's served with, I think, a little hollandaise sauce and a … port reduction? (The waitstaff are mostly European which means they are perfect employees but have accents that are very hard to understand, particularly when they're explaining technical aspects of the food.)
I know what came with my poussin because it stood out for its honesty. I happen to know Josh is a secret offal enthusiast, who has somehow convinced the investors to besmirch the world's safest restaurant order, roast chicken, with "liver" and "hearts".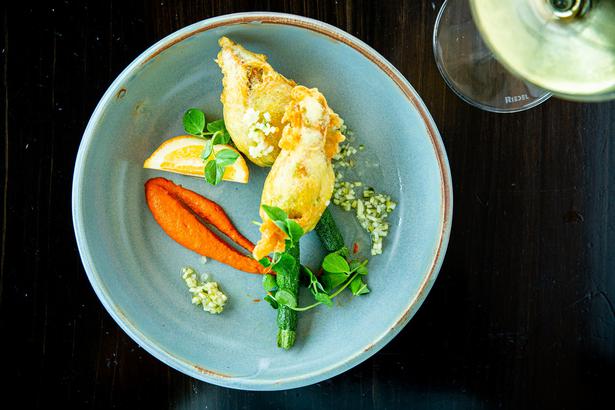 They're more confronting to read than to eat, and are sliced small enough that they could easily be pieces of mushroom until you get a big flavour hit of the liver which, by the way, is a great match with the chicken breast in the same way that a chunk of slow-cooked beef is often these days included next to a prime cut for texture and dimension.
READ: Jesse Mulligan Reviews Auckland City's Sexy New Rooftop Bar
The asparagus spears in anchovy butter were okay but the star was the plate of zucchini flowers, a careful, beautiful dish in which this seasonal delicacy was stuffed with a very subtle prawn mousse then tempura deep-fried to crunch up the outside. I hope you visit soon enough to catch this spring special, listed only on the daily menu insert and one of the best things I've eaten this year.
I can't claim to be sharing a secret here, as Ostro was full even on this wet Monday night, but this is a fantastic restaurant and if you haven't been recently you should let the new menu tempt you. Perhaps I'll see you there, though if it's daytime and I'm surrounded by suits please do the honourable thing and activate the fire alarm.
Share this:

More Food & Drink / Dining Out