Restaurant Review: Paris Butter, Herne Bay
Herne Bay's latest resident is a gallantly Gallic sensation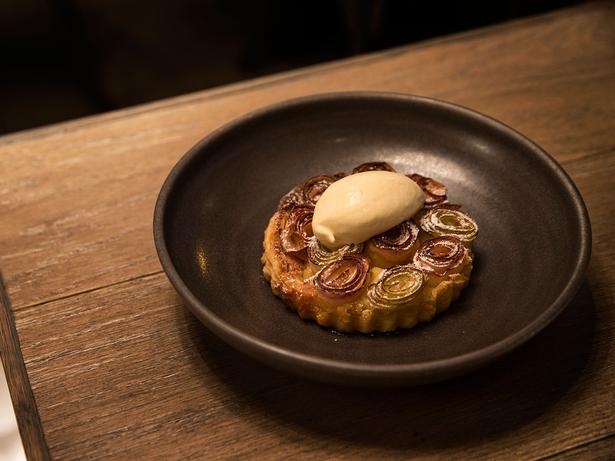 Wednesday June 8, 2016
Cuisine: French bistro
Address: 166 Jervois Rd, Herne Bay
Phone: (09) 360 4340
Bookings accepted
Drinks: Fully licensed
From the menu: Parmesan soup $18, venison carpaccio $21, confit pork belly $21, duck leg pie $30, prawn ravioli $33, sirloin steak $37, tarte aux pommes $13
Rating: 8.5/10

It was very difficult to get a table at Paris Butter. Not because it is so busy (although it is very busy), but because nobody would pick up the bloody phone, and they didn't have voicemail. In desperation I asked my arranged dining companion to try messaging them on Facebook, but even this took some days for them to reply to, by which time the only free table was on a Sunday night.
Even when I arrived things were hard.
"I'm joining the Watson party for 7pm," I told the maitre 'd.
"I'm sorry, there's no sign of it in the book," she said.
"Could this be it?" I asked, pointing to the name 'Watson' next to a large '7pm'.
"I'm so sorry" she said.
"That's okay, are they here yet?"
"No, they're not."
"Oh," I said, looking round for a place to wait.
"They are here," she decided, and led me to my table.
All this was quite inconvenient given that the Watsons in question were a nice couple who'd successfully bid for a dinner with me at a charity auction, raising money for UpsideDowns which provides speech-language therapy for children with Down Syndrome.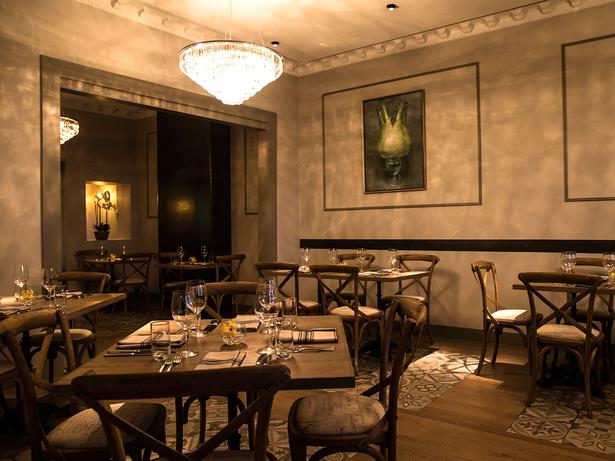 I hadn't been at the auction so was keen to hear how it had gone.
"Were there many other bidders?" I asked, and "what did you end up paying?"
"We were the only ones who — "the husband started to say before I sensed him get a sharp kick under the table.
He reconsidered. "Actually I can't remember now. I'm sure it was very popular." Then he took a deep sip of wine and looked sideways at his wife in a "quick, change the subject" sort of way.
Paris Butter seemed like the ideal place to take someone who'd bid tens of dollars on a flash dinner out.
It's the new opening from Nick Honeyman, a talented and beautiful young chef who has often done great things in average places, and finally gets to do things his own way, having taken over a grand space occupied for many years by Vinnie's in Herne Bay.
Nick is undeniably the face of a new generation. I still remember one of the older fine-dining chefs pointing him out to me at an awards night once and saying "he goes to the gym each morning", like he was describing the routine of a serial killer.
His food has always been influenced by French technique, though at times it's bordered on fancy fusion — the first time I ate at one of his restaurants he was serving cured Atlantic salmon with grapefruit, pomegranate, blood orange foam and baby fennel.
That would be unthinkable here at Paris Butter, where each dish is simple and classic, leaning heavily on butter, cream and protein.
Simplicity and confidence are closely related in the modern kitchen, and this is clearly the menu of a chef who knows what he likes. Almost everything we ate was flawless and impeccably constructed — from a parmesan soup with minestrone condiments to a slow cooked sirloin with herb butter to, most wonderful, melt in the mouth slivers of raw venison with smoky shallots and house pickles.
My sole complaint was one of design: the duck pie was so hot that Mrs Watson couldn't get near it for about ten minutes. I realise it comes straight from an oven, but some sort of decanting might be required if the diner is to finish their main before midnight.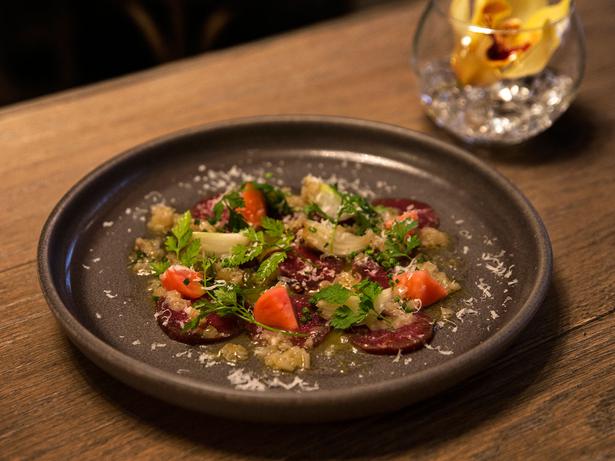 But it all tasted superb, including a spectacular off-menu tarte aux pommes: perfect little apple "roses" on short pastry scorched just beyond caramelisation and served with a scoop of vanilla ice cream.
I could have used some fresh relief from the lactose-heavy main meals, but I didn't get it from the side salad which was mesclun with whipped feta and heritage tomatoes that tasted underripe and watery: about what you'd expect from tomatoes in late May.
Each of the service staff has her own quirks, and a couple of weeks after opening they didn't yet show much sign that they were operating as a unit, or even with the same training. But they are nice people and the sommelier is fantastic — the wait staff rightly call her in when there is wine to be chosen, and she's a real asset to the operation.
Paris Butter is doing almost everything right and, once they've shaken out the early wrinkles, the place could elevate into the top handful of Auckland restaurants.
However, it's a narrow style of food you have to be in the mood to eat.
All good if they want to keep things Gallic but I do wonder if a little Southern French cuisine — lightly cooked vegetables and olive oil — might help keep the locals coming back.
This is image-conscious Herne Bay after all; the women who put on make up just to exercise the dog may well be scared off by all that Paris butter.
Share this:

More Food & Drink / Dining Out