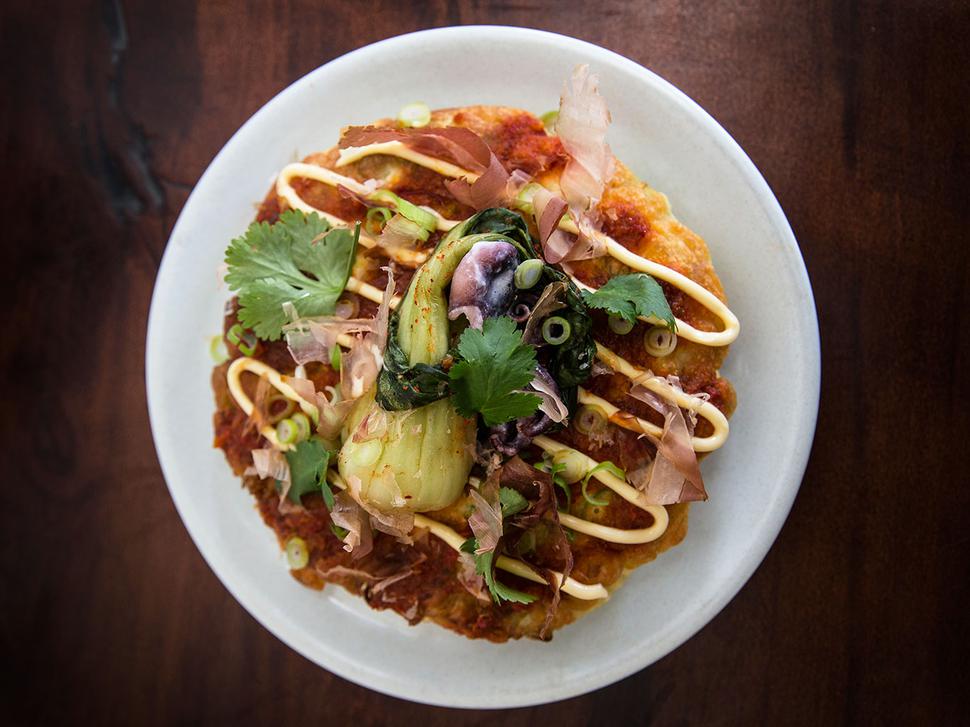 Restaurant Review: Peach Pit
Downbeat and delightful — Peach Pit surprises with its creative menu and enthusiastic team
Wednesday Sept. 9, 2015
Cuisine: Hipster fusion
Address: 352 Karangahape Rd
Phone: (09) 377 4630
Website: www.peachpit.co.nz
From the menu: Salt and pepper tofu $9, Roasted marrow $10, Nachos $12, Spicy chicken wings $14, Seafood pancake $15, Smoked mushrooms $15, Lamb shoulder $20
Drinks: fully licensed
Rating: 8/10

Money is tight at Peach Pit — not just for the restaurant but for the customers. I know this because at the end of the meal they asked me to check the bill and when I said "you forgot to charge me for a glass of wine" they looked at me like I was some sort of angel walking among men.
"Check it out!" the waitress called to her colleagues, "this guy just told me about a glass of wine that wasn't on the bill."
"Wow, that never happens," gasped the maitre d'. The four of them then gathered round the receipt to "ooh" and "ahh" some more, while I glumly prepared to tell them that I was writing a review, so technically owned up to the glass of wine only because Viva was paying for it.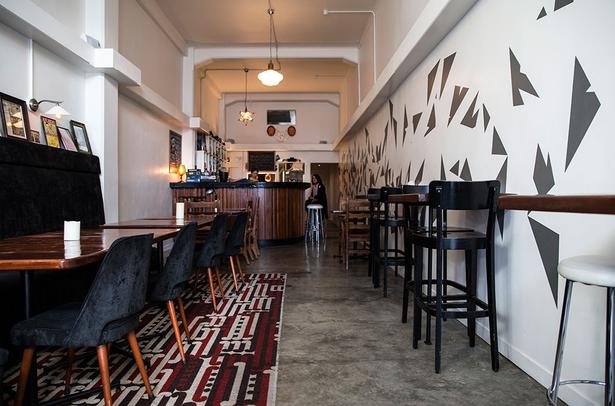 But yes, the restaurant looks to have been started up by somebody with just enough cash to outfit a kitchen, but not quite enough to redecorate the room or refurbish the toilets. As a result, Peach Pit really does feel like a downbeat K Rd bar that does food. If you can get your head around that, you'll love the place.
For a start, everyone who works there is enthusiastic and on-message — they love their food, and some quick Facebook stalking suggests they regularly go out as a team to ethnic restaurants in Auckland's far flung suburbs, searching for inspiration. The menu is handwritten, and when I asked for a copy the manager admitted "we all have A.D.D, so ... I can't promise you any of this will be the same in two weeks time".
I'd encourage the chef not to fill her Ritalin prescription because whatever she's doing is working. Her food is a mash-up of carefree experimentation and technical expertise.
"I was at the painters under the lambs," she said to me poetically, and I stared at her dumbly for a long time before working out that what she meant was she worked at the restaurant Sunday Painters, under sisters Esther and Beki Lamb (who've subsequently moved on to the outstanding Siostra in Grey Lynn).
As you'd expect for K Rd, there is plenty of attitude. While Ponsonby's princesses earnestly signed up for Junk Free June, at Peach Pit they held "Junk Food June", a 30-day homage to deep frying and mayonnaise. They also run a regular KFC night, which I understand is popular in that ironic/unironic way that is hard to keep up with when you're 40.
It may not be health food, but it's whole — most ingredients are listed in the menu description, and though you don't order roasted bone marrow thinking "this will get me into shape for bikini season", at least you know what you're putting into your body.
My favourites were the "kind of nachos" — prawn crackers with grilled chilli cheese, kim chi and bok choy. They were so good, just a little tilt on a bar snack favourite but those changes add so much — texture from the greens, spicy acidity from the kim chi. You could eat bowls and bowls of this stuff, though you probably shouldn't.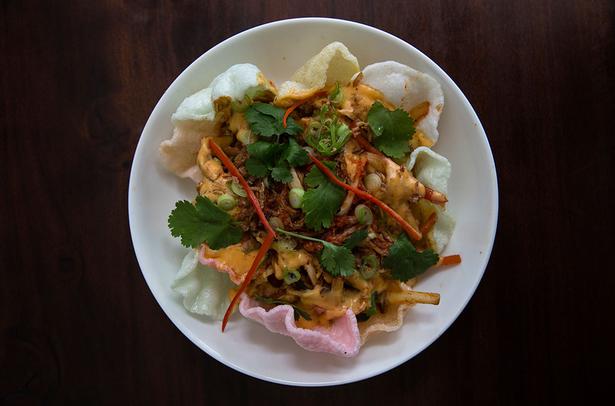 A seafood pancake was amazing, too — white fish pieces, octopus and prawns stirred up in an Okonomiyaki-style batter then fried to golden, every morsel inside cooked to tender perfection. It's topped with spring onions, kewpie mayo, chilli sauce and more bok choy. Honestly, I never thought of whole Chinese greens as a garnish before but here it is everywhere and it works — especially when it takes the form of kim chi.
Yes, chef Lukrecya tells me she loves to pickle and ferment anything she can get her hands on — so much so she runs out of space in the backroom and it spills into the bar, jars packed tight with surplus vegetables and the good bacterial cultures your stomach desperately needs to survive this hand-sanitised world.
The wine and the beer lists are fantastic, and look to have been put together with thought and care. That was a Seresin sauvignon blanc I'd ordered by the way — recommended by a waitress confident enough to serve an iconic New Zealand varietal that tastes nothing like what the rest of them taste like (this is a good thing).
There are a couple of menu experiments I wasn't convinced by, usually a case of too much of one sort of thing — does a fatty, creamy bone marrow need to be served up with cheese curd, for example?
But I left happy. Happy to have found a good new place to eat, but also happy for Auckland. We live in a city with so much great food that the best of it is now found not just in restaurants but in alleyways, food trucks and noisy little bars like this one. That's something that should make us all excited and proud.
Share this:
More Food & Drink / Dining Out