Restaurant Review: Peasant, Mt Eden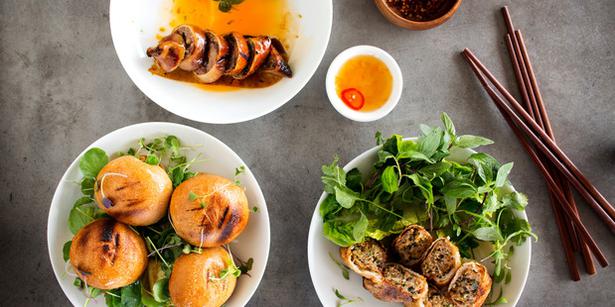 Wednesday Oct. 22, 2014
Address:
 191 Dominion Rd, Mt Eden
Facebook.com/peasant
Phone:
 (09) 638 6403
Cuisine:
 Vietnamese
From the menu:
 Rice paper rolls — fresh salmon and fried pork, both $12, Fish bun $8, Skate wing $18, Pork belly $18, Roasted duck $19, Black sticky rice $9
Drinks:
 Licence pending
Rating:
 8/10
Sometimes you find yourself glued to an idea of a cuisine. Then a chef comes along and shakes that up and moves you to understanding how it can be. After three visits to Vietnam, I am a fan of the fabulous food from this intriguing country.
The steaming and sustaining bowls of pho, the open restaurants, barely off the street, serving bun cha and brilliantly fresh, soft rice noodles, the small carts peddling food left over from the days when the French were in town - baguette sandwiches smeared with rich pate; cool and silky creme caramels in little takeaway dishes; the invigorating sight of piles of fresh herbs everywhere and the heady aroma of fish sauce clinging to the air.
Now brothers John and Simon Yip have set up on Dominion Rd and their eatery, humbly named Peasant, is shedding a new, golden light on Vietnamese dining in our city. The minimalist fitout is more Ponsonby Rd than Asian street eats.
Bare-bulb light fittings dangle into the space from striking black, knotted ropes, the polished concrete floor and wall of white tiles keep the lines simple, a massive vase overflows with flowers on a communal table while individual tables are adorned gracefully with pots of pale green succulents.
Peasant's transformation from its previous incarnation (Two Monkeys) is dramatic, but judging by the number of regulars who came in asking "Do you still do takeaways?" the locals are yet to catch on to the fact that with the opening of Peasant, the Vietnamese food on this corner has entered a new and delicious chapter.
Dishes burst and crackle with flavour and texture; fresh rice paper rolls are stuffed exquisitely with salmon, tea-smoked in-house, freshly flaked coconut flesh and best of all, served with plenty of pungent fresh Vietnamese mint and coriander. They ping and pop with a taste that's distinctly Vietnamese yet rooted in our world, too, with the use of salmon.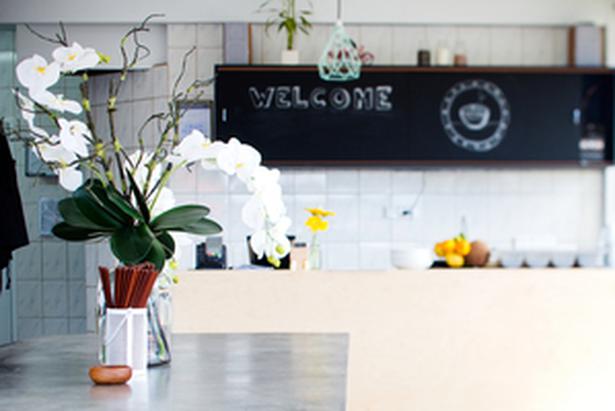 Pork rice paper rolls arrive freshly fried to our table, their gorgeous lace-like bubbled, crispy shell encasing a deep, dense and rich filling crammed with minced pork, mushrooms and dried shrimp. Wrapping leaves of gem lettuce around each piping hot spring roll, we clutch them tightly, dip into the simple fish and chilli sauce and devour. Wrap, dip, devour. Again and again, mouthfuls of pleasure that take me straight back to Hanoi.
Then come the fish buns and, even if you're tired of sliders, I urge you to try these at Peasant. Spicy fish is served with watercress and preserved lemon mayo and it's in the small details, like the puffed rice in these little beauties, where the brothers show their eye for detail.
Vietnamese cuisine is typified as much by the texture of food as its flavour and in all dishes this is adhered to; skate wing, its corrugated flesh capturing a rub of turmeric and dill, comes with a tangle of soft, snow-white rice noodles, crunchy beansprouts, roasted peanuts and crispy shallots and those fresh herbs again.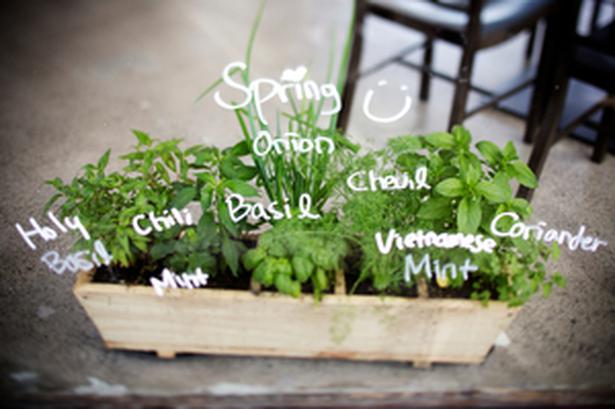 A duck leg has dark and brittle skin, but flesh so tender it falls away into the tangelo salad. We pile forkfuls of it onto translucent taro crisps and eat. And eat. And eat. Pork belly, a tad on the dry side, is sharp and sweet with tamarind and accompanied by a bowl of ginger rice and a granny smith and fresh coconut salad which, dressed with ginger juice, is the perfect foil for this fatty cut.
We find just enough room for the single dessert offering, sweet and nutty black sticky rice with grilled mango and homemade coconut icecream, a divine finish to a simply marvellous meal. The menu may look small at first glance but it's just the type, there's plenty of choice. We couldn't quite fit in the beef and lemongrass or the oxtail broth this time, let alone the stuffed squid and chicken skewers, but I can't wait to return to try them.
The Yip brothers, New Zealand born and raised by Vietnamese-Filipino parents, are taking an informed and unpretentiously fresh approach in their interpretations of the Vietnamese standards.
Peasant is still waiting for a liquor licence but don't let that stop you because my prediction is that, by the time they get it, you won't be able to get into Peasant for the line out the door.
Share this:
More Food & Drink / Dining Out