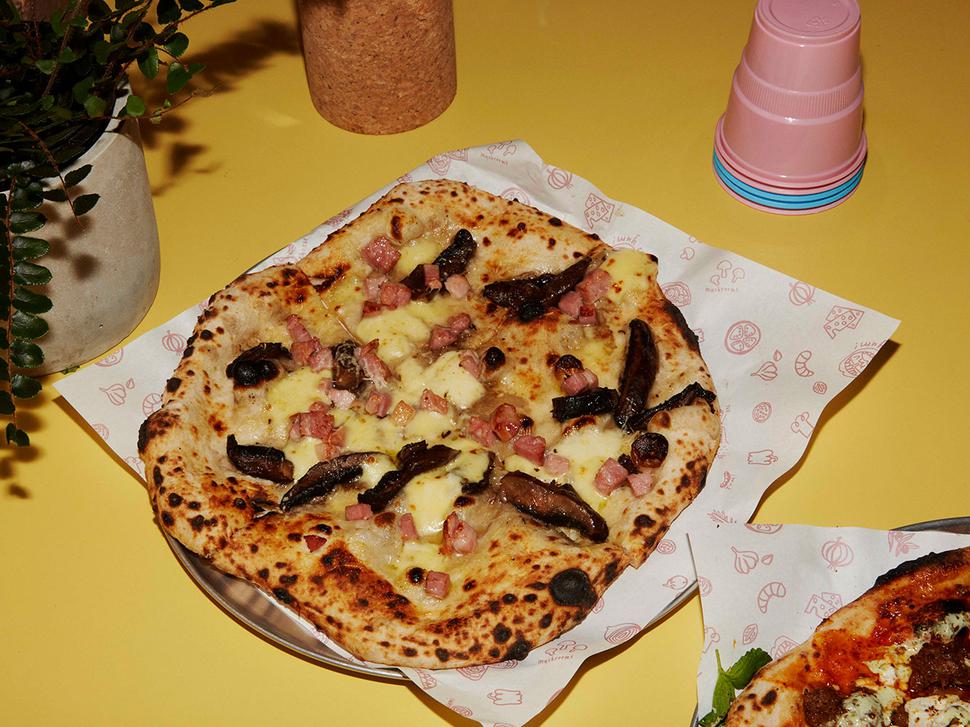 Restaurant Review: Umu, Kingsland
Jesse Mulligan visits Kingsland's hottest new pizza restaurant
Wednesday April 11, 2018
Cuisine: Pizza
Address: 469 New North Rd, Kingsland
Reservations: Not accepted
Drinks: Fully licensed
From the menu: Sicilian sausage pizza $25, Merguez, feta and yoghurt pizza $23, Mozzarella mushroom and pancetta pizza $24
Rating: 16/20

We begin this week with some sad news: the closure of tapas bar Barcelona on New North Rd. It got good reviews and the food was top notch, but sometimes a restaurant just doesn't stick.
My entrepreneur friend Greg and I dropped in for a post-dinner sherry last Tuesday and the owner told us the bad news, that this would be his final week of trading. We paused for a moment out of respect, then Greg said to him "can I buy those stools then?".
We were in Kingsland to visit UMU, a new sourdough pizza joint that has the opposite problem to Barcelona — one week after opening they couldn't keep up with the number of people wanting to eat there.
When we arrived they were queuing on to the street, so we took a table at Portland Public House three doors down and waited for the crowd to subside. A live music venue, Portland Public House is a great spot to nurse a drink and watch the world go by, and Greg seemed to enjoy himself despite not managing to depart with any of their soft furnishings.
The good thing about living in New Zealand is that no one goes out to dinner after 8pm, so even the busiest restaurants have seats available by 8.30pm. This was the case at UMU too, and within seconds of returning, we were sitting at a shared table next to a group of happy young women.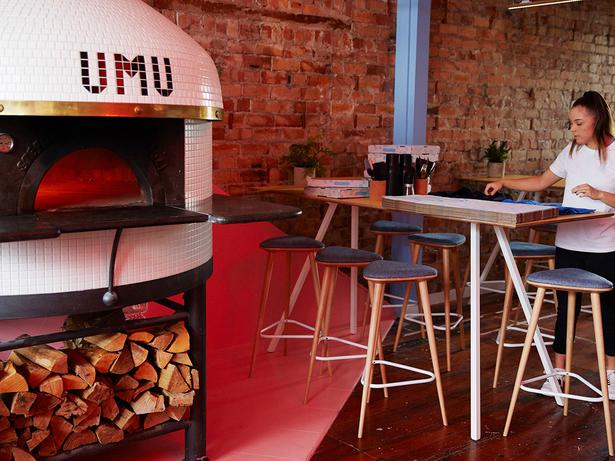 To give you an idea of how well the restaurant is going down, a couple of them posed next to the neon UMU sign for a photo on the way out. If you enlarge the image on Instagram you can see the tearful face of the Barcelona chef reflected in the window.
The room is dominated by a massive, wood-fired pizza oven. The owner proudly points a temperature gun at the back of it whenever a customer shows an interest. He has another trick too, where he puts a dry log in the oven about a metre away from the fire and it bursts into flames.
I asked him what his background was before opening the restaurant and he replied "IT". I wonder what will happen when something goes wrong with the pizza oven and he can't just turn the power off and on?
READ Restaurant Review: Cotto, K Rd
To be fair he has apparently spent every minute of his spare time working on a perfect pizza base, and the toil has been worth it.
Made from a fermented sourdough, the bases are lighter than you're probably used to and apparently different enough on a molecular level that, though nothing here is gluten-free, some of the aggravating properties of gluten are neutralised in the ferment.
I have no idea whether the science stacks up here but they promise that you won't leave feeling bloated and they're right. The downside, if you see it that way, is the individual pieces don't have any rigidity so you sort of naturally end up bending them into a U shape to get them to your mouth — a technique known to New Yorkers as "the Fold Hold".
But UMU isn't all about that base. The treble comes by way of eight fantastic topping choices, of which my favourite was a Sicilian sausage — pork and fennel mixed on site and loosely scattered with chilli over a tomato base.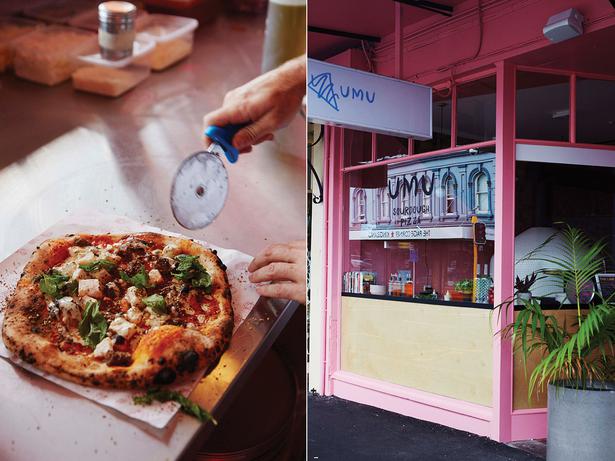 He has a taste for spice, this information technology professional, and most toppings have a little heat — we also liked the merguez sausage with harissa and yoghurt, though the Moroccan ingredients might trouble Neapolitan purists.
READ: Mapping the Flavours of Moroccan Cuisine
The toppings are spread a little haphazardly and tend to clump in the centre, so be strategic if you're sharing or you'll end up eating all cheese and dough.
Then there is the single most transforming item in the pizzeria's arsenal — the bottle of chilli oil. Nothing compares to the reckless freedom of drenching your already spicy pizza slice in bright orange olive oil so that when you take your next bite it all dribbles down your chin.
UMU has not quite one bottle of the stuff per table, so you'll need to rely on either fast hands or shameless hoarding if you want to commandeer one for the duration of your meal.
There is a list of promising-looking sides, unavailable on our visit but due any day. I'd like to see them add a simple green salad to the "burnt potatoes" and "fire-roasted mushrooms", or something else to refresh between mouthfuls of hot salty pizza.
Also, perhaps this is an attempt at humour, but there is a set of bathroom scales in the toilets. Scales don't belong in pizza restaurants. Nor, while we're at it, do they belong in workplaces or hotel rooms.
It's one tone-deaf note in an otherwise pitch-perfect restaurant opening. The owner has a huge hit on his hands — visit off-peak to secure your seat.
Share this:

More Food & Drink / Dining Out