Restaurant Review: Pocket Bar, Grey Lynn
Jesse Mulligan rubs shoulders with celebrities at a new, welcoming watering hole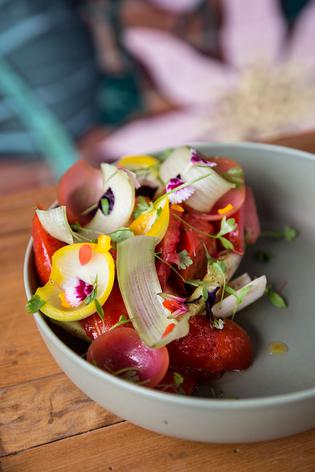 Address: 592 Great North Rd
Phone: (09) 376 4309
Genre: Upmarket bar food
Drinks: Fully licensed
From the menu: Chicken wings $14, Crab pastry $16, Naan roll $16, Seaweed chips $8, Silverbeet salad $12, Tomato salad $14, Vietnamese tartare $18
Rating: 6.5
One of the fun things about living in Grey Lynn is that you run into famous people all the time. Not Mike McRoberts famous — he has better things to do than mooching about Great North Rd waiting for the butcher to open — more like second tier famous: Black Sticks, midday news reporters and actors from the TV show Step Dave.
You pretty much can't walk into a local business without seeing somebody who's been on TV, and so it was no surprise when I dined at the new Pocket Bar this week and sitting just across from me was one of the rejected contestants from The Bachelor.
Well, "rejected" is a bit harsh. "Not selected" might be more like it. She didn't seem too upset about life. True, she may not have been on a single date with Jordan that evening but pre-dinner cocktails must be a lot more enjoyable when they don't conclude with you being sent home in a humiliating rose ceremony.
I was out on a platonic date, my wife having volunteered to stay home while I took her sister out for a drink and a munch. I met the sister when she was 14 and now she's 26 but still seems like that teenager to me — I bet when she's a 50-year-old Supreme Court judge and I'm a 64-year-old bingo caller I'll still be shouting her beers like it'll help her make rent that week.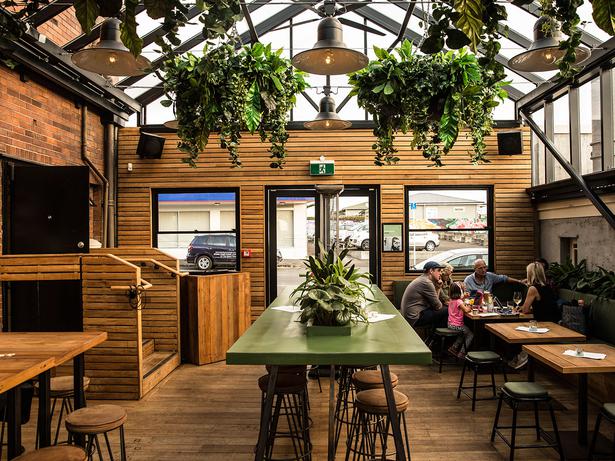 Pocket Bar is both exciting and disappointing. It's housed in a beautiful, architecturally-designed room combining modern and ancient, timber and steel, glass and greenery. And it's part of a remarkable building — the old ASB Bank in the Grey Lynn Shops. The main room on the corner isn't being used but the old vault is a dry store and they've built an extension out the back for the restaurant, wallpapering the corridor and bathrooms with a sheath of historical banking documents they discovered during the renovation.
The staff are super — fast, warm and full of personality. The bartender makes a pretty good cocktail, and there is an okay selection of wine and beer. There's also a great atmosphere, with a mix of young Tinderlings and boozy Boomers creating a happy vibe of noisy revelry.
At night, the lighting is good for a bar but challenging for a restaurant — it's almost impossible to read the tiny menu print with the one tealight candle they provide for you. You feel like giving up, and later when the food arrives, you'll wish you had.
Because I'm afraid the cooking is terrible. I ordered almost everything, as usual, and struggled to find one dish to love. Here are a couple to like: the seaweed chips, comprising sheets of nori tempura-fried and served with a tangy mayo; and the crab, featuring shredded crabmeat wrapped in crunchy brik pastry cylinders, served with a good green harissa.
Unfortunately they were propped up on a stem of curly kale, not a vegetable of natural beauty or deliciousness in its raw state and both pointless and unpleasant here.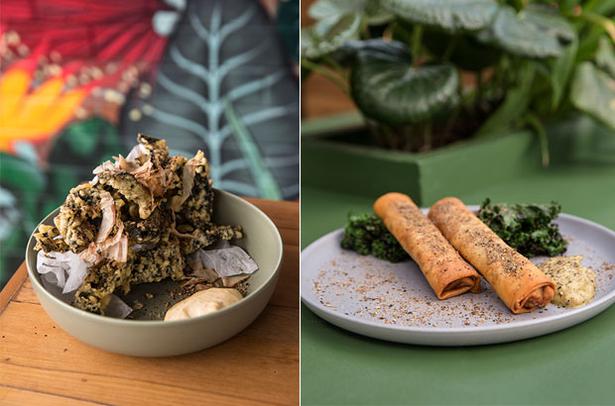 Both of those dishes are done in the deep fryer which, out-of-fashion though it might be, remains a pretty good way to cook tasty food of limited complexity but strong primitive appeal. That vat of hot oil is a shortcut to flavour, and the dishes at Pocket become very exposed when it's not in use. I don't know how you make chicken wings taste like nothing, but the ones here may as well have been steamed.
A side salad featured two of nature's most unappealing raw vegetables — silverbeet and fennel. I can still remember all that grim chewing now, as I type.
A heritage tomato salad in autumn should be a thing of ripe beauty, but these tomatoes were firm, watery and undersalted. They came with raw rhubarb, grapefruit and pickled onions plus, allegedly, pomegranate and sumac — if you'd been able to taste those last two this would have made five different types of acidity to compliment an acidic main ingredient. So almost nothing in the way of contrast, seasoning, sweetness, texture or spice.
There is obviously some enthusiasm for creative invention in that kitchen, but whoever the head chef is (I daren't find out his or her name lest I have to review them down the line and find myself unable to forgive them for the chewy egg yolk on the steak tartare), I'm recommending a few more months in somebody else's kitchen to learn about sorting the good ideas from the bad.
The next chef here will be crucial to the survival of this extremely promising space. There is room to expand, few neighbourhood competitors and no shortage of wealthy, thirsty locals to keep the place going. Great chefs aren't easy to come by, but then you don't get into the restaurant business because it's easy.
Share this: