Review: Regatta, Takapuna
Interesting new eateries are springing up all over Auckland at a swift clip, many of them in the 'burbs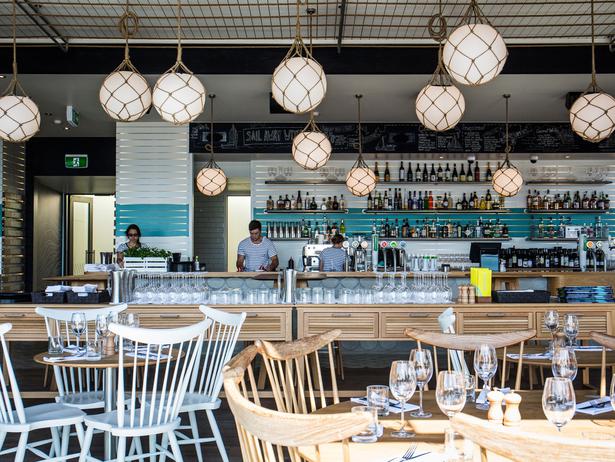 Thursday Feb. 26, 2015
Address: The Strand, Takapuna
Phone: 021 047 9007
Online: regattabar.co.nz
From the menu: Citrus ceviche ($16.90); Crispy pork belly ($17.90); Grilled fennel ($19.90); Spatchcock poussin ($33.50); Pan-fried fish ($32.90); Mushy peas ($8.50); Chocolate fondant ($14.50)
Drinks: Fully licensed.
Rating: 8/10

Interesting new eateries are springing up all over Auckland at a swift clip, many of them in the 'burbs.
A new development in Takapuna overlooking the beach, in an area that formerly housed office blocks and carparks, has three new places to try in one of the best urban waterfront locations in the country. On Friday night all were buzzing, with eating and drinking areas spilling through folded-back glass doors on to big balconies, allowing patrons to enjoy the warm evening and glorious views.
The most recent of these to open is Regatta Bar and Eatery, which has been trading for nearly a month. Part of the Barworks Hospitality Group, its kitchen is run by chef Richard Highnam who has worked alongside Al Brown at Logan Brown and Simon Wright at the French Cafe.
Owners Andy Ruzich and Steve Shute have done a fantastic job of decking out the L-shaped space which takes inspiration from neighbouring Takapuna Boating Club, so is heavy on the nautical theme. The (many) staff members scuttle around in navy and white stripes meaning they're easy to spot, and huge impressive orbs suspended above in "nets" look like light-filled buoys.
Interchangeable painted boards above the open kitchen advise what fish and meat is on offer, and living herbs grow in planter boxes on one of the walls. Pumping house music and acoustics mean there's lots of noise, and the atmosphere is relaxed and fun.
This is primarily a seafood restaurant but Highnam's concise menu caters for all, with a wood-fired grill section offering several meat options and an "extra flavours" list featuring interesting items such as crayfish butter, house-made Laphroaig mustard or the curiously titled "gentleman's relish".
But we've got a hankering for fish tonight and Regatta has three ways of preparing it - on the aforementioned grill, pan-fried or roasted.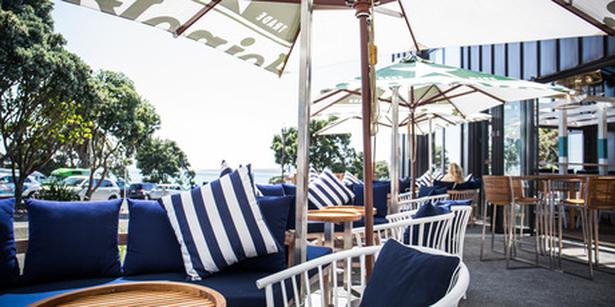 We begin, though, with a pretty plate of kingfish ceviche which has strong but simple flavours thanks to citrus-drenched slices of orange, slivers of witlof and radish and a sprinkling of those herbs. A slab of pork belly with a fried rillette patty, pickled prunes, fennel and light dollops of sweet apple sauce was tender and fell apart at the touch. Equally successful was the healthy sized serving of smoky grilled fennel with fragrant orange, red onion, sunflower seeds, and fresh mint and coriander.
The idea is not to share the main courses, but most would struggle to finish the spatchcock poussin on their own. We roughly carved it into three, and that provided plenty of opportunity to enjoy its moist and slightly pink flesh, a result of the sous-vide style of cooking where the meat is placed inside airtight bags, then gently cooked inside a water bath before being quickly browned then served.
The rustic dish came with excellent feta gnocchi, olives, salsa verde and a tomato fondue, and went very well with a side of mushy peas - roughly blended with mint and served with snow and regular peas, and a handful of sprouts.
Our pan-fried monkfish was so fresh it could have just come off the end of a fishing line, but the serving of crabmeat in the dish was minuscule enough for us to ask if the chef had forgotten it. He hadn't, but our stripey waitress offered to get us more. The rest of the dish's ingredients were more obvious - dainty florets of broccoli, a sprinkling of pine nuts and a lovely courgette puree.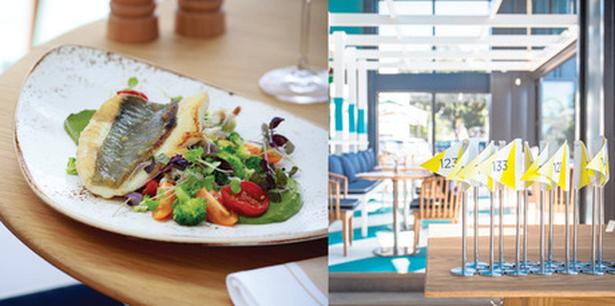 The desserts we saw being carried past looked so delicate that we ordered one chocolate fondant to share.
Like a small chocolate pudding with warm melted chocolate inside, the fondant was well-paired with vanilla-pod icecream, sticks of caramelised banana and sweet crunchy wafers of peanut brittle. Recommended.
Welcome aboard, Regatta. We enjoyed Highnam's fresh and tasty fare with its simple and well-designed flavour combinations, and we're pleased to see Takapuna making the most of its best attribute - that beautiful beachside location.
Share this: