Restaurant Review: Saan, Ponsonby
Unique and authentic, Ponsonby's new Thai restaurant dishes up food that is breathtakingly good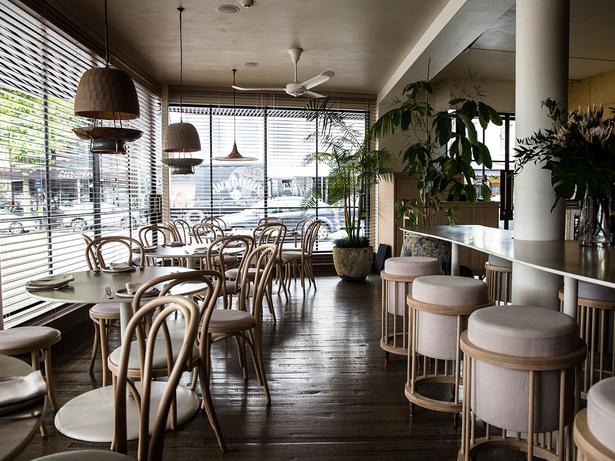 Wednesday Nov. 11, 2015
Address: 160 Ponsonby Rd
Phone: (09) 320 4237
Cuisine: Northern Thai
Lunch reservations only
From the menu: Banana leaf fish $13; Krok sausage $13; Pickled veges $8; Grilled chicken $24; Mushroom stirfry $14; Duck larb $25; Crab and papaya salad $14; Beef neck noodles $16; Sticky rice $3
Drinks: fully licensed
Rating: 9/10 

Parking in Ponsonby is out of control. Many is the time I've arrived by Camry for a 7pm dinner date, only to spend the next 25 minutes prowling the side streets looking for somewhere to park it. If I'm lucky I'll come across a resident who has put orange cones out to claim the space outside their home. But cones hold no legal standing. I bite my thumb at cones.
Once again on Thursday night it was bumper-to-bumper in Ponsonby Central, the only public carpark for a kilometre in either direction, and I was nosing out into traffic thinking about giving up when a ute vacated the carpark of my dreams, and I slid into a spot right outside the new Saan restaurant.
All of which is to say that I couldn't have arrived in a happier mood, and things only got better from there. Saan is a really first rate eatery serving probably the best Thai food in the city, and I'm predicting many happy nights here.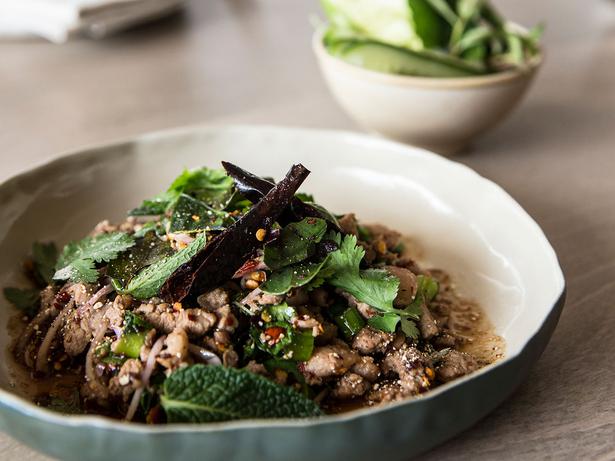 You can forgive a lot when you love a restaurant, and when I visited there was a lot to forgive. I was steered towards pale ale on tap, but sadly it wasn't cold. I complained, it turned out somebody had set up the tap system wrong, and the restaurant manager dealt with the issue with outstanding grace. "I think we'll move to bottled beer," she told me with just the right amount of humour and assurance before, presumably, taking the bartender into a back alleyway and taking to him with an iron bar.
Then the mushroom stir-fry arrived on our table with no visible mushrooms.
"I can't see any mushrooms," I said.
"They're definitely in there!" the waiter laughed confidently.
But they weren't. The chef had forgotten to include them. And so it was that we sat for some time with our incomplete stir-fry, before a waitress appeared with a small bowl of freshly cooked mushrooms and put it down on the table with apologies.
This wasn't the right move — no straight thinking chef would want a customer to experience one of his dishes this way — and I reckon if they had asked the manager she would have immediately whisked the whole thing away and delivered a brand new, correct version when it was ready.
Still, during all of this, there was never anything other than a happy eagerness to please — I went to another restaurant recently where they didn't make a mistake all night, and it was only half as fun as this.
It's a beautiful, light environment in which to eat a meal — plenty of daylight through big sliding windows, a pale-cream colour palette and soft, airy furnishings. There are windows on three sides and at night from the street the whole place lights up like a lantern.
And the food is breathtakingly good. The ingredients are bold and individual, not hidden away in a sauce. The Isaan sausages, for example, spheres rather than cylinders, come in a cabbage leaf cup with a little pile of peanuts plus slices of raw chilli, garlic and ginger. Do you know of any other restaurant that would trust you with raw garlic as a condiment? It tastes like nothing else in Auckland, which is a great compliment in a city where the eating is this good.
READ: Restaurant Reviews by Jesse Mulligan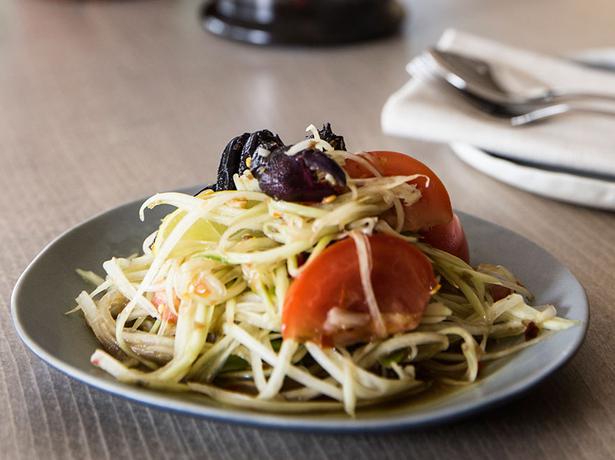 The duck larb was my favourite. Originally Laotian, variants of larb now show up across north and northeastern Thailand and while both these regions feature elsewhere on the menu, Saan's larb is the sour northeastern Isaan style. Kaffir lime gives some pucker to the rich, roasted flavours of duck mince and ground rice, and it's garnished with marinated duck skin, coated in rice flour then fried to a crunch (there are some big dark chillies too, though you're better to enjoy their residual influence than include them in a mouthful).
A rare cut, beef neck, is stewed until it almost falls apart, then served with handmade egg noodles, more raw rhizomes to stir in and a pour over coconut broth. A familiar green papaya salad comes with spice-sticky pieces of hard crab which you're encouraged to pick up and suck. So much of this stuff is unique, and it all tastes incredible.
There are lovely authentic touches too, like little clumps of ice included with vegetables and desserts, as if we were eating on plastic chairs in Chiang Mai rather than an air conditioned ex-Video Ezy in Ponsonby. Nonetheless there's something luxurious about an ice-cold strip of cucumber, and it's a credit to the owners for letting the Thai chef realise his vision so completely.
Ponsonby and Downtown both have good claims to being Auckland's centre of food right now. Sensibly the owners of Saan now have a foot in each camp, with their excellent Britomart restaurant Cafe Hanoi recently celebrating five years of trading. They haven't taken sides, and nor should you. Just eat where you like while the going's good, and give thanks for living in Auckland in 2015.
Share this:

More Food & Drink / Dining Out