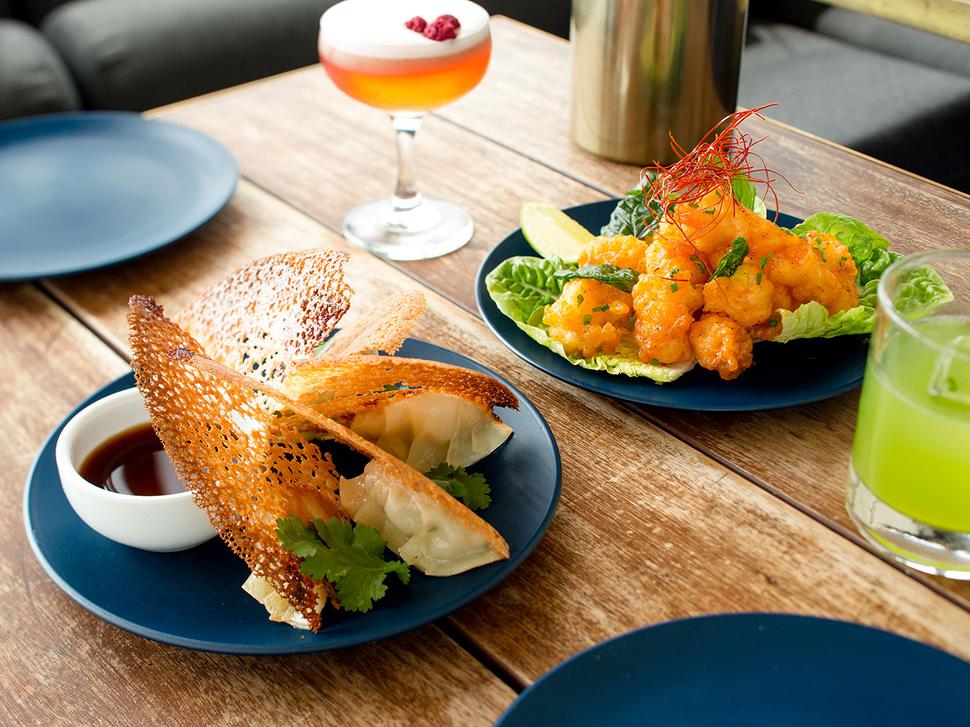 Restaurant Review: Seven, Seafarers Building
Jesse Mulligan joins the action on a rooftop restaurant that's pushing the boundaries
Wednesday Nov. 22, 2017
Cuisine: Asian
Phone: (09) 302 9886
Address: Level 7, Seafarers Building, 52 Tyler St, City
Drinks: Fully licensed
Reservations accepted
From the menu: Popcorn shrimp $16, duck salad $22, short rib $42, miso toothfish $22, pot sticker dumplings $19, fried rice $10
Rating: 8/10
A cafe owner recently created a bit of a fracas, a brouhaha, a hullabaloo about the Metro Top 50 Cafe Awards, when he suggested on social media that they were not rewarding the right people or, worse, were in the pockets of the wrong people.
As a former judge of those awards I can confirm that their ethics are unimpeachable, though I do sympathise with anyone who wonders how you judge a small hole-in-the-wall espresso bar against a full service, all-day eatery such as Takapuna Beach Cafe.
READ: Are Espresso Martinis Still Cool?
Speaking of which, what to do with the fact that the owners of TBC have about a dozen great cafes and probably 10 more on the way, and all of them are pretty much perfect because, as you'd expect, they really know what they're doing?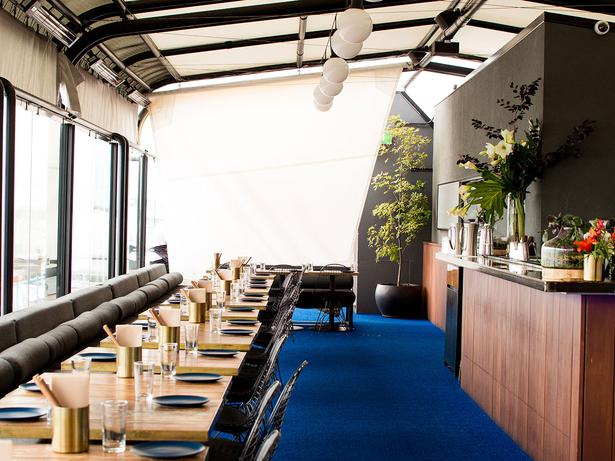 We're developing the same problem, if you can call it that, with restaurants. I remember other restaurateurs sneering when an advertising company, Shine, dipped their feet into the hospitality waters, but their first venture, Ostro, not only worked, it's become an institution of reliable excellence with a view.
Later they opened Lucky Dumplings on K Rd and though it didn't stick, it was a great venture, with an inherent bravery in the fact they'd torn up the Ostro model and created a noisy, seedy, cheap dining room in the heart of an old strip club.
There's also Azabu, now my number one recommendation in the city when somebody asks me where to find a fun dinner out.
Then, what felt like just weeks after today's review Seven opened up above Ostro, they're pouring new energy into what seems to be shaping up as a group flagship restaurant in Mission Bay.
So how many places are these guys going to open? And, given that they've solved the formula for great Auckland eating, how would you draft a decent top 50 without including almost every restaurant they own?
The way to think about Seven is to forget about polite conversation in a quiet dining room. There are plenty of places in the city you can do that, but this isn't one of them.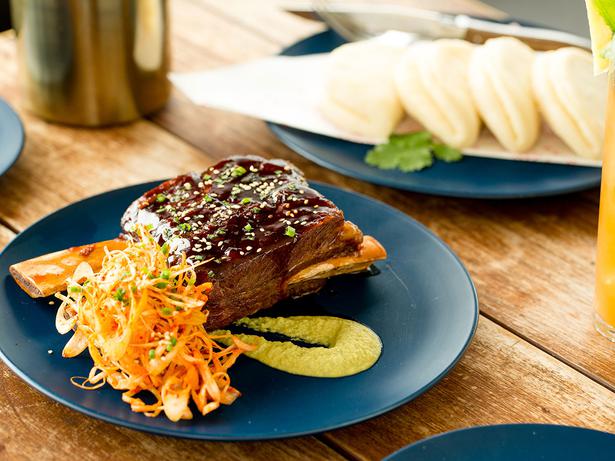 The waitress sat my wife and I, who had come straight from work, between two rowdy tables — rowdy enough that I started to ask whether we could be moved and Victoria said "come on old man, you can handle it", so we stayed where we were.
And she was right, once you get into the swing of things it's what Lucky was — a different way to enjoy good food, with music at a borderline volume and a vibe like if there wasn't such a great menu in front of you it would feel like eating was cheating.
READ Restaurant Review: Lantern Alley, K Rd
And yes, there are plenty of people who'll tell you the Auckland waterfront is a wasted opportunity — but if you're looking at the cars on the wharf you're missing the real story, which is the harbour, the sea and the sky.
This is as good a place as any to enjoy it, with a temporary sort of tent structure allowing a little sniff of the outdoors while protecting you from the elements.
Unusually for a bar-led restaurant the weakest aspect of Seven is the drinks, the wine list so limited that my wife considered drinking nothing. I bullied her into a pinot gris and she enjoyed it but I wondered why there wasn't more on offer, and though there were a couple of good beers the whole offering feels like a missed opportunity.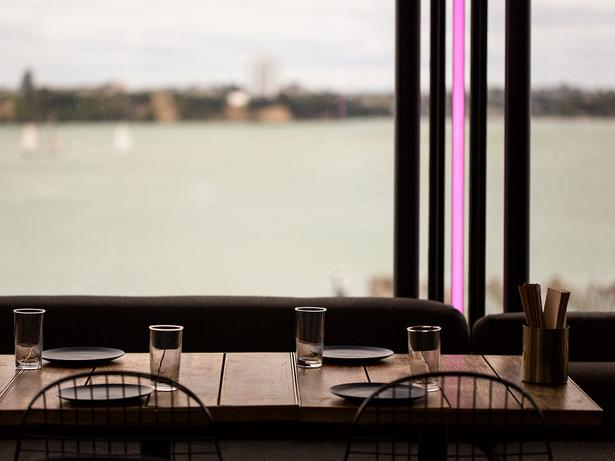 The food is big, bold Asian stuff, the sort of dishes you crave when you're a couple of drinks down and the appetite you tried to sate with beer has now returned, hungrier and angrier.
We started with popcorn shrimp, battered and fried crunchy with the best sweet and sour sauce, freshened up with little lettuce cups. The fried rice didn't quite hit — the dried seafood in the XO sauce a little strong for my taste, but they tossed shredded kaffir leaves through it, which is a nice little innovation I'll try at home.
READ: Cocktail Lounge Hot Sauce, Wellington
Pot sticker dumplings have another nice twist, that little brown spot from the pan dramatically embiggened so that a dark crunchy sort of fried lattice hangs on to the side of the dumpling like a wing, and tastes like the best burnt part of a toasted cheese sandwich.
I also ate a fantastic fillet of toothfish rendered firm and springy by a miso marinade, and the short rib of the year, an incredible piece of beef so tender you could wash it off the bone with a fork.
We were in and out in an hour so, like I said, not your mother's idea of a nice dinner out but, with very strong service, tasty food and that incredible view, this is the restaurant you need when you're not sure you need a restaurant.
Share this: