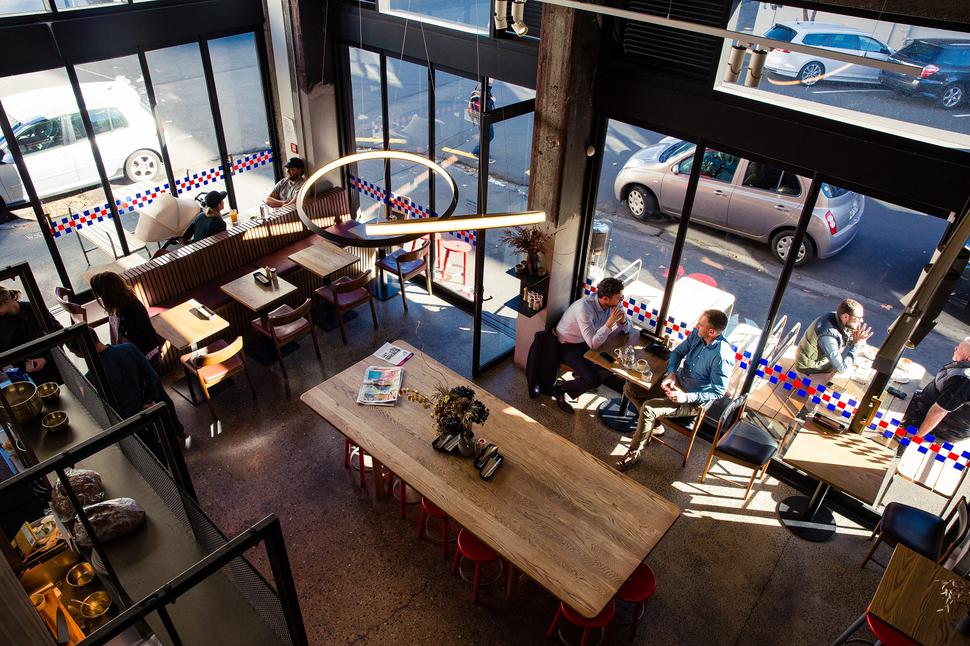 Restaurant Review: Simon and Lee, Parnell
Spicy chicken and staples with a twist are specialities at Simon and Lee, says Jesse Mulligan
Wednesday May 15, 2019
SIMON AND LEE
Cuisine: Korean
Address: 115 St Georges Bay Rd, Parnell
Reservations: Accepted
Drinks: Fully licensed
From the menu: Beef brisket bao $9; danger spicy chicken $22; safe spicy chicken $22; dolsot tofu $19; bulgogi spaghetti $19; vege dumplings $10
Rating: 16/20
Score: 0-7 Steer clear. 8-12 Disappointing, give it a miss. 13-15 Good, give it a go. 16-18 Great, plan a visit. 19-20 Outstanding, don't delay.
At Simon and Lee I ate a piece of fried chicken that was the spiciest thing I've ever put into my mouth. It was stupidly, ruinously hot — more a dare than an item of food — and I doubt there is anyone in the city who could have eaten more than a piece of it (let me know if I'm wrong, I'll be impressed).
READ: Where To Find Auckland's Spiciest Eats For Hot Food Fans
I can't blame the restaurant because the damn thing is called 'Danger Spicy' and the waiter tried to talk us out of it. But we waved him away as if he was an idiot — surely the descriptor in question was targeted at the lukewarm palates of Parnell, fresh from a three-hour day working in the creative industries; the sort of guys who say "Not TOO much black pepper thanks" when the waiter tries to season their brunch. Jon and I were real men, who'd been to places like Thailand and Sandringham. It wasn't until we were one bite in, our insides on fire and fluid streaming rapidly from our noses, eyes and ears that we were forced to admit we should have taken the guy seriously.
We still really wanted some fried chicken though, so I asked him "If that was a 10, what level of heat would you say the 'Safe Spicy Chicken' has?".
"Oh," he replied, "maybe a three?"
So we got a plate of that instead and it was good, perhaps a bit too mild. If we'd ordered the safe one in the first place we would have died wondering, though I still think it would have been better to die wondering.
READ: Jesse Mulligan Discovers A Modern Korean Eatery In Parnell
Eating back alley chicken in a glassy architectural corner site is a contradiction that sums up the Simon and Lee concept: sometimes great Korean food in a recognisable postcode. I mean there's a tiny restaurant in Flat Bush called Kim's Kitchen that specialises in pork spine soup (gamja-tang) but it's for hardcore city foodseekers only. Places like Simon and Lee do a cracking job of introducing you to the genre while not putting anyone in your party too far out of their comfort zone (well, you know, unless they order the wrong plate of chicken).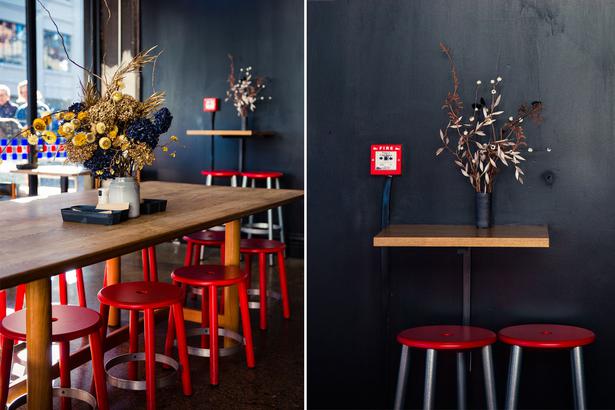 The eatery is open for both lunch and dinner. Photo / Babiche Martens

Nobody requested another Auckland menu with bao buns on it so lucky these ones are so good, a puffy dough clamshell filled with brisket and slices of pickled daikon that provide a rare and beautiful top note to the comfort food.

Vege dumplings had a twist too, not steamed or pan seared but deep fried, adding crunch and moreishness to the mouthful.

READ: Jesse Mulligan Finds The Asian Fusion Restaurant He's Been Searching For

But I reckon the star dish is the bulgogi, in which the chef replaces traditional noodles with spaghetti (for anyone who can tell the difference) and serves it with beef done in a sweeter-than-expected marinade. It comes with a runny egg on top and the first thing you do is stir the whole thing rapidly so that the yolk creates a sauce and suddenly you have this sticky, savoury, sugary bowl of carb heaven.

Meanwhile you get to hang out in a great little space and drink wine — good wine! — and it's all perfect until you need to go to the toilet, which involves grabbing the key from a staff member, leaving the restaurant by the front door and walking a few metres up the street. I'm making it sound more trouble than it is and it's probably an okay price to pay for such a lovely compact room, plus if anybody should be complaining about a lack of on-site facilities it's the chef, who has to turn out a full menu of high-end restaurant food items in an area the size of a large cupboard.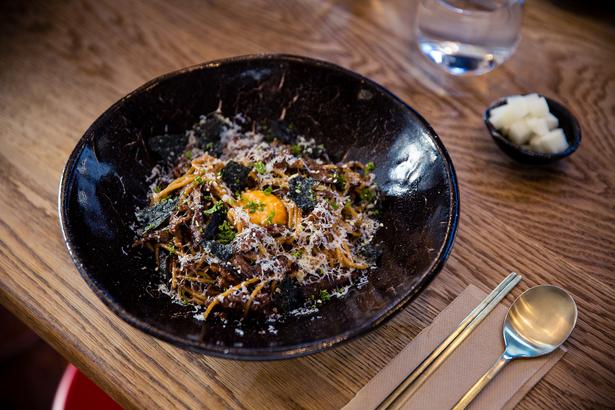 I wanted to like the staff more than I did but (poultry-based local knowledge aside) they weren't quite there for the evening, approaching our table with infrequency and reluctance. I was thinking about last week at Kushi, where the staff seemed really happy to see us when we arrived, and used our stupid menu questions as a chance to engage and delight. A little of that extra love here would have made me feel better about having to go next door for a wee.
READ: Jesse Mulligan Gives This Ponsonby Restuarant A Near Perfect Review
They don't offer desserts yet ("a work in progress", they said, though the place must have been open at dinner time for a year or two now) but I think the savoury options are good enough to justify dropping in for a spicy supper.
It's an odd part of town, with the street dark and deserted aside from the string lights outside Barulho, a very good restaurant at the end of the cul-de-sac. I'd go back to Barulho to eat ahead of this place but with nothing else nearby they should think of each other as friends rather than competitors. A few more businesses open after 6pm and this flash Parnell backstreet could really come alive.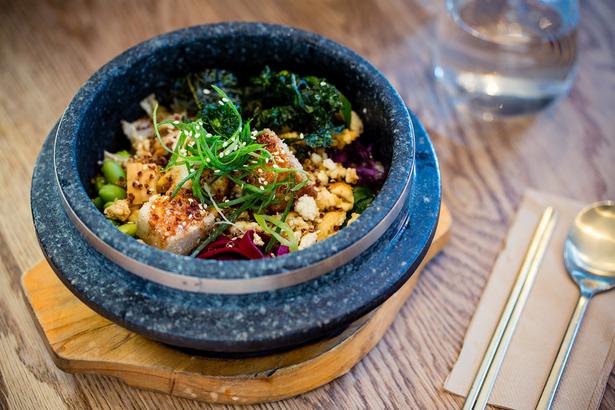 The dolsot tofu. Photo / Babiche Martens
Share this:
More Food & Drink / Dining Out