Restaurant Review: Siostra, Grey Lynn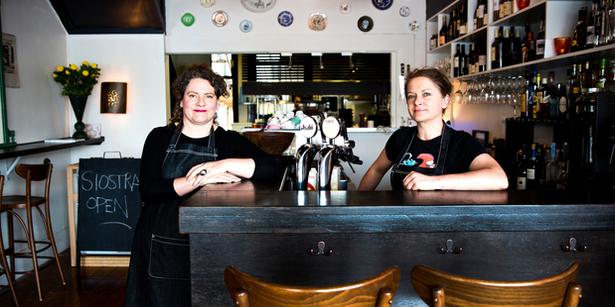 Wednesday Sept. 10, 2014
Address: 472 Richmond Rd, Grey Lynn
Phone: (09) 360 6207
Cuisine: Casual local dining
From the menu: Devils on horseback $8.50, octopus and chorizo skewers $14, fried brussels sprouts $9, feta chips $10, grilled sardines $17, fish crudo $14, scallops $22.50, lamb ribs $28, deep-fried apple pie $14, chocolate tart with poached pear $14.
Rating: 7/10
You know you're living in a city with a vibrant eating-out scene when you take a 10-day break overseas only to return to friends wanting to meet up at places so newly opened that I've never even heard of them!
I make my way to Siostra in Grey Lynn in its second week of opening to find it already busy, fair bustling in fact. And it was lunchtime. A second visit in the same week, this time for an evening service, and the place is heaving. Both dining rooms bulging, the bar area and upstairs room taking the overflow.
Some eateries open with a bang and Siostra has done just that.
The owners, sisters Beki and Esther Lamb, have already proven themselves queens of the "neighbourhood local" with Stella and Sunday Painters already under their sashes. Their latest venture is true to form; chef Beki creating magic in the kitchen while sister Esther works the front of house, unflustered and natural, making you feel as though you've dropped into the sisters' flat for a dinner party that at any moment could get out of control.
This is dining at its casual best.
The re-vamped design (it was previously Delicious) is part cutesy with pretty china plates on the wall and part clever with a fabulous "stitched wall" dominating the dining room and chic black hessian curtains creating intimacy and privacy from the street.
There's a small bar area and beat-up orange bench seating outside to bide your time if you have to wait for a table to become available. The menu is refreshingly varied, with some wildly nostalgic dishes - devils on horseback and mussel mornay - and others that are bang on trend with grains and greens and all things superfood-ish.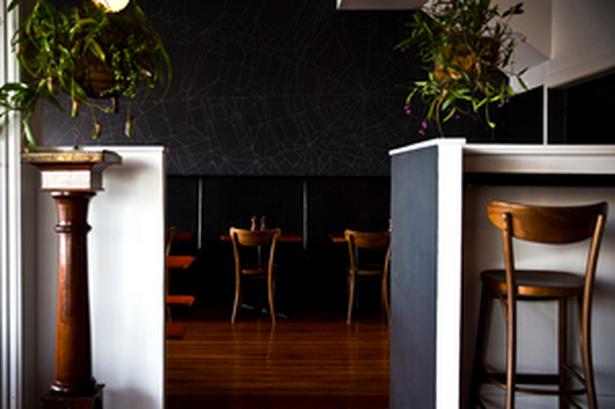 Popping hot prunes wrapped in bacon like they were vitamin pills and slurping tall and tangy house-made tamarillo and rhubarb sodas was a great way to start. Unlike many around town, these sodas actually tasted of something more than just fizzy lolly water.
We followed with a dish of small rounds of tender octopus threaded with spicy chorizo on to skewers and grilled for a flavour that made summer seem only a breath away. A raw fish crudo is dainty and pretty to look at but with plenty of citrus crashing the party to ensure it is beautifully bold on the tongue.
A bowl of deep-fried brussels sprouts is more-ish and capable of converting even the vegetable haters among you. But there are less successful dishes, too; the sardines wrapped in vine leaves then baked are dry and pointless. A splash of oil and some bread to squish them on may have made more sense.
The feta chips seem falsely advertised when all they are is, albeit fantastic, fries with a bit of feta crumbled over the pile and a poached pear on the chocolate tart dessert was indeed poached. In water. Enough said.
Thankfully, these less well-executed attempts are overshadowed by clear winners like the scallops and lamb ribs, both of which were proof enough of what this kitchen is capable of.
From Whangamata, the queen of shellfish were intensely flavourful and tremendously turned out on both visits; cooked to absolute perfection (a few seconds more and they would have had their delicacy destroyed, less and they'd have been too raw) and sitting on a cauliflower puree with a smattering of nutty lentils and crispy guanciale (dry-aged bacon) to complete the picture.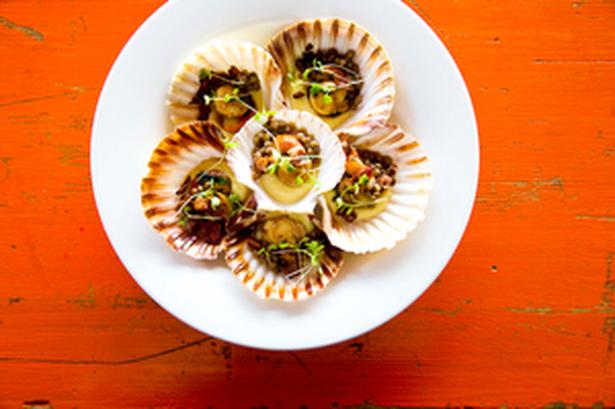 The petite lamb ribs are served on a puddle of lemony hummus and the meat slid easily from the bones. Both dishes were a dazzling display of what our coastline and land has to offer.
Of the sweets, the deep-fried apple pie with dulce de leche icecream is my pick. It looks all beige and boring but is delectable and will tug at your childhood memories if you were lucky enough to have a nana who made a decent apple pie. I did, and at Siostra I got all misty-eyed with each mouthful.
So it's not all perfect with this newbie but I can guarantee you'll enjoy eating at Siostra because that's what these sisters have always been good at - showing their guests a good time and making you feel like a night out was more than worth your while. Let the sisters welcome you to their neighbourhood. It's a fun place to be.
Share this:
More Food & Drink / Dining Out