Restaurant Review: Thai Kitchen, Henderson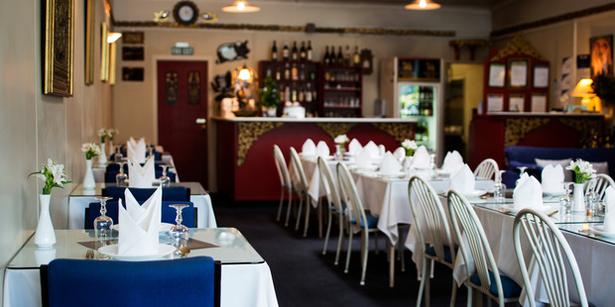 Wednesday Jan. 21, 2015
Address: 401 Great North Rd, Henderson.
Phone: (09) 836 7065
Cuisine: Thai
From the menu: Pad see-ew (flat noodles) $20, Gang massaman (curry) $21.95, Laab gai (spicy chicken salad) $24.95, Goong khing (king prawns) $24.95, Thai coconut pancake $12.95.
Drinks: Fully licensed.
Rating: 7/10
It was just an ordinary night out. A few friends meeting for dinner. "You choose," they chorused, "you know the best places to go."
They're right of course, it's my job to keep up with the latest and greatest eateries in our city, to report on each week. But I have to be honest, it can't be all French Cafe, Merediths, Clooney and The Grove now can it? It's not normal, I'd be broke, for starters, and much more plump than I need to be.
As often as not, it's the familiar, the affordable, the long-stayers that most of us inevitably end up at on a regular basis when we're avoiding our own kitchens, and I sometimes get requests to include "more ordinary places" in this column.
So, with this in mind, I relinquished all control and left it to my friends to select our dining destination. And they did. I got the text which read "The plan is a Thai place in Henderson, it's one of our faves if that's okay." No one could say I didn't have it coming.
Walking into Henderson's Thai Kitchen, owned and operated by Kanokwan Chaweewan for over 20 years, it's fair to say I wasn't exactly overcome with excitement. The dining room is stock standard and came dangerously close to feeling like a conference room to me.
But then it all changed. The staff were so warm and friendly, showing us to a table that had what I'd assumed were fake flowers but turned out to be a sweet posy of fresh flowers, filling water glasses, a delicate slice of lemon in each and I could relax and read through the menu.
It features an exhausting 40 dishes, but I noticed that if you shun the usuals of chicken with cashews and pad Thai and go hunting, it contained some hidden beauties. Giving up control goes only so far with me so I ended up ordering for the three of us. One of our party commented that I'd ordered dishes she'd never thought to try. She's been a regular at Thai Kitchen for more than 15 years. I felt just a hint of pressure.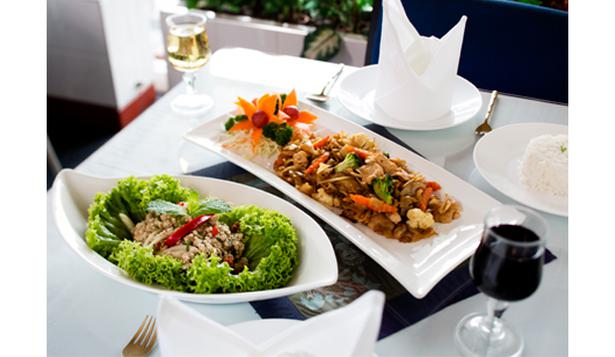 First up was a plate of pad see-ew, smoky fried wide rice noodles tossed with chicken and crunchy florets of broccoli and strands of egg melting softly into the dish. This is comfort food, Thai-style. A bowl of beef massaman curry was grand. The whole range of notes - chilli, shallot, garlic, galangal, lemongrass, coriander, cumin, cloves, pepper and shrimp paste - were all working together in a pleasantly soupy gravy spectacularly layered with flavour.
I'd have had it less sweet but my dining companions loved it and the sweetness at least off-set the heat of another dish on our table - the laab gai. I can never pass up this Thai salad, and yet I always know it's going to burn baby burn. Minced chicken is pan-fried then combined with loads of pungent herbs, slivers of onion, toasted ground rice and drenched in a dressing made of lime juice and a splash of fish sauce.
And tucked in there somewhere are always a few missiles in the form of bird's eye chillies, which will have your eyes watering. Thai Kitchen has this dish as a special and it was superb, completely surprising my fellow diners with its zinginess.
A plate of juicy plump king prawns, tail shell tips still on (which makes you work for your supper just a little bit and adds texture to the dish, texture is as important as the flavour in Thai cuisine) was loaded with the freshness of ginger, spring onions and a syrupy sauce, which we mopped up with excellent roti. It was a perfect way to finish.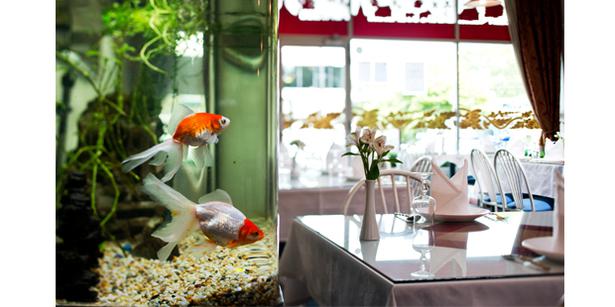 Well it would have been. Instead we ruined it with a pancake that held promise in its description, Thai pancake with coconut, so I'd been hoping for something similar to the street snacks you get in Bangkok - but it fell short of my imaginings. Did we eat it - the fake cream, the French vanilla icecream the colour of custard powder, the synthetic-tasting chocolate sauce? Of course we did.
I'm glad we ate at Thai Kitchen and, though they may be perfectly fabulous, we all agreed that it was good to ignore the predictable money bags and tom yum, the green curry, and whole fried fish, opting instead for dishes slightly less obvious. At Thai Kitchen we feasted like the King of Thailand. In Henderson. Who knew?
Share this: