Restaurant Review: The Original, Viaduct Harbour
Even the basic grub at The Original 'pub' fails to impress Jesse Mulligan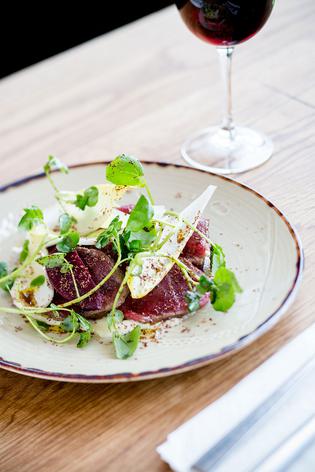 Cuisine: Gastro-pub
Address: 204 Quay St, Viaduct Harbour
Phone: (09) 357 6147
Drinks: Fully licensed
Bookings accepted
From the menu: Oysters 6 for $27, whitebait sandwich $16, venison salad $20, calamari stew $18, pork terrine $15, lamb chops $28, beef skirt $29
Rating: 5/10
There was a moment early on at The Original when I thought we were in for a good time. The sun was low in the sky, we'd jumped on to a couple of recently vacated stools at a table with a view and then a plate of plump Northland oysters arrived, chilled to zero and served with a tangy bowl of mignonette dressing.
I was with my old schoolfriend, Andy, who'd just returned to New Zealand after about a billion years overseas, and what better way to welcome home a traitor expat than with a platter of fresh shellfish in a restaurant next to the sea? The two of us had spent our childhood weekends catching eels in a creek near Hamilton and, after a couple of decades of irregular contact, were very happy to again break bread over fresh kaimoana. Then the first beer kicked in and everything started to emit the fuzzy glow of a great night out.

It takes a lot to dismantle that feeling of nostalgia-fuelled goodwill, but The Original managed it, with a lethal combination of average food and absent service. You could forgive a waiter for knocking your cutlery off the table if he seemed upset that he'd done it, but his main disappointment seemed to be at having to bend over to pick it up. When the sun disappeared, so did the staff, the restaurant's transition to a Viaduct night club being not just symbolic but literal, as the staff retreated behind the bar and stopped clearing plates and taking orders. It was 9pm.
The Original is marketed as a "classic Kiwi pub", and at one stage we played a game where we had to pick which elements of said pub were being represented. It wasn't the expensive vintage-style filament bulbs, or the music, or even, really, the food. "Did you see anything pub-ish in the toilets?" I asked Andy when he returned to the table but all he could come up with was some dodgy exposed wiring above the sink.
The venue used to be called Snapdragon, and its rebranding seems to have consisted of a few new light fittings and a paint job done at high speed by people who'd been told the place was being torched for insurance later that night, so not to bother making it look any good.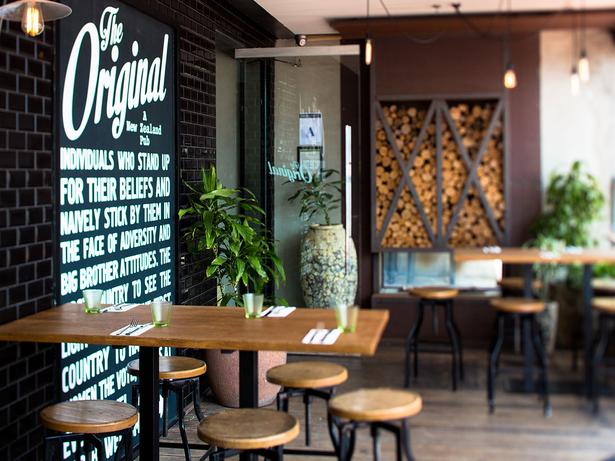 The menu showed some promise and our initial server seemed pretty keen on it, picking out his favourites and hurrying to the kitchen for supplementary information when he came across a question he couldn't answer. It turns out he was the manager, because they went to look for him later when something had to be removed from our bill and none of the staff were authorised to do it themselves. In this respect, the level of employee trust and empowerment reminded me of when you attempt to buy a bottle of wine at the supermarket, and it might explain some of the disengagement evident in other areas of the restaurant.
"What do you recommend from the menu?" I asked one of the several young gentlemen who served us.
"The whitebait sandwich is on special," he said.
"Okay," I said.
"And how about for a main, anything particularly good?" asked Andy.
"The whitebait sandwich is on special. It is a main," replied the waiter.
So, yeah, we went for the whitebait and it was only okay, a sort of sloppiness in the fritter masking the al dente texture of those beautiful tiny fish.
For my entree I ordered the pork terrine, which had the appearance and consistency of a minced human hand. A venison salad was nice enough though, because the meat was very rare, a thin white line of muscle fibre running through it had to be chewed with some vigour merely to extract it from between your teeth and spit it out.
Andy chose lamb chops for his main, which tasted good, though as an ex-vegetarian I've never quite understood how they are meant to be at their best — neither rare nor fall-apart tender, they were the most Kiwi aspect of the whole night. Given they were served with a pre-made couscous salad straight out of the fridge, we could easily have been back in Hamilton at our 2nd XV end-of-year barbecue.
A skirt steak was undercooked and the "crayfish butter" served with it didn't taste of crayfish. I know because I really got to taste the butter — the steak wasn't hot enough to melt it. It came with average chips and tomato sauce that tasted a little funky. I've never been to a classic Kiwi pub that could mess up chips and sauce.
If you must visit The Original, you're better to treat it like a nightclub, and stick with the oysters and champagne.
Share this: