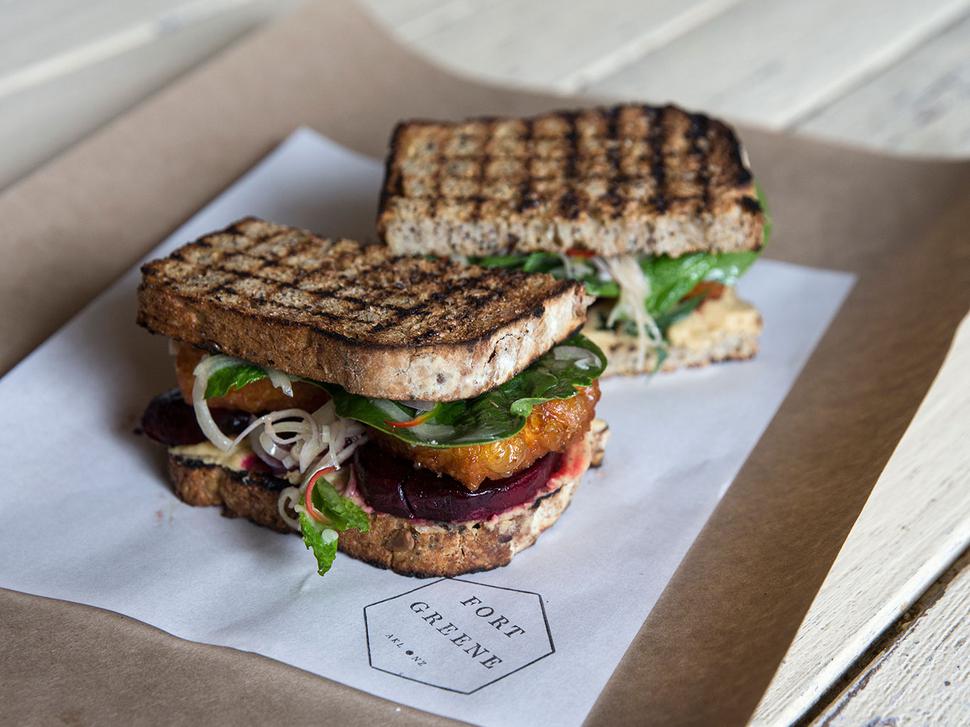 Restaurant Review: The Street Food Collective
Jesse Mulligan finds a world of flavours in a cool corner of Ponsonby
Wednesday Oct. 28, 2015
Address: Lot 3/130 Ponsonby Rd
Phone: (09) 360 4075
From the menu: haloumi sandwich $14, spicy pork taco $6, kimchi fries $10, soft shell crab paratha $12, spicy pork hotdog $10
Drinks: fully licensed
No reservations
Rating: 8/10

This was supposed to be a story about social dining — the pleasures of meeting up with friends in a hip and convivial space, of filling the rarefied Ponsonby air with conversation and laughter. Unfortunately, due to a clerical error, I found myself on deadline with nobody to eat with, so was forced to visit The Street Food Collective all on my tod.
(I don't know if you ever picture me doing this job but, when you do, I hope you see me as a bubbly gourmand, entertaining a tableful of admirers with my pithy criticisms and witticisms. In fact, too often, I'm the opposite: a solitary man ordering every dish on the menu before wrapping up a leftover sandwich and riding home on a pushbike.)
Going out alone can feel like being invisible, as anyone who's been to a movie by themselves can tell you. Any thoughts of escaping from the world for two hours are quickly ruined when some couple, carrying General Admission tickets to an empty cinema, choose the two seats right next to you, as if you were a heater.
This time, in the windy-but-welcoming courtyard that is The Street Food Collective, I was having the opposite problem. Perched on one corner of a communal table for 10, I looked up when people hovered and tried to wear an expression that said "I am friendly, but I am definitely not a sex offender".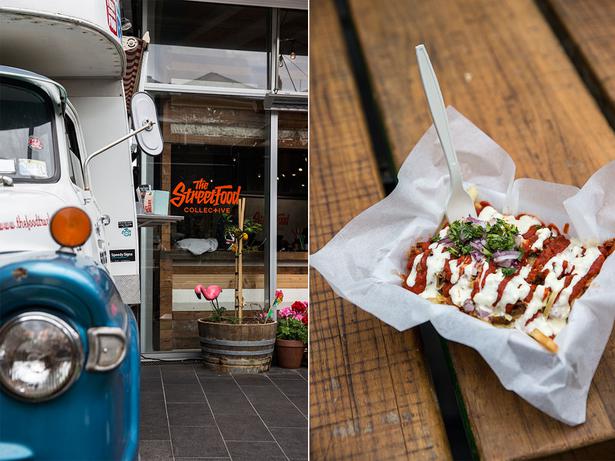 I'll have to keep practising in front of a mirror, because group after group arrived for a look, considered their options then decided to eat standing up. One girl even looked at my side of the table, empty like the front row of a poetry jam, and said to her boyfriend, "It's a pity there are no free seats."
Auckland street food has had a great couple of years. It wasn't long ago that if you wanted a low-commitment, one-handed meal, your choices were Fritz's Wieners (surprisingly good, actually) or the giant paella guy. "Where are the immigrants?" I used to ask, in a demanding but, I like to think, culturally sensitive way. "Surely with 25,000 people moving here from Asia each year, at least one of them can do a decent steamed bun?!"
The Westfield night markets were a step in the right direction, with at least one of those vendors building up enough of a following to graduate to a restaurant — the excellent Nanam in Royal Oak.
And now there's another wave of vendors doing middle class-friendly, but nonetheless authentic eats, around the city, and on a rostered basis at The Street Food Collective — check Facebook for who and when (the permanent, partially enclosed location offers certainty and security for new business owners accustomed to losing hundreds of dollars of prepped food when a storm blows through and cancels an outdoor event).
Judge Bao answered my prayers for steamed buns — perfect little white domes, split through the middle and filled with braised treats. Their tofu option is particularly outstanding, and not just to the permissive tastes of a worn-down vegetarian. The curd is deep-fried and slathered in spicy sauce — sweet, hot, tongue-numbing and messy enough to cover your chops after each bite.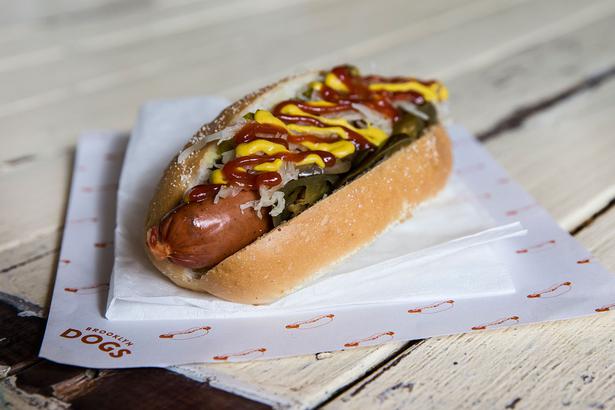 From a truck in the courtyard, The Tin Kitchen specialises in the paratha, a cross between a scorch-marked chapatti and a flaky roti bread. The best is topped with soft shell crab — fried to a crunch on the outside while maintaining the rich salty juices within. To balance the briny kaimoana they load it up with chilli, lime and mango, so you get those Thai flavours up front, and an oceanic burst right at the end.
Coreana does a classic Korean spicy pork taco and some must-order fries topped decadently with kimchi, mayo and fragments of pulled pork. Fort Greene's sandwiches are big and tasty, on bread they bake themselves then char lightly on the grill. The haloumi is recommended.
The vibe is fantastic — it's the sort of place that makes you proud to live in Auckland. There's no table service, but there must be some system in place because dirty plates are cleared away quickly and almost invisibly. Cocktails and craft beers are served from a campervan window by bartenders whose approach I would describe as "bemused".
Some of the vendors are more cheerful than others — everyone is fast and friendly, though some of them are still figuring out how to make the model work. "How has it been going?" I wanted to know. "Not nearly as good as we expected," admitted one busy chef.
He has plenty of customers, but there's no margin in cheap food, so it's hard to get ahead. Over time, some of the Street Food Collective stallholders will stay and some of will move on. Catch Fort Greene here while you can, for example. They've done so well, they're about to open up permanently on Karangahape Rd.
Share this:
More Food & Drink / Dining Out