Restaurant Review: True Food, Orakei
Jesse Mulligan finds a menu he could keep returning to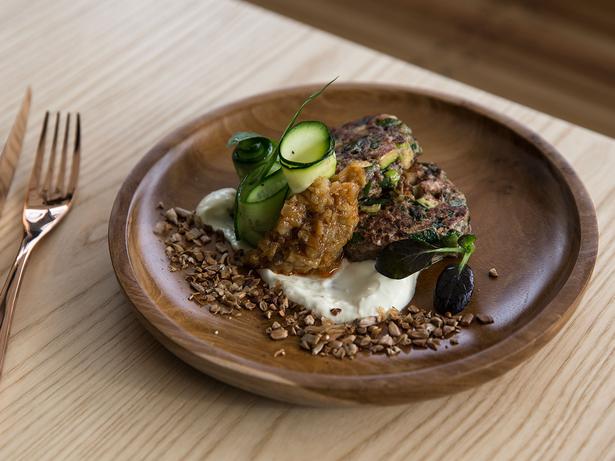 Wednesday Aug. 3, 2016
Cuisine: Modern European
Address: 19 Tamaki Drive, Orakei
Phone: (09) 528 8781
Bookings accepted
Drinks: fully licensed
From the menu: Gnocchi $20, turkey patties $16, ferments $8, miso cod $34, sirloin steak $34, wrapped gurnard $28, kale salad $8, miso chocolate pudding $16
Rating: 9/10

I never had the pleasure of eating at Hammerheads, the restaurant that formerly occupied this waterfront site on Tamaki Drive. But by all accounts it was the sort of restaurant every coastal city had one of in the 80s and 90s — a nautical-themed, middle-of-the-road joint with room for hundreds. For some reason it's hard to make that business model work with much sophistication, though we should applaud Hammerheads' commitment for keeping the theme going right up until the last moment, by going into liquidation.
We don't yet know much about the longevity of restaurant/yoga-studio combos, but I hope True Food and Yoga has a few good years in front of it. This is my favourite opening in months, the sort of menu you could return to a half dozen times without running out of exciting and delicious things to order.
You leave feeling light yet soulfully satisfied — a credit to the food itself, which is not always healthy, exactly, but comes without many of the things that tend to knock you over: saturated fat, deep frying, butter and cream. It shouldn't have taken this long to find a restaurant that occupies the sweet spot between leaving hungry and leaving with adult-onset diabetes.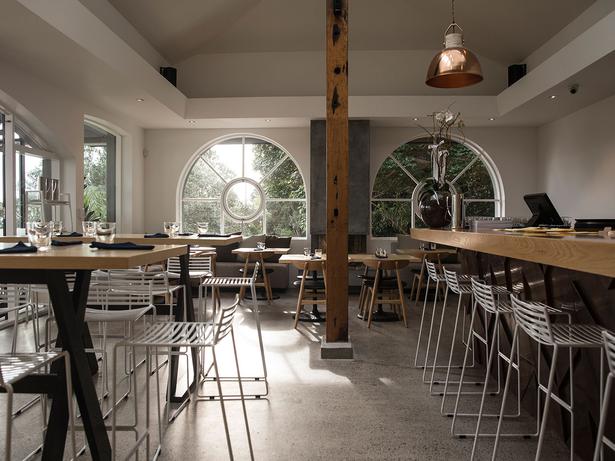 True Food and Yoga is a full service establishment, with high appeal to the local yummy mummies (and, presumably, the rummy mummies). "This would be my perfect day," said my wife as we wandered through the building, "A yoga class, a massage then a nice lunch". I decided not to ruin the fantasy by asking if I'd be allowed to come to the lunch part.
There is a downside to the all-in-one concept — in this case that the gentleman eating dinner next to me was wearing small shorts. But overall it works well, with a central lobby area acting as reception, merchandise outlet and meals-to-go for people who aren't yet willing to chew steak in Lululemon.
Having parked the car and walked up an illuminated ramp to nowhere, we walked through an unmarked service door into the toilets. Nonetheless a small crowd of wait staff were standing in a semi-circle when we eventually found our way into the dining room.
"We saw you coming up the ramp!" said one, who then motioned to a table next to the fire, but one of his colleagues had already started leading us out to the patio. That will be a first-class place for a kombucha cocktail in summer when the late afternoon streams in, but at 7pm on a windy July evening it was not the place to be.
She took us back to that cosy spot by the fireplace, presumably one of the chattels that wasn't sold by the last guy to pay pirate creditors — there's a big gouge in the safety glass, and if somebody knows how that happened I would love to hear the story.
The owners are Nic and Kelly Watt, who look a pretty good advertisement for clean living themselves. Nic's other restaurant is Masu, where the food is consistently spectacular, so I didn't doubt that True Food's would be excellent too. The only question was whether he could tick some of those wholefood/wellness boxes without compromising on flavour. And he's nailed it.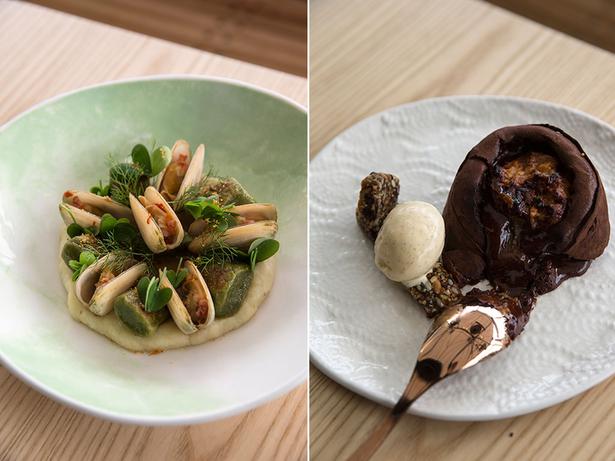 "Nutrient-dense" is how he describes his approach here, and it's an appealing concept. Kale has become a by-word for this sort of eating because it delivers a large amount of good things (vitamins, minerals, antioxidants) without costing you many calories. Actually the kale salad isn't so good here (Rod Dixon next to us couldn't get through his either), but the menu has enough other superfoods to make a Marvel franchise. There's macha in the gnocchi, chia with the cod — I even foraged some kawakawa in the car park.
The kim chi and sauerkraut on the side and both better any other ferment I've tasted in the city (blissfully, there are a lot of them these days). Microbial taste bombs, they refresh and stimulate the palate between mouthfuls of your main course.
Other outstanding dishes include that gnocchi, blistered in the pan, plated with steamed tuatua and dressed spicy, then suddenly there's a burst of something fresh, green and acidic — it's sorrel, one leaf of which transforms the palate. More of this in restaurants, please.
Masu fans will quite rightly order the miso cod, which is delicate here with enoki mushrooms and a light broth. The "Lean Green" (I could do without these zany names, tbh, but they're not daggy enough to take points off) is an Ottolenghi-like take on burgers — turkey and courgette patties on a tart grapefruit labneh with an impossibly golden "eggplant marmalade".
And then there is the chocolate pudding, oozing from the centre, baked with a salty miso crown and served with vanilla icecream. It's unmissable, almost kissable. This menu has everything you could possibly want, and a few things you didn't know your life needed.
Share this:

More Food & Drink / Dining Out