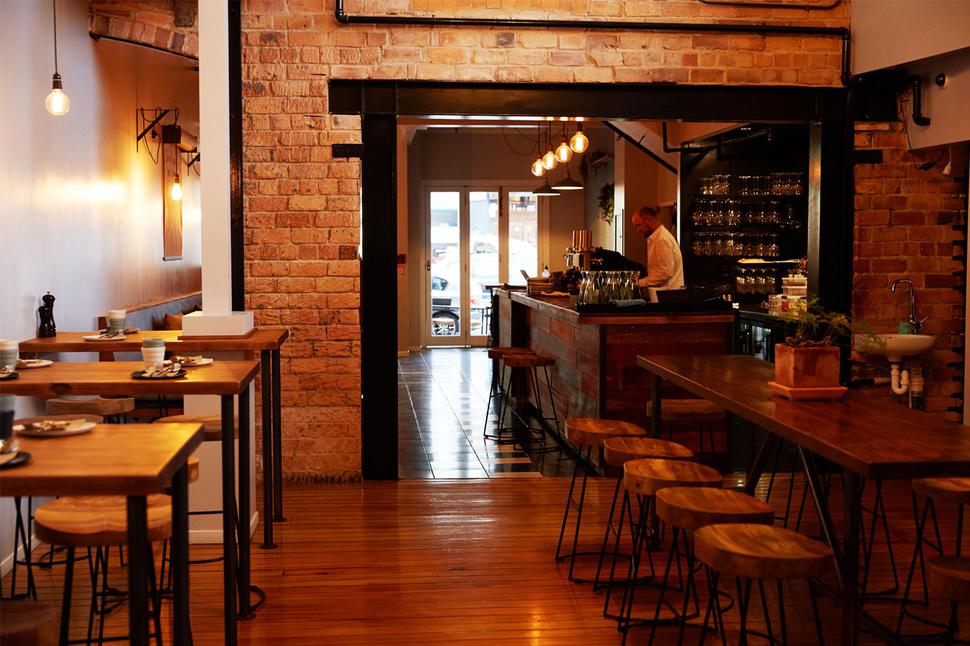 Restaurant Review: Vic Road Kitchen, Devonport
Jesse Mulligan gets out on the high seas in search of his next great meal
Wednesday Aug. 15, 2018
Cuisine: Bistro
Address: 57 Victoria Rd, Devonport
Phone: (09) 445 9797
Drinks: Fully licensed
From the menu: Bluff oysters (6) $30, Beef carpaccio $19, John Dory crudo $18, Clam pasta $26, Brussels sprouts $12, Crumbed veal $37
Bookings: Accepted
Rating: 17/20
Score: 0-7 Steer clear. 8-12 Disappointing, give it a miss. 13-15 Good, give it a go. 16-18 Great, plan a visit. 19-20 Outstanding, don't delay.

I'm really buzzed about this fun little restaurant, five minutes' walk from the ferry in Devonport, aka the village of our Lorde.
Ella may have sung about the local tennis courts but hopefully she'll have room on the next album to write about Vic Road Kitchen, where they're doing some of the most delicious food in Auckland and providing a great destination dinner for city couples with a bit of imagination.
READ: Restaurant Review: Tok Tok, Takapuna
Auckland famously straddles two harbours, yet when was the last time you got out on the water? I'm not saying a ferry ride is the same as sunning yourself on the deck of a Russian oligarch's yacht, but you do feel that elemental connection with the sea on even a short trip from city to Shore.
They serve Waiheke beer on the ferry and if you time it right you can arrive at Devonport with a nice little one-pilsner buzz on, tottering across the wharf to dry land with a misty euphoria that lasts just long enough to get you in the door of the restaurant.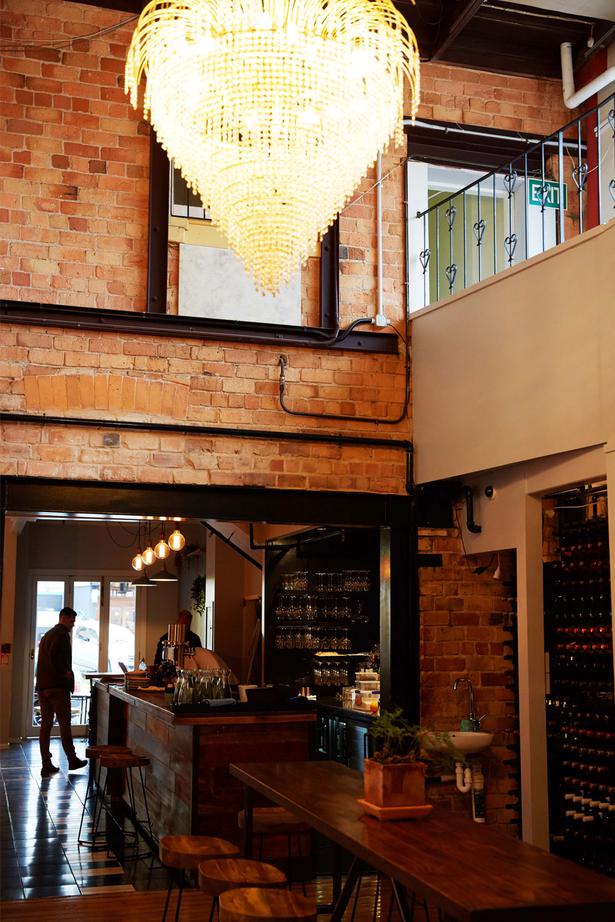 The interior of Vic Road Kitchen. Photo / Rebecca Zephyr Thomas

Once seated you could choose a cocktail — which might take some time to arrive due to the extreme care with which each element is measured and applied. Or you can get a tap beer — the range of fresh crafty options are a sure sign that the owners take quality drinking seriously.

Meanwhile you can admire the interior, one of the older restaurant buildings in this young country, the colonial brick reassuringly braced with 21st century steel. When the owners took over a few months ago the locals warned them that nothing else had worked here — a distinctly Kiwi welcome to the neighbourhood — but they attacked the opportunity with gusto, pulling away some gib board and discovering an old brick oven apparently used by the baker who operated here back in the days when the idea of businesses moving in and out of a building was completely foreign.

READ: Restaurant Review: Clarence Rd Eatery, Northcote

That oven now forms the centrepiece of the bar, and though there are quirks of the old-new architecture that don't make a lot of sense — each toilet cubicle has two doors — the overall impression is of a building with some history appropriately modernised and fit for purpose.

The kitchen operates a zero-waste policy which is the sort of thing Kiwi chefs should be on to — it's been an aspiration in California kitchens for years — but I've heard very little about anyone else here taking up the challenge (feel free to email me and prove me wrong).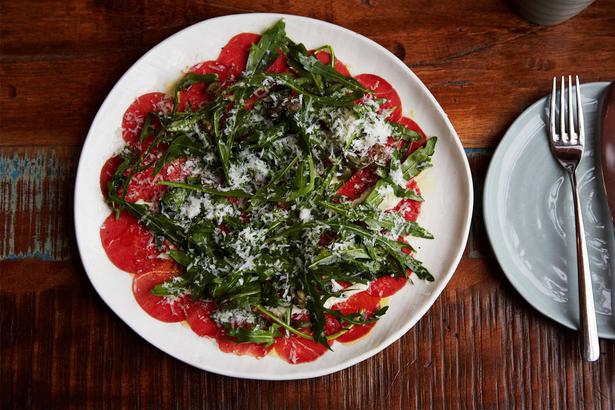 Beef carpaccio. Photo / Rebecca Zephyr Thomas

The menu changes daily to match what's in the fridge. Meat offcuts are repurposed as the flavouring for slow-cooked pasta sauces, fish scraps salted down to use in croquettes, cauli stalks pickled and parmigiano rinds simmered in stews. Caring this much about what is thrown out is a sure sign of a great chef and, sure enough, the food is unbelievably tasty with, I should add, no sign that much of the incredible flavour comes from the bits other chefs would toss out.

READ: Review: The Engine Room, Northcote Point

The meals are large, and with pasta forming a prominent (and unmissable) part of the menu I would counsel you not to over-order.

Take the vitello tonnato, a classic Italian dish featuring crumbed, pan-fried veal and a tuna mayo. At The Engine Room this would be a single, beautiful piece of meat on a large plate, but at Vic Road there are two or three pieces of schnitzel, loaded up on top of each other then covered in the tuna mix, and sprinkled with microgreens, so even though there is plenty of meat it's almost totally obscured visually by the other stuff on the plate. Then there's an egg on top and, for some luxury, what I believe are white anchovies scattered about the dish as well. You could have this and a (huge) side of Brussels sprouts between two of you and you wouldn't leave hungry.

But we had to try the John Dory crudo — the use of this delicate, rare fish another brilliant sign that the chef cares about how and what he sources. It comes with pickled kohlrabi and what is described as a "seafood mayo" providing umami — goodness knows what he infuses that with.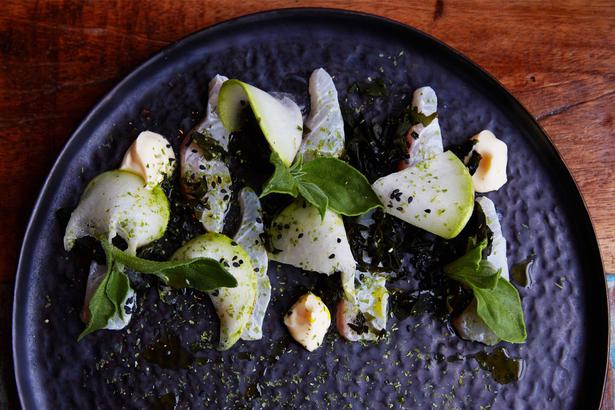 Aged beef carpaccio was a beautiful melt-in-your-mouth entree, served with shaved parmesan, capers and fresh rocket leaves as soft as the meat.
We smashed through a bowl of clam tagliolini, probably the best pasta I've eaten this year — a lethal combination of chilli, garlic, tomato and seafood wrapped around some big mouthfuls of carbohydrate. It was the sort of dish you couldn't stop eating.
What a find. I'd eat here any day of the week, and though it's not very fancy or fine you should remember it next time you need to feed some good friends. They're pouring a lot of love into this food — visit as soon as possible and make the most of it.
Share this:

More Food & Drink / Dining Out