Restaurant Review: White + Wong's, Viaduct Harbour
Jesse Mulligan finds a new eatery with fusion and confusion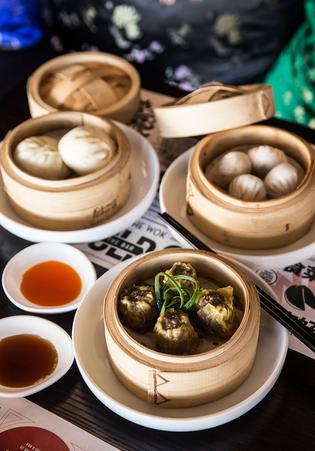 Address: Viaduct Harbour
Phone: (09) 379 6914
Website: whiteandwongs.co.nz
Style: Asian fusion
Drinks: Fully licensed
Bookings accepted
From the menu: Kim chi $4; Steak tartare $22; Pork and clam larb $19; Prawn and coriander dumplings $20; Egg noodles and pulled beef brisket $19; Massaman lamb $34; ohn dory with sambal $32
Rating: 7.5/10

As noted last week in this column, the term "eatery" is being tossed around a lot these days — it's just one of those words of the moment, like "turnt", "skux" and "lit". But though those three words have clearly defined meanings (respectively: drunk, attractive and some puzzling combination of the two), an eatery can be anything from a full service restaurant to a nightclub that serves tacos.
I know this because, on the basis of a promising press release, I turned up for dinner at one such taco nightclub recently but, upon entering an empty room with concrete leaners and loud house music, was forced to make a late swerve.
So instead I headed for new Asian fusion restaurant White + Wong's, who had emailed asking me to stay away from the place for a couple of weeks while they got up to speed. I'd been intending to respect that request but I'm afraid, due to the above circumstances, in the end they only got 10 days. Luckily there were few signs of early jitters.
There's presumably a non-racist expla-nation for the name White + Wong's, but to me in 2016 the comedy Chinese pun feels a little uncomfortable. I felt the same way when Monsoon Poon showed up 15 years ago, the menu decorated with slogans like "Love You Long Time!", which didn't feel particularly respectful of the culture and food they were appropriating for profit.
READ: Restaurant Review: Ramen Takara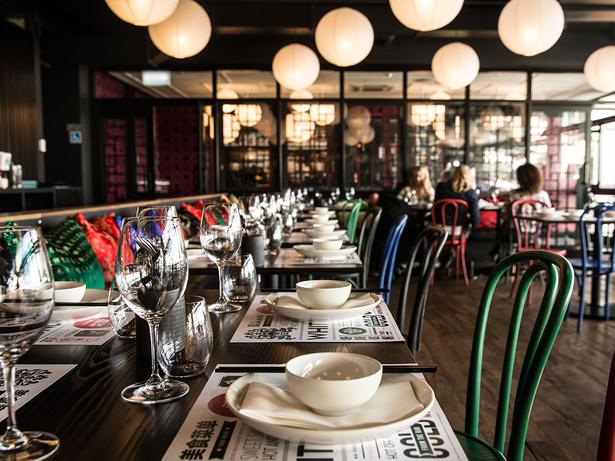 Still, White + Wong's is in the Viaduct, so it's unlikely anybody will notice. There were several large corporate groups in when we visited, and they were all talking loudly in the way drunk men in bad suits tend to do. So I got to hear everything they said, and at no point did anyone even mention the name, let alone take it up with the Race Relations Conciliator.
There were plenty of happy family groups in too on this busy Thursday night, but the place is so big we still got a table at the National Dining Time of 7.30pm without a booking.
"Do I know you from somewhere?" asked the manager as we sat down, but I talked my way out of it and survived most of the night without getting rumbled as a reviewer — nobody believes me when I tell them this, but the truth is most restaurant floor staff are too busy to play "Identify the Media Personality", even if their employer's livelihood might depend on it.
Only right at the end did one of the waiters change his manner and start looking a little too eager to please. The attentive table service was one thing but as I got up to leave he spotted a waitress unwittingly blocking my path, causing him to frantically run over and punch her on the shoulder to get her moving.
Otherwise though we got the standard treatment, which was very good — fast, despite the packed room, friendly, despite the sometimes revolting clientele, and knowledgable, despite presiding over a 50- dish menu in the second week of opening.
Nobody knew anything about the wine, which is standard for this sort of place, but they were happy to pour samples while I made up my own mind — if you're not yet requesting this yourself you should; why spend $15 on a glass without making sure you like it first?
READ: Restaurant Reviews by Jesse Mulligan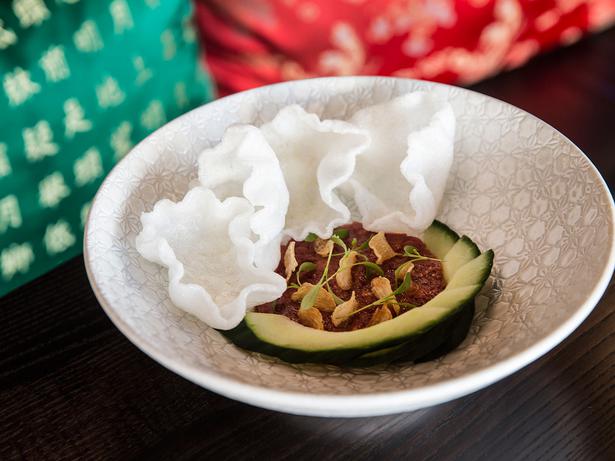 The massaman lamb curry is a must-order — beautifully tender shoulder in a deep spicy gravy elevated by the strong fragrant zing of kaffir lime. Dumplings arrive hot and translucently perfect in a bamboo steamer, and the Asian take on steak tartare is worth ordering too (with prawn crackers instead of toast points), though it could use some of the astringent zap provided by capers (and sometimes cornichons) in the original.
A green papaya salad was texturally sound but tasted of not much — far from the perfectly balanced taste bomb you expect from that dish. And john dory was the wrong choice for a coconut sambal, the delicate, sweet fish standing no chance against the loud flavour of a full-noise curry sauce ($32 is a lot to pay for a 200g fillet when mouthfeel is the only clue to its origin).
Pulled beef brisket was actually sliced beef brisket, but they shouldn't feel too bad about this. There must be a dozen great Auckland restaurants miscooking brisket right now — if you want the real deal on this beautiful but challengingly fibrous cut you'll need to eat at Culpeper or Woodpecker Hill, two places where they have nailed it.
But even a misfire at White + Wong's tastes pretty good, and I'd recommend this restaurant for a mixed group of colleagues or blood relations. Think of it as the Mekong Baby of the waterfront: fast, easy and a good place to go when you don't know where to go.
Share this:
More Food & Drink / Dining Out