Restaurant Review: Zool Zool, Mt Eden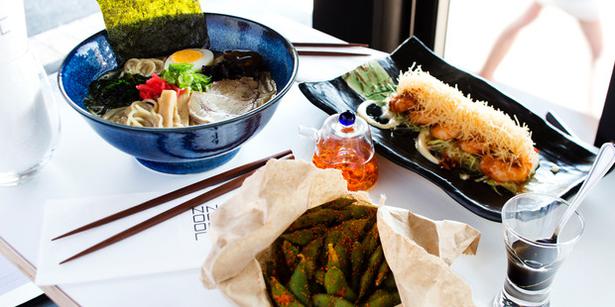 Wednesday Jan. 28, 2015
Address: 405 Mt Eden Rd, Mt Eden.
Phone: (09) 630 4445
Cuisine: Japanese
From the menu: Spicy edamame ($7); ebi chilli prawns ($16); kakuni (pork belly, $16); soft shell crab ($12); panko crumbed teriyaki chicken katsu ($16); tonkotsu ramen (pork milky broth, $14); tantan ramen (sesame chilli broth, $13); Valrhona chocolate ($1.50 per piece).
Drinks: Fully licensed.
Rating: 7/10
It's good to slurp when you're eating ramen, says a chalked sign on a huge blackboard at Zool Zool, Mt Eden Village's newest eatery, because it shows an appreciation of taste. In no way, it says, is it considered impolite.
That, and other fun statements such as "No Ramen No Life", indicate just how passionate the restaurant's owners - Toru Hirae (Remuera's Soi) and Kazuya Yamauchi (the excellent fine-dining Kazuya on Symonds St) - are about the traditional Japanese soup dish which is gaining in popularity here as more of us get the opportunity to try its savoury delights.
Just a few doors down from the wildly successful Rad cafe, and across the road from Molten, this cute, stylish izakaya and ramen bar, which opened just before Christmas, is a welcome addition to the village's dining scene.
The soup - a flavoured broth with noodles (here they are hand-made) and garnish - is its main focus, but in the izakaya style the eatery offers Japanese tapas alongside a great drinks list.
And, with an ode to Japan's two "Golden Ages of Whisky" (the late-50s to the early-80s and the late-80s onwards, there is also a separate cocktail list of whisky highballs, a drink that rose in popularity in Japanese culture during the mid-60s and which is said to pair well with food.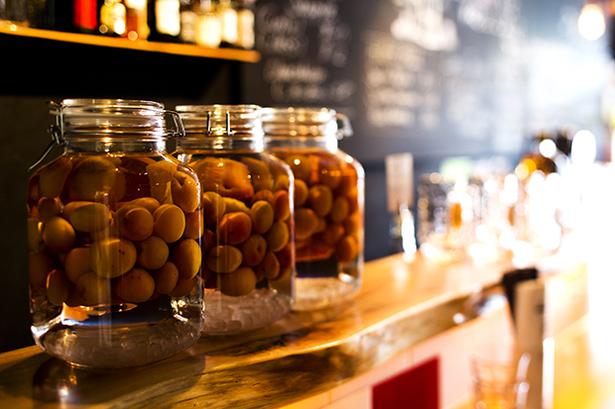 Zool Zool's downstairs dining area has options for high or low tables or perching at the bar, and upstairs seats a further 25. That blackboard, which also features cute drawings, dominates one wall, and the restaurant's simple dark interior (with the ubiquitous bare bulbs) is complemented by touches of natural wood.
The restaurant's attention to detail is, of course, wonderful, from the wooden ramen spoons and the lovely glassware, to the beautifully presented food on gorgeous crockery.
Curiously, everywhere you look, there are little notes to diners to try the cream caramel, even in the bathroom. These are impossible to ignore and we pledge to save room.
Our waiter, though, looked slightly worried when we reeled off our order and politely suggested we had chosen too much. He was right of course - the ramen (priced from $11-$18) is a full meal in itself, but we were greedy and wanted to try it all.
A huge serving of spicy edamame came in a brown paper bag so the seasoning was well distributed. It was a nice change to get a chilli rather than salty kick from the green beans; other interesting options are curry and garlic.
The rest of our share plates were a little hit and miss - ebi chilli prawns glazed with a sweet chilli aioli served with deep fried shredded ginger were juicy and popping with flavour, but the soft shell tempura crab with tempura soy gravy had been fried for too long so it was hard to gauge the flavour of the meat.
The braised pork belly paired well with the sweetness of its honey sauce, though it was a tad chewy. Note that the four pieces of meat come with only one steamed bun, so it would pay to order more if you're sharing.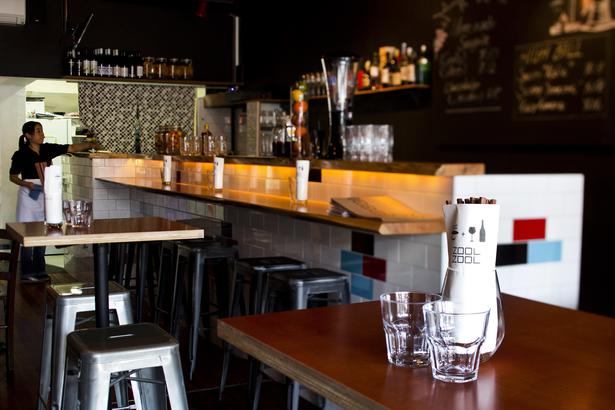 But ramen is the star of the show here, and Zool Zool offers both the traditional style and their own lighter option of a non-broth ramen with vegetables and salad as a base.
There are four main flavours of ramen - shio (salty, light and clear), shoyu (soy), miso (salty, often sweet or spicy fermented soybean curd) and tonkotsu (from pork bone stock) - and Zool Zool also offer tantan - a sesame chilli broth.
We tried the tantan and the tonkotsu, and both were exceptional. The tantan - with pork mince and mung beans - had the perfect balance of sesame and chilli, providing a gentle but satisfying burn, while the milky pork broth of the tonkotsu, with barbecue pork, bamboo shoots, ginger, a massive chunk of wood ear mushroom, spring onion, boiled egg and seaweed, had many subtle flavours packed into the mix.
Our third companion eschewed the ramen for teriyaki chicken katsu deep-fried in a thick batter of delicious panko crumbs. She declared it succulent and satisfying.
She also ordered pud - a couple of decadent pieces of Valrhona chocolate served with toothpicks on a delicate little plate.
For the two ramen eaters there was no room for the cream caramel, which was lucky because all those little signs had worked their magic - it was completely sold out.
Was our slurping up to scratch? I'm not sure, but it is definitely one art form worth perfecting.
Share this: