Restaurant Review: Samadi, Pt Chevalier
Jesse Mulligan embraces the diversification of cuisine in Pt Chevalier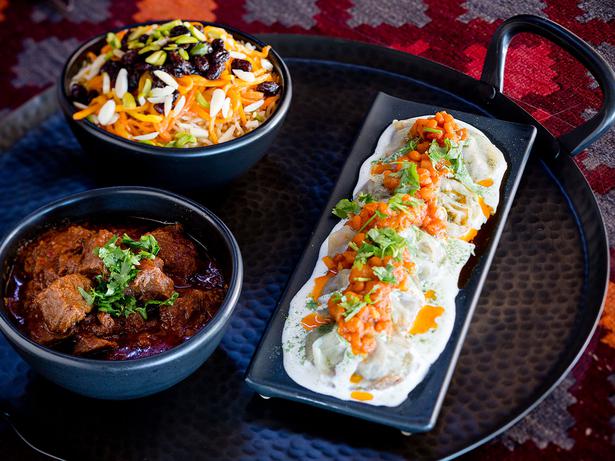 Wednesday March 8, 2017
Cuisine: Afghani
Address: 11 Point Chevalier Rd, Point Chevalier
Phone: (09) 846 9955
Bookings accepted
Drinks: licence pending
From the menu: Filled flat bread $8, Spiced eggplant $12, Beef qorma $24 Dumplings $28, Lamb and chicken kabob $26, Qabuli palau $6
Rating: 8/10
First impressions of a restaurant occur not when you walk in but earlier, when you dial their number and attempt to make a booking. Do you get to speak to an actual human? Does that human sound pleased to hear from you? Or did the whole experience make you want to stay at home and eat toasted sandwiches instead?
Samadi, the new Afghani restaurant in Point Chevalier, is only open Thursday to Saturday, but when I called on Wednesday a nice person picked up and, in a few bright seconds, made me feel very pleased to have made the booking.
I contrast this with, say, trying to make a reservation at one of Sky City's excellent eateries where, last time I checked, you go through to a call centre so disconnected from the restaurants that you could be talking to someone in a windowless bunker in Manila.
I lived in Pt Chev for a year or so, but I couldn't picture where they'd put Samadi, described mysteriously on the internet as being "Unit A, 11 Pt Chevalier Rd". I'd thought perhaps it was some pokey upstairs space in the mall, but in fact the new restaurant has a proud street frontage just along from Nomad, by the library.
Samadi doesn't have the expensive decor flourishes of its neighbour but it's an appealing and simple space, dominated by two communal tables set deep into the floor so you sort of climb down into your seat.
There are no bathrooms, so if you need to take a pit stop you have to go into the shopping centre, forcing open the automatic doors with your hands when the sensor fails to register your corpulent frame. Given the rudimentary toilets and the fuss you have to make to get out of your table in the first place, you may well decide it's easier to hold on until you get home.
Samadi doesn't yet have an alcohol licence, so unless you knock back two litres of their salted yoghurt drink this shouldn't be asking too much of your bladder.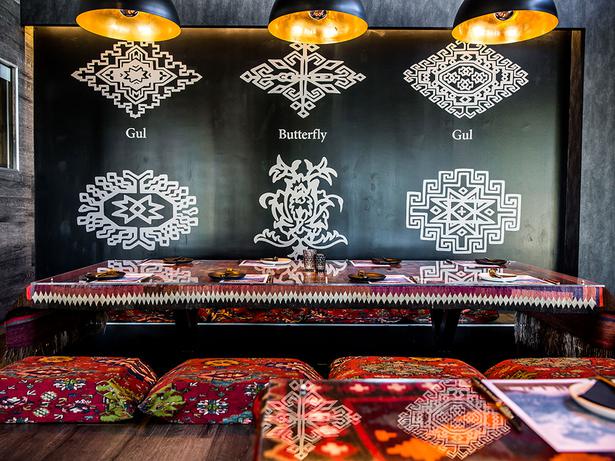 These setbacks may put you off at a less likable restaurant, but this is not a corporate-owned bistro with a $2 million fit-out. It's a small, family-run enterprise with modest initial goals: authentic food served with warmth and pride.
Samadi is owned by a married couple who also work the floor. I know this because when the guy accidentally dropped a fork on our table his wife smiled patiently, put her hand on his arm and dismissed him with a devastating "thank you, husband".
In the kitchen are two sisters, one by birth and one by marriage, but the rustic family approach is gilded with professionalism — the menu is a simple and beautiful piece of design, and the wife has the hospitality chops of a French Cafe maitre d'.
And the food is good. You won't leave gobsmacked that it's taken this long for you to discover Afghani cuisine, because most of the tastes and dishes are at least vaguely recognisable from Afghanistan's Asian and Middle Eastern neighbours. But there is a simple, sweet charm to the food — mild but fragrantly spiced, this is the curry you go out for when you don't actually feel like a curry.
READ: Where to Find Great Indian Curry in Auckland
Make sure you order the dumplings, which are just beautiful, soft and translucent and filled with ground beef. They're served flat on the plate and topped with a slightly sour garlic yoghurt and some earthy yellow split peas which add textural wholefood firmness to each bite. I guarantee you will not leave Samadi wanting for yoghurt, and perhaps the worst thing you can say is that even on this short menu there is a fair amount of flavour replication.
Bolani are a filled flatbread with your choice of potato or chive filling, though who would go for starch-on-starch over that green herby hit? The eggplant is recommended too — not a vegetable you should ever contemplate unless it's cooked perfectly, this one is rich and stewy but better eaten alone than with the thick, not-particularly-fresh "Afghani bread" that comes with it — it's hard to believe this is house-made rather than bought from the Countdown next door.
The meat cubes on a skewer weren't inspiring — are they ever? — but the tender beef korma is a good option if you fancy something more filling. And you should definitely get some palau, long grain rice decorated with raisins and nuts and bearing the heady whiff of cardamom in every mouthful.
Lucky Point Chev! This is a heck of a local restaurant, and just the sort of interesting tenant this ageing shopping centre needs. When the licence comes through, I predict it will be humming — but make an early autumn reservation now, while the outdoor tables are still in play.
Share this: