New York Chef to Bring a Taste of the Big Apple to Auckland
NYC restaurant Saxon + Parole will open an Auckland outpost as part of a new inner-city precinct planned for downtown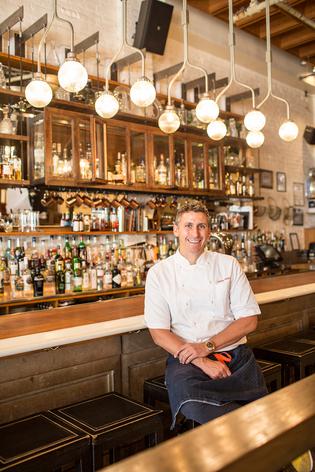 You'll be able to indulge in a taste of New York, without having to pack a suitcase, when acclaimed restaurant Saxon + Parole opens an Auckland outpost as part of an exciting new inner-city precinct planned for the downtown area in 2019.
Its executive chef Brad Farmerie, however, already has a strong New Zealand connection, having worked under Kiwi Peter Gordon in London at The Sugar Club in the mid-90s, then helping him to open The Providores in 2001.
"He introduced me not only to the world of New Zealand ingredients and wines, but the passionate people producing them," Brad says.
"Over the years I've made several trips to New Zealand to discover local ingredients I could bring back and showcase in my restaurants in New York City.
READ: Auckland Restauranteurs Hit the New York Dining Scene
"I've always been inspired by not just the food and wine found all over New Zealand but the people as well," he says.
Taking the area's name from the 1840s when it was the centre of Auckland's trade, Commercial Bay is set to be a game-changing destination with a focus on shopping and dining.
Local and international boutiques, flagship stores and a mix of bars, cafes and restaurants will be spread out over three retail floors of the downtown development, with the design led by New Zealand architects Warren & Mahoney.
The design team behind Saxon + Parole, AvroKO, are also in charge of designing the food hall, Harbour Eats, with the help of local talent Paul Izzard. Its many offerings are set to change often, but Saxon + Parole will be a permanent fixture.
With a menu described as "meat-centric" (while also serving the much-hyped meat-free Impossible Burger that aims to mirror the real thing), the original Saxon + Parole opened in 2011 in New York's Bowery District.
Alongside praise of its menu and welcoming atmosphere, Saxon + Parole is often named as one of New York's top cocktail bars. At its Kiwi counterpart you'll be able to enjoy your favourite drink on the restaurant's rooftop bar, overlooking the Waitemata Harbour. Dreamy.
• Commercial Bay is set to open in downtown Auckland in 2019. Visit Commercialbay.co.nz
Share this:
More Food & Drink / Dining Out