Restaurant Review: Tao, Newmarket
Jesse Mulligan finds an old haunt deliciously transformed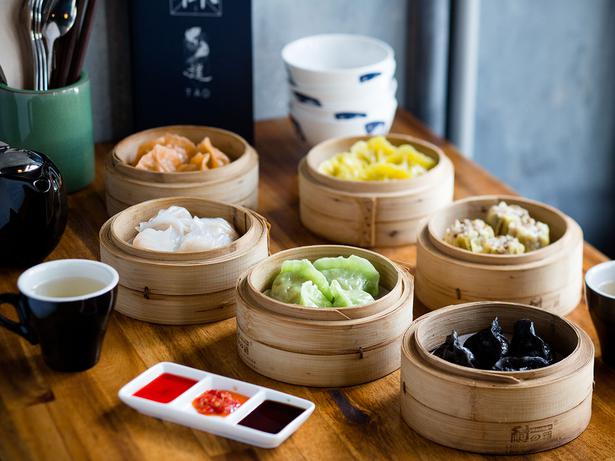 Wednesday Feb. 22, 2017
Cuisine: Chinese
Phone: 09 520 6962
Address: 61 Davis Cres, Newmarket
Bookings accepted
Drinks: fully licensed
From the menu: Pickled cucumber $5, Yunnan chicken $15, Peking duck $26, Sizzling eye fillet $29, Kung pao chicken $25, Pork buns $6, Beef dumplings $5, Seafood dumplings $5
Rating: 8/10

I went to dinner at Tao with my new co-hosts on The Project, Kanoa and Josh, as part of the accelerated friendship forming required of three people who've barely worked together but have to turn up at 7pm Monday looking as though we've been besties our entire adult lives.
Actually it's a bit more straightforward with Josh — who readers of this column will know has already been an enthusiastic dining partner of mine over the past couple of years in a series of dinners which eventually became the inspiration for NZME's excellent web series The Critic and The Pig.
Though Josh spills a fair bit of food on himself and occasionally loses a shirt button driving home, in real life he's no pig — although I did once see him ask the waiter for an emergency glass of wine to sip on while trying to pick something from the winelist.
Coincidentally that happened during a meal we had last year at Basque Kitchen, a beloved but flawed restaurant in a back street of Newmarket. It has now quietly disappeared to be replaced by Tao, and the new owners have done a good job of breaking up a plain old space to create some atmosphere and sense of occasion.
This changeover happened recently enough that the restaurant is still called Basque Kitchen on the Uber map — not that it helped our driver find it.
Anyway we're here to review Tao not Uber, though someone at a nearby table did lean over to me at one point and say "I hope you're planning on giving this place five stars!", showing blatant disregard for my carefully calibrated Viva rating system.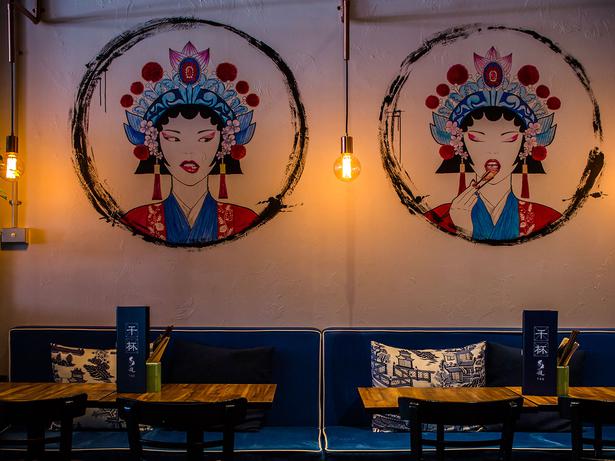 I suppose eight out of 10 is the equivalent of four stars, the rating you give an Uber when everything is mostly great but the driver checks his texts at the lights and the car smells vaguely of cinnamon. I couldn't fault much about the food at Tao, though the music was dreadful pop and the service a little casual.
"What are these?" Josh asked at one point, about a specialty list of baijiu spirits on the drinks menu.
"They're so high in alcohol, they all taste the same," said the waitress.
"Do you have a favourite?" he asked.
She said: "I hate all of them."
So, not the most passionate advocate for the protocols of Chinese liquor, but at least she was honest. And she was much more enthusiastic about the food menu, naming half a dozen favourites, all of which were great.
The dumplings are variously shaped and hued, one with a fresh-tasting seafood medley filling and a soft pastry shell coloured with squid ink. The brisket was a bit grey and nuggety but the pork "bun" was fantastic. It came with soup inside, though this did tend to emphasise the design flaws of a dumpling — that it's best eaten straight out of the steamer, but at that point its insides will be the approximate temperature of volcanic lava.
If you can handle the dumpling sticking to everything it touches, you're better to wait about 10 minutes until the meat has cooled — the flavour is about 10 times better, though you'll be very lucky if by this time your share hasn't been gobbled by somebody else.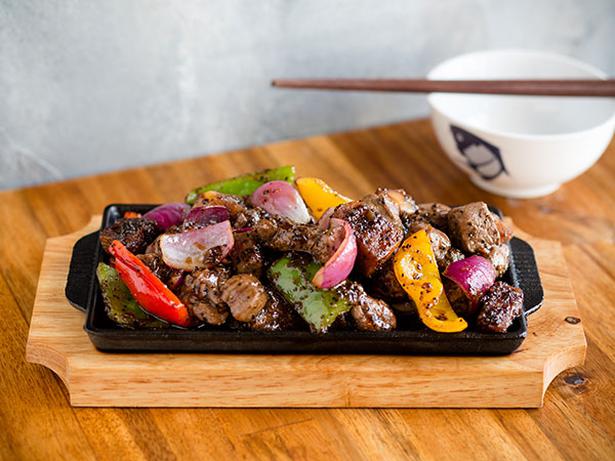 My favourite dish was a cold chicken entree. Chilled is such a strange temperature for chicken, but it works here, particularly in contrast to those dumplings. The boneless chook pieces are tenderly cooked, dressed in peanuts and numbing spices, and somehow infused with the intense taste of three roast chickens reduced down to their essential flavours.
A beef cheek dish was strange and wonderful too, the meat cooked then marinated and sliced in cross sections so expertly thin it looked like sashimi. It came with a spicy "old Beijing dipping sauce" which added to the sense that you were getting something from the chef's book of family recipes.
Then there was the beef main, which arrived at the table sizzling on a cast iron plate. This beautiful construction transcended gimmickry, with bits of caramelised onion sticking to the plate in the corners so you could take a fork full of rare eye fillet, smoosh it round in the oniony barbecue juices then slip the whole lot into your mouth.
What a find this place is, with more savoury delights than you can poke a chopstick at. They're doing what they can with a quirky restaurant space — it only takes a trip to the toilets to remind you you're in an improvised building. The facilities are shared with three or four other eateries, whose customers must sometimes be tempted to come back through the wrong door and sit down with a basket of dumplings instead.
Share this:

More Food & Drink / Dining Out