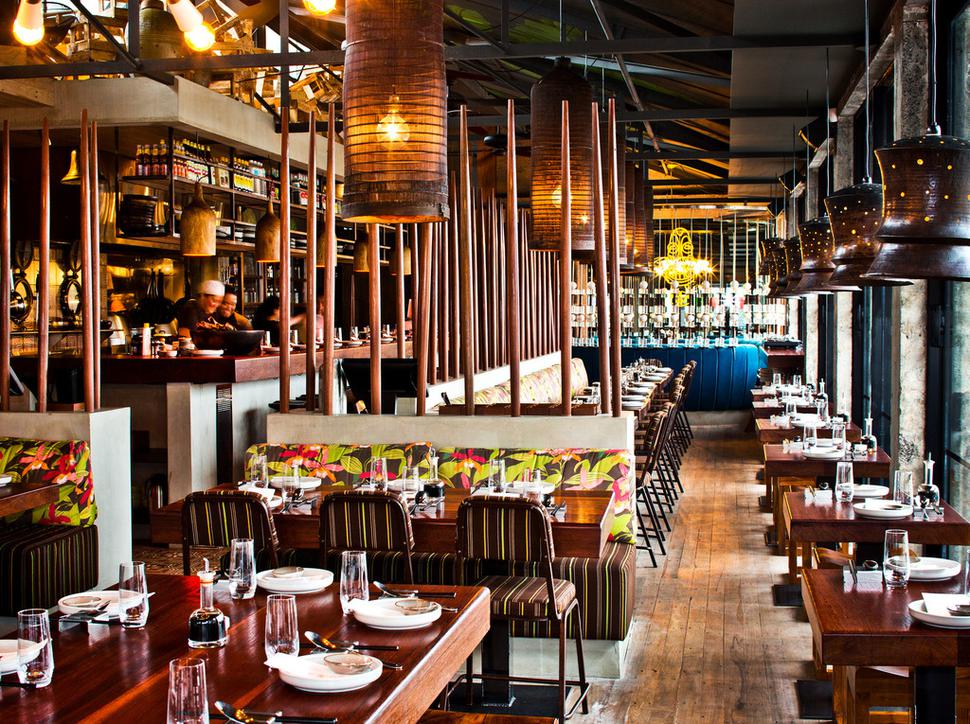 Review: Blue Breeze Inn, Ponsonby
Blue Breeze Inn impresses with its Pacific-themed decor and delicious Chinese cuisine
Friday June 7, 2013
Address: Ponsonby Central, 146 Ponsonby Rd, Ponsonby
Phone: (09) 360 0303
thebluebreezeinn.co.nz
Cuisine: Modern Chinese
Rating: 9/10

"Modern Pacific Chinese" reads the business card of the new Blue Breeze Inn.
It could be a shambles with its Pacific-themed decor paired with a Chinese-inspired menu. But it doesn't stand a chance of being anything other than brilliant, because behind this latest addition to Ponsonby Central are two of the most talented people in our hospitality scene, chef Che Barrington and restaurateur Mark Wallbank.
These two are not afraid to stretch into new territory and, as with Moochowchow, their modern Thai eatery up the road, they playfully mix authenticity with originality.
The design is unpredictable and takes any notion of what we might typically think of as "Pacific-themed" and pushes it northwards so that the look and feel is more Hawaii or Tahiti or even Easter Island, than south Pacific.
A huge neon tiki draws your eye down the length of the partitioned dining room and a bank of coconuts separates the kitchen from the bar.
Floor-to-ceiling windows allow light to gently spill into the dining room while stunning hanging lampshades splash light all over the heavy wooden furniture and a painted ceiling brings the lushness of a tropical island indoors.
There's booth seating sporting plush teal velvet upholstery, solid bar stools that swivel at a kitchen counter, a huge communal table, smaller tables for cosy twos and colourful padded seating outdoors for the brave - there's every sort of combo you could wish for and, like a cross between Gilligan's Island and a laid-back resort, the whole environment buzzes with a sense of fun, excitement and leisure.
We opted for overlooking the kitchen because, boy, this is one bustling scene as chef Barrington works shoulder to shoulder alongside his team.
As for the menu, Barrington has unleashed his love affair with Chinese cuisine. He embraces and understands Asian ingredients to the point that he pulls off a dazzling array of dishes and, as they've done with the design, unashamedly takes huge creative licence with them.
His team of dedicated dumpling chefs meticulously make pork and truffle stuffing into delicate little xiao long bao, or soup dumplings, while a spicy chicken filling is encased in an impossibly light and crispy shell in the fried chicken dumplings.
Bowls of thick chilli oil glint menacingly and we dip repeatedly knowing we can cool our palates with dewy tumblers of fresh sugarcane juice poured over ice. Fresh tuatua, shell and all, are tossed around in a ferocious dance, flash fried in giant hissing woks with pieces of sweet Chinese sausage and black rice vinegar to attain the perfect balance of sweetness and acidity.
A pickled-cabbage salad is a standout with Barrington proving his genius yet again in using a cheap Thai vinegar (we asked) that is so smooth you'd swear it was 10 times the $2 he pays for it.
There's no denying the masterful layers of flavour in dishes like the stir-fried paddle crab drenched in another sauce pitched between the mild heat of chilli and vinegar, or the braised crispy pork ribs that are sticky with wasabi caramel and punctuated with sour pickled red dates.
A bowl of sauteed "NZ native weeds" emulates the Chinese water spinach brilliantly and Barrington is proud to tell us that his grower "out west" has a small paddock of the stuff for him as well as native watercress which finds its way into the dish too. Lip-smackingly delicious and I could feel my iron count skyrocketing.
Sweet treats number only three on the menu and one failed to fire altogether - a molten peanut butter chocolate pot that was barely warm and solid, even on the second attempt. But a custard tart, served Chinese style, laced with ginger and with a liquid caramel sugar syrup overflowing on top, had us praising the kitchen again.
Barrington and Wallbank are enthusiastically mixing and matching their respective desires at the Blue Breeze Inn, and the result? One of the most exciting dining experiences I've had in a long while. It's out of the ordinary and leaves you head-over-heels in love with eating out.
From the menu: Candied walnuts $4, Black pepper pickled cabbage $8, Pork & truffle soup dumplings $15, Spicy chicken dumplings $9, Barbecued pork buns $8, Wok fried tuatua $16, South Island paddle crab $26, Braised pork ribs $26, Chinese water spinach $12, Hong Kong style custard tart $10, Molten peanut butter choc pot $10
Drinks: Fully licensed
Share this:

More Food & Drink / Dining Out