Review: Boy & Bird, Ponsonby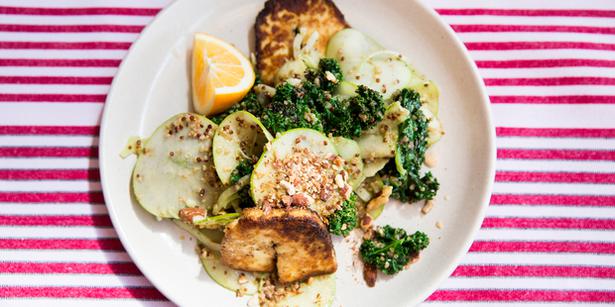 Wednesday Oct. 1, 2014
Address: 222 Ponsonby Rd, Ponsonby
Phone: (09) 361 3222
Cuisine: Casual
From the menu: Chicken livers $12, Beef krokets $11, Chicken & slaw roll $12, Kale salad $14, Quarter box $15, Pork schnitzel $17, Sabayon & grape crunch $10, Dutch apple doughnuts $7.50
Drinks: Fully licensed
Rating: 8/10

From the first visit to Boy & Bird, I was smitten. I'd fled a function further down the road where the food was so terrible that I needed something to cancel it out, so I ducked into Michael Van de Elzen's new Ponsonby Rd restaurant. He's set up shop with Marie Colosimo, a legendary front-of-house talent who has done her time at Merediths and Sidart. Together they've created something that needs to be experienced to be believed. Happiness. Pure and simple.
In every corner of this colourful eating joint there's a feeling of joy and cheerfulness, and it doesn't just come from the wide grins of the owners. The interior will delight you for starters. It's a fresh, colourful, fun juxtaposition of old and new with the plywood painted walls meeting original brickwork, potted herbs and bunches of vegetables spilling nature from a clever grid "garden wall", crisp red and white striped tea towels slung over chairs. It is casually comfortable and you'll feel more than welcome.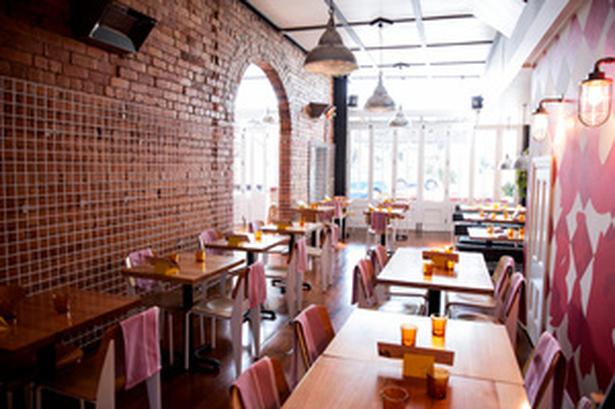 On my first encounter I was merely seeking something to sweeten my night and the Dutch apple doughnuts did the job perfectly.
You might think the combo of sweet, fried dough is an easy win but the execution can easily go horribly wrong; greasy, soggy, tasteless, lots of ways in fact that could lead to post-eater's remorse. At Boy & Bird they are the polar opposite. Served piping hot, their crisp dark brown shells showered in icing sugar give way to soft centres steaming with chunks of diced apple and dough that is light and fluffy. On the side, a small vessel brims with salted caramel sauce. Oh boy.
With a friend in tow, I returned the following evening to try out the full menu and assess what is essentially their raison d'etre - the roasted chicken from Boy & Bird's rotisserie. They serve it hot in soft wholegrain rolls with gravy, on its own or with slaw, in salads, and as satay. But there's plenty of other non-chick options on the menu, too.
We started with a bowl of chicken livers which had us swooning with pleasure. Comforting and rich, the livers are sauteed in a dark, red wine and mushroom gravy and served with sweet buttery brioche croutons. Another starter of beef krokets, a nod to Van de Elzen's heritage I presume, came with a powerful salsa verde. They're good but not as good as the livers.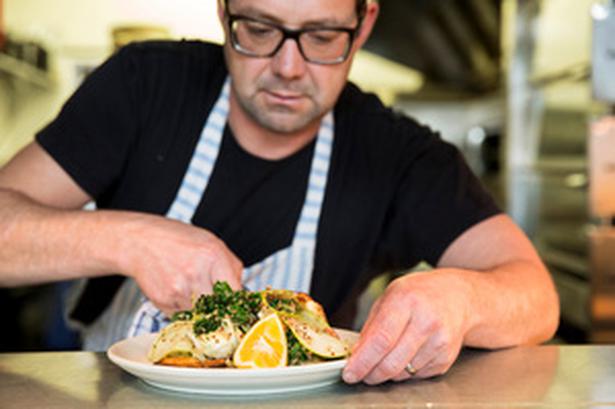 And anyway, these dishes felt like the trailer before the main feature - the birds. The owners went to great lengths to ensure they were sourcing well-cared for, free range, quality birds and it shows. They're brined then smothered in spices before being turned over to the rotisserie for a long slow roasting. Opting for a quarter box and a hot chicken roll, we tried both the brown meat and breast-wing cuts and both were equally moist and succulent, perfectly cooked and draped in gloriously thick gravy which, and I mean this as a compliment, was reminiscent of a certain chicken fast-food chain's gravy, only much better. Flavoured with miso, Boy & Bird have their own secret gravy formula going on and it works. The slaw is fresh and light and thankfully not drenched in heavy dressing and the chunky roasted potatoes are just heavenly. This is simple fare, but far from ordinary.
In the interests of research we also ordered a few non-chicken items. The pork schnitzel is not a hit - the seeded coating has far too strong a flavour - but the sauteed kale and apple is one of the best salads I've ever eaten. Kale is flash fried in a pan - you can taste the licks of flame and slight smokiness this technique imparts - and paired with paper-thin slices of granny smith apple and batons of golden fried halloumi. I could have eaten just this dish alone and left happy.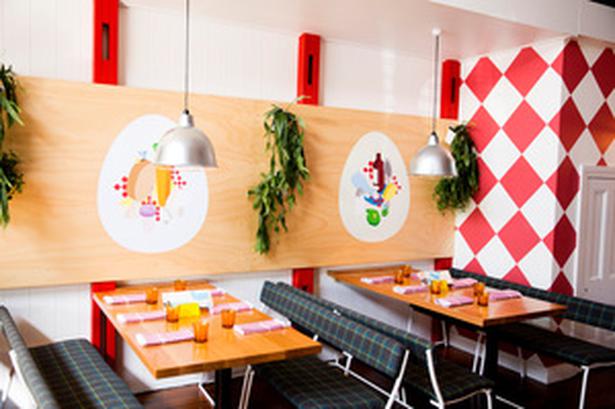 We finished with one of the most unusual desserts I've had recently; a red wine sabayon foam around warmed balsamic-marinated grapes with a dried fruit and crumb crunch. It was intriguing and divine, with pungent flavours and a level of sophistication that reminds you of Van de Elzen's roots in finer dining establishments.
Boy & Bird is full of originality but manages to keep it simple and familiar, too. It's a place that begs to be revisited and I've done just that - five times at last count; for a lunch and two more dinners, and for doughnuts on a day that needed more happiness in it. It worked a treat.

* Have you been to Boy & Bird? What did you think?
Share this: