Review: Bunga Raya, New Lynn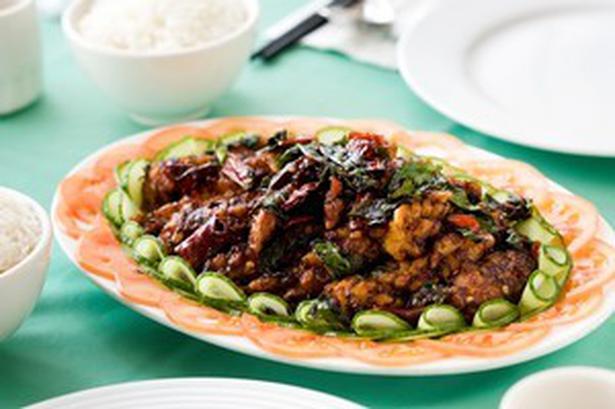 Thursday Jan. 26, 2012
Address: 2/3062 Great North Rd, New Lynn
Phone: (09) 827 8666
Cuisine: Malaysian
Rating: 6.5/10
Situated smack bang in the middle of the New Lynn shopping centre, Bunga Raya Malaysian restaurant takes its name from the beautiful red hibiscus that flourishes in even the dustiest roadside gardens in Malaysia. I have long heard how this is the only place to go in Auckland if you're seeking authentic Malaysian food, so I gathered together a group for a Friday night eat.
Walking in, I felt like I'd entered an episode of The Office - the only thing missing was the partitions. But I've long since learned that bland surroundings are not necessarily a negative if it's outstanding food you're after. Seated by the owner, we had no sooner glanced at our menus when she was back, ready to take our orders. I asked for a few more minutes to digest the menu but that seemed an indication to her that we needed help, so she began ordering for us. "Have this one, it's a favourite of MasterChef judge," she barked. Er, okay, except that "coffee pork chops" sounded dreadful. Then we made mention of chicken and before we knew it, we'd been steamrolled into a dish called XO chicken - the one with "special sauce from secret recipe". Oh dear. We did manage to put in a plug for hot and spicy squid and some tamarind prawns but, to be honest, we were sceptical of them ever arriving, given we'd selected them of our own free will.
When she'd gone, we all looked at each other in stunned disbelief at how rushed and railroaded we felt. I wondered if the restaurant's popularity had led to some impatience on the part of the owner or whether she was merely trying to manage a busy dining room with efficiency. Either way, I felt denied of one of my favourite parts of eating out i.e, pondering the menu - it's here that the story begins to be told. Here's hoping the food was treated with a bit more reverence.
First to arrive was the infamous pork chop. I was instantly, and unpleasantly, reminded of my first student flat with the strong whiff of instant coffee and the brown globular gravy but, though I was dubious, I have to admit the taste was intriguing. The coffee was more of a background flavour and added a deep, caramel flavour to the dish. I couldn't eat too much of it but it was voted the favourite by the two 9-year-olds at our table.
Next came the XO chicken; succulent chicken pieces, stir-fried and smothered in the spicy, mysterious sauce and scattered liberally with curry leaves. Each mouthful was an explosion of flavour and, of course, I tried to enquire as to the ingredients but was dismissed with "secret family recipe you will not find in restaurants in Malaysia, only homes". In fact, many of the dishes on the menu at Bunga Raya are home-style Chinese-Malay recipes as opposed to the ones you might find in the markets or street stalls.
Just as we were beginning to think that the two dishes we'd rebelliously ordered independent of our waitress's recommendations had been vetoed, they arrived. The plate of hot and spicy squid was piled high and, with each violent and pungent mouthful of crisp-fried, soft-centred pieces of squid and whole chillies, my estimation of Bunga Raya steadily rose. This dish was fantastic and the next even more so. Fusion between Chinese and Malay cuisines has always been a favourite of mine with its enticing spicy and tangy combinations and when the nyonya assam prawns arrived they were a sensational example of this. Giant prawns and carefully cut vegetables were bathed in a red-orange broth with a perfect balance of the spiciness of chilli and the piquant, sweet and sour of tamarind. I couldn't resist endless spoonfuls of rice, immersed carefully into the broth so that each grain could soak up the colourful soup. A pile of fresh and flaky roti helped in mopping up excess juices from each of the dishes.
The evening finished as it had begun with me feeling told off when I tried to order a cooling sago pudding to finish with and was told that both desserts were "pre-order only". What, like the week before? Who knows.
So, while I can recommend Bunga Raya, I do so with some reservation. The setting ain't no flower and the staff are pushy to the point that you feel like they're tired of customers enjoying themselves. On the other hand, the food was exceptionally good and, sometimes, that's got to be enough.
From the menu: Nyonga Assam prawn $30, XO chicken $24, coffee pork chop, $24, hot & spicy salt squid, roti $7
Drinks: BYO
Share this:
More Food & Drink / Dining Out