Review: Burger Burger, Ponsonby Central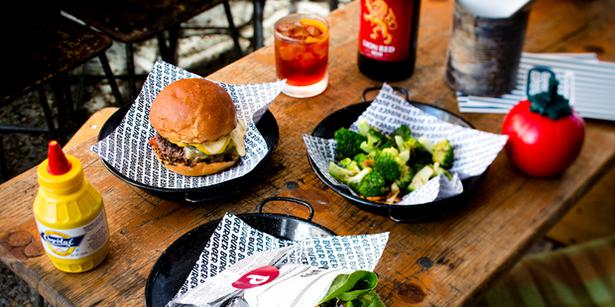 Wednesday April 30, 2014
Address: The Lane, Ponsonby Central, cnr Brown St and Ponsonby Rd. Burgerburger.co.nz
Cuisine: Burgers
From the menu: Beef burger $10, with extras; beetroot, aged cheddar $2 each, Pork with mint slaw $10, Potato skins $6, Charred broccoli $6, Chocolate sundae $10, Banana split $10
Drinks: Fully licensed 
Rating: 8/10

Burgers. Are they not designed to be wolfed down, scoffed, inhaled, smashed (as in "I could smash a burger"), either late at night or the following day when you're reaching for a cure for the late night? Surely they're not meant to be savoured, analysed, discussed in detail and at length. Yet I find myself with a friend, our cheeks bulging, raving about the burgers we're eating, picking apart every last ingredient and swooning over their most excellent composition; the friend even going as far as to say, "I think this is the best burger I've ever eaten"?
We're at Burger Burger owned by Adrian Chilton (Jam Cafe) and Mimi Gilmour (Mexico restaurants), the latest eatery to open in Ponsonby Central and we'd just scored the lucky last table, before the queue begins to form. It's loud, busy, grungy and all of it adds up to an atmosphere charged with frenetic energy but Sam, the waiter of all waiters, looks after us with all the casualness of someone who doesn't have a full house demanding his attention.
So, we're in a burger joint but the drinks list is above and way beyond fizzy drinks. My Negroni comes strong and well mixed in a short tumbler, the beer in a tall brown bottle because yes, they do Lion Red old-school, swappa-crate style at Burger Burger. But we could have had a glass of Moet too, or a bottle of decent pinot or, at least according to the menu, with "excessive flirting" the bartender might mix us one of the classics not on the drinks list.
The design of the small space is colourful and casual, with crates on the wall acting as planters and a stack of them on the floor making it feel like you've turned up at your friends' flat for a party, except that the food is better than a bowl of Twisties and potato chips with onion dip. Way better. Potato skins come with the crunchy skins flecked with a shower of sea salt and a small dish of truffle aioli.
Chilton is the burger chef extraordinaire complete with ear-piece and cap, and before long we're in burgers. My burger-eating pal's choice is pork with extra pickle and aged cheddar and I've punted for beef, regular I know, but I try it out on their gluten-free "bunnuce" - a "bun" made of lettuce.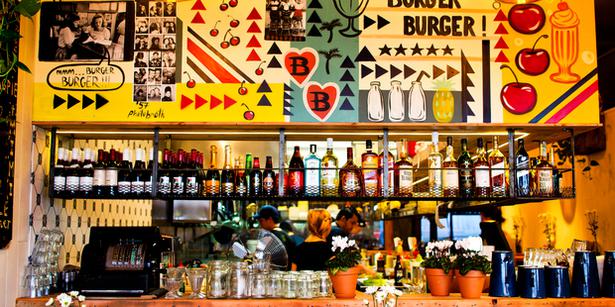 When it arrives it's difficult to get my head around, let alone my chops; a cos lettuce with the heart removed so that the leaves fully encase the filling and all of it wrapped in faux newspaper for ease of eating. It's weird but it works. I try not to feel like one of those anti-carb, Paleo fanatics and get stuck into a juicy beef pattie, cooked to perfect medium rare, with extra beetroot and aged cheddar (my call) and tomato jam, mayo and mustard (their call).
I don't miss the bun until I take a bite of my friend's pork burger. Pulled pork is combined with a minty slaw that serves as more than being a mere filler - it's full of flavour and adds a freshness that cuts through the pork - and a barbecue sauce that rocks with the right balance of heat and smokiness, and the bun, oh the bun. From the neighbourhood bakery, Il Forno, the buns they serve at Burger Burger don't try to impress with their over-size, nor appeal by being all cutesy - they're regular-sized, like buns used to be, light and soft, oh yeah baby, so that with each bite the filling doesn't annoyingly shoot out the other side. Someone has thought about this and it shows.
There are sides of slaw, kumara, fries and charred broccoli on offer and our plate of greens (the broccoli) makes us feel slightly virtuous but then we blow it by ordering desserts: a sundae and a banana split. Both are served, retro-style (glass dishes, chocolate sauce, glace cherries, nuts) with a modern twist, a banana foam, unfortunately served on both which meant they tasted almost identical. They were the only bum note in a night that was fun and left me wanting more, more, more of Burger Burger's burgers!
With its cacophony of happy noise and funky fit-out Burger Burger is just what a burger bar needs to be - cheeky, upbeat and fast, but most importantly with quality food that fully satisfies your hunger.
Share this: