Review: Cassia, City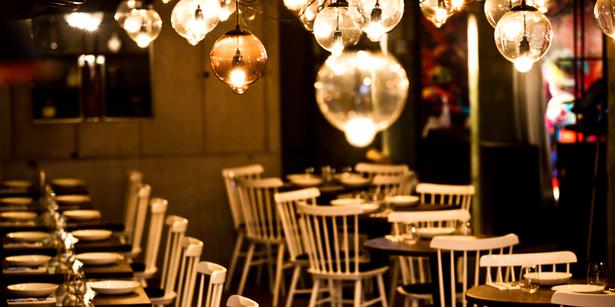 Wednesday Aug. 13, 2014
Address: 5 Fort Lane, City
Phone: (09) 379 9702
cassiarestaurant.co.nz
Cuisine: Indian
From the menu: Onion kulcha ($6), Fennel brioche sliders ($14 for two), Roasted potato and cauliflower ($15), Soft shell crab ($18), Lamb chops ($22), Vegetarian curry ($25), Fried eggplant ($15), Pickled fish ($19), Basmati rice ($5)
Drinks: Fully licensed
Rating: 8.5/10
If you're feeling a little fatigued by your local Indian's saag paneer and rogan josh, you need to head along to Cassia, Sid Sahrawat's latest venture in Fort Lane.
The acclaimed chef has been causing a stir with his new restaurant in the basement of the Imperial building, where he aims to reinterpret his native Indian cuisine using New Zealand produce.
He achieves this with typically innovative results - indeed, to find yourself ordering lamb chops or brioche at an Indian restaurant is definitely unusual, and it's safe to say you won't find food like this anywhere else in Auckland.
On a lunchtime visit to Cassia the place is quietly buzzing with a mixture of business types and casual diners. The restaurant, which occupies the former site of Mandarin Dumpling, is not huge, but there is a definite sense of privacy and space despite the fact half the seating is communal.
From the lane you descend down concrete steps below street level into a sophisticated space brought alive with spider webs of low-hanging oversized light bulbs.
The walls are exposed brick, most of the seating is a mixture of a bank of blue bench seats against the wall and stark white chairs. The kitchen is open so you can watch Sahrawat working alongside his staff.
The menu is designed to be shared, and so you should, to try as much as possible. Our waitress suggested nine or 10 dishes between four and, though they are light, for lunch this was perhaps a couple too many.
The plates arrive in lots of two or three and are well-spaced to give you time to linger over and digest Sahrawat's intense flavours.
We began our feast with kulcha - fried Indian flatbread served like a dosa - cooked with onions and served with a powerful coriander relish, and the beautifully presented roasted potato and cauliflower with burrata cheese, cauliflower cream, spinach and cashews.
Each dish that followed had its own twist, with plenty of fresh touches - chilli, red onion, radish - to keep things interesting.
Succulent tenderloins of caramelised chicken in fennel brioche, presented like sliders, are packed with kuchumber (onion, tomato and cucumber tossed with Indian herbs and spices) and drizzled with yoghurt. Delivering a subtle kick of flavour and spice, these are a menu must.
Our pickled fish (John Dory, with chickpeas, garam masala, fried bread and a mint dressing) was served with pani puri puffs filled with potato curry and drizzled with tamarind water at the tables. Designed to be eaten in one bite, the tamarind gave the curry an interesting, slightly sour taste which paired perfectly with the intense seasoning of the marinated, then baked, fish.
The lamb chops with fenugreek chunky onion rings, pickled onions and a sweet coconut chutney, and the soft shell crab parcels, were a mixed bag.
Disappointingly, only three of each arrived, though the waitress had earlier warned we'd need extra brioche and pani puri for four, and although the tender chops were superbly cooked and presented, the crab was the disappointment of the meal.
The accompanying pickled cucumber, carrot puree and cumin salt had plenty of punch, but the crab itself was somewhat overpowered by the accompanying tomato kasundi chutney.
Our final two dishes pushed us over the edge and, to our dismay, we couldn't finish them - though we certainly tried. At $25, the vegetarian curry - paneer, kale and kumara - was the most expensive dish we ordered and it was worth every cent. Its fire was a good match for the creamy fried eggplant and mushrooms, which came in a fragrant bright green sauce made of cow's curd, mint, and, yes, more chilli.
All of that tucker regrettably left us too full to sample the chocolate kulfi or cardamom panna cotta on the tempting dessert menu, but, rest assured, there will be a next time. This is one inner city dweller we intend calling on again very soon.
Share this:

More Food & Drink / Dining Out