Review: Cazador, Mt Eden
Don't be dissuaded by the vast amount of taxidermy at Mt Eden restuarant Cazador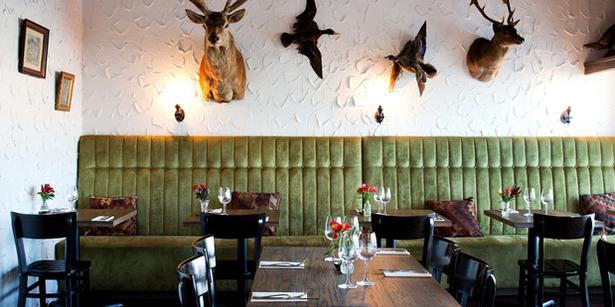 Wednesday April 2, 2014
Address: 854 Dominion Rd, Mt Eden
Ph: (09) 620 8730
Cuisine: Game
From the menu: Nan-e-bakhshi (Persian flat bread) $9.50, Goat terrine $16.50, Octopus and chorizo $16.50, Roast beetroot salad $16, Smoked rabbit loin $33.50, Boar fillet $33.50, Blood orange jelly with madeleines $13, Bay leaf ice cream with poached quince and shortbread $14.
Drinks: Fully licensed
Rating: 8.5/10

Let's say you've wandered in off the street, without knowing anything about Cazador restaurant. First, you might register a small, or large, amount of shock when you see what's on the walls for decoration. Taxidermy. Lots of it. Deer, ducks and flaxen-haired goats.
But then you'll notice a bunch of niceties; young fresh-faced co-owner Rebecca Smidt will greet you with a grin, posies of fresh flowers bounce out of old-fashioned vases and jars on the tables, a sign at the doorway to the private dining room proclaims cheerfully "for feasts & functions" and if you happen to spy head chef and co-owner Dariush Lolaiy in the kitchen you'll find him more handsome than gruesome - that's for sure.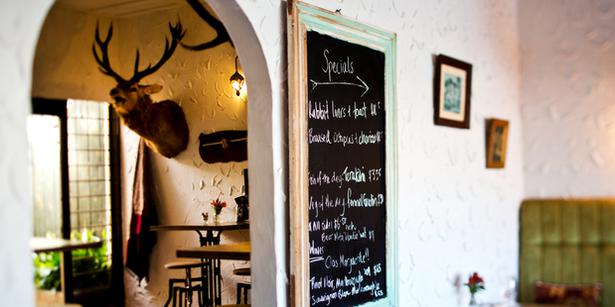 It will begin to dawn on you that this restaurant, dedicated to serving game and wild food, is one of a kind, in a good way.
If this is a repeat visit, you'll probably notice Cazador has had a modest but clever re-fit. They've kept all the best features - the 70s white plaster roughcast walls, the small bar area, the street-front windows and, of course, the proudly displayed conquests from successful hunting expeditions - but velvet banquette seating, new dark flooring, Persian-inspired wallpaper and other small changes have transformed and freshened the space.
However, the question some may still ask is: does a game-led menu suit only those who are boastful and brave in their consumption of offal and offcuts? Absolutely not.
To start with, we devoured a plateful of warm nan-e-bakhshi, a flatbread stuffed, rolled and baked with herbs and sharp, melted cheese. If there is such a thing as Persian comfort food, this is it.
An entree off the specials board, of braised chunks of octopus and house-made chorizo, was a soft, oily, spicy casserole and we mopped up every last drop of the juices with pieces of perfectly smoky, char-grilled bread.
I like a terrine but I also sometimes think if you've had one, you've had them all. Not at Cazador. Their terrine of coarsely chopped goat meat, combined with the crunch of almonds, was like rediscovering a much-loved classic only to find it more elegant and delicate than you remember it. I piled thick slices on bread, loading it up with chutney, gherkins and caper berries for mouthfuls of punchy flavour. Scrumptious.
Between courses I leaned back into the velvet of the new olive green banquette and took sips of my pale, lemon-coloured sherry, a recommendation from sherry-obsessed Rebecca, which hit the mark perfectly with its refreshing tang.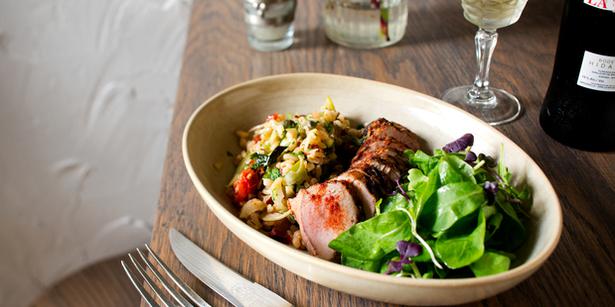 Our feasting continued with a loin of rabbit and fillet of boar. The rabbit loin had been smoked and was served in rosy pink rounds with a gorgeous romesco sauce, olive oil mash and thick slices of grilled green tomato. The plate it was served on - a small white shallow soup plate - was the only jarring note. If ever a restaurant's food deserves to be served on earthy, hand-formed crockery (as is the trend in so many eateries now), it's Cazador's "from the land" cuisine.
Another main dish, thick slices of marinated boar fillet were soft, moist, tender, relatively mild in flavour and served on a wheat kernel salad cram-packed with spring onions, parsley and dressed with a sassy sherry vinaigrette. If you think all game meat is rich and strong on the palate, this delicately balanced dish will change your mind.
With such joyful savoury eating, who would have thought that the desserts could eclipse the lot, but they did. Poached quince came with thin triangles of shortbread, glazed with thick glossy quince paste and sprinkled with creamy pine nuts, the bay leaf ice cream a delightful surprise. These were flavour profiles all impeccably well-matched.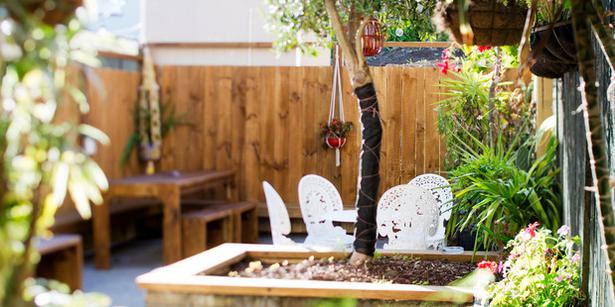 A vibrant blood orange jelly was out of this world. It trembled slightly, literally "just set and no more", and I marvelled at the nerve of the creator to resist the sure-bet of adding more setting agent. The flavour was of the purest citrus you can imagine and, combined with fresh madeleines and clotted cream, it was a dazzling dessert.
Cazador feels like a deeply personal restaurant. The menu points out that Rebecca and Dariush are "Second generation custodians of Cazador Est. 1987", having taken over from the original owners, Dariush's parents, two years ago. This talented pair are now making this establishment their own and I'd say it's in safe hands for future generations.
Share this:

More Food & Drink / Dining Out