Review: Clooney, Freemans Bay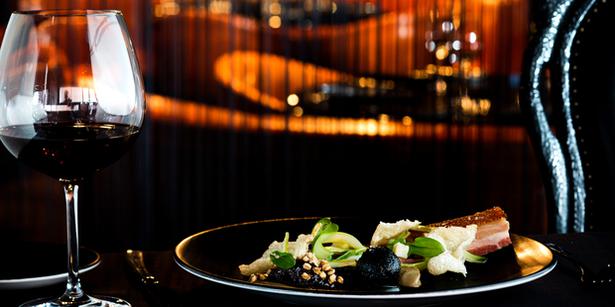 Friday July 5, 2013
Address:
 33 Sale St, Freemans Bay
Phone:
 (09) 358 1702
clooney.co.nz
Cuisine:
 Contemporary NZ
Rating:
 9.5/10
The last time I reviewed this restaurant I was on the brink of a romance. It didn't last, but the impression of the dining most certainly did. I always wondered though, did my hopefulness around matters of the heart that evening disproportionately influence my overall impression of this restaurant? Of course it had. We take our mood with us to the dinner table, wherever we dine. Whether a chef and his food can shift that mood is a matter for us all to ponder.
Tonight, I was much less a star-struck lover and more an over-tired, over-committed version of myself, and my dining companion was much the same having just moved house. Romance could not have been further from our minds. We collapsed into a tan leather booth and silently took up our menus. You'd have to be a monster, however, to remain impervious to the atmosphere at this, one of our city's most revered establishments. Gradually our frown lines softened, our moods lifted, we sank deeper into our cocooned booth and the staff began to work their magic. They tended to us with all the grace and astuteness of a team who know how to read a diner's mind and body language with uncanny accuracy - how did they know when we wanted to be left to sit, to breathe in the surrounds, to soak up the mysteriousness of the dimly lit dining room, partitioned so cleverly with its lampshade-like tassels? And when we were ready to be interrupted, tempted with more cocktails with cheeky names like Fred & Ginger and Torvill & Dean or have a dish explained more fully? Who had trained them thus? Bravo, whoever you are.
The menu is dazzling and intellectual, yet entirely approachable. This is a chef with an uncanny ability to compose dishes that leave no questions yet they nonetheless arouse one's curiosity.
Here's what I mean. My first dish was a gentle combination comprising a slender piece of poached soft rabbit, draped over two filo cigars stuffed with rich darker leg meat. Lifting the flavour to higher notes were capers and a date puree, with a scattering of marcona almonds - Spain's finest, which are flatter, rounder, sweeter than others - providing the all-important crunch. By comparison to my more serious dish, my dining companion's starter of poached lobster was light, fresh and playful, with contrasting ingredients flirting outrageously with each other. Plump chunks of lobster were paired with pork loin and pea, and a pale reduction that was dotted about the plate balanced the other ingredients exquisitely, yet I couldn't quite pick the flavour. It was citrusy and hinted at lemon but a bitterness hovered, pleasantly, if that's possible, in the background, Our waiter grinned when he saw our consternation. "Lemon pith." Of course. It was perfect.
Mains of razorback pork and a boned rack of lamb continued the brilliance - each dish managing to appear simple and complete despite myriad ingredients and preparations that made up each one. A stack of neat Dutch fries, like golden building blocks, were dusted in light curls of parmesan and accompanied by a small dish of dreamy, creamy truffle dressing. A salad of tiny cherry-red and yellow tomatoes was intense and sweet and splashed with pedro ximenez vinegar, which sang with zing.
We didn't need dessert at all but by now we were out of control and that drove us forward into the luxurious land of chocolate - Valrhona to be exact. Yes, we opted for both of the chocolate desserts because that's what you do when temptation is before you - you take it! Chocolate and celeriac are combined with caramel and walnut and it is like all four ingredients were born to be together. Happy memories are dredged up with flavours of popcorn and banana and small baked chocolate steamed puddings and it's all done with the humble flair typical of so many unsung geniuses.
Is there a better example of sumptuousness in our midst than this restaurant? Not for me. Any woes we'd brought to the table were well and truly banished and replaced with a sense of elation and recklessness - we were head over heels by the time we left, in love with our lives and everything around us. That is the magic of a restaurateur called Tony, a chef by the name of Des and a restaurant called Clooney.

From the menu: Farmed rabbit $28, lobster and pork $36, razorback pig $45, lamb rack $46, sides of tomato salad and dutch fries, $10 each, Valrhona chocolate $20, Baked Valrhona chocolate dulcey $19.
Drinks: Fully licensed. Extensive wine list
Share this:
More Food & Drink / Dining Out