Review: Coco's Cantina, Karangahape Rd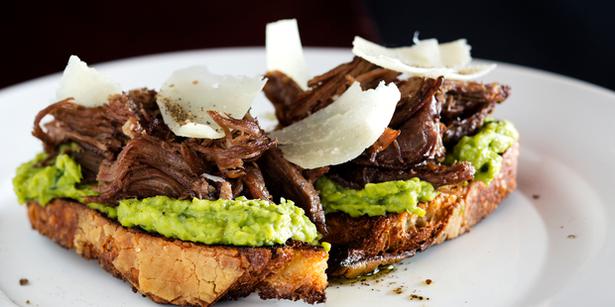 Friday Sept. 28, 2012
Address: 376 K Rd
Phone: (09) 300 7582
Cuisine: Italian
Rating: 9/10
Generosity. Such a positive quality. There are some people that just exude this giving trait and when you're in hospitality that's a very good thing indeed. At Coco's Cantina, the owners and hosts, a couple of the loveliest, sassiest, switched-on sisters you'll meet, know that whoever graces the doors of Coco's are likely as not there to have a good time and feel at home, so they make it so.
There's soft lighting, a barman who likes to chat and makes a mean cocktail, tables adorned with small posies of fresh, non-pretentious blooms, and a deli section down the back which overflows with the abundance of an Italian kitchen - giant bowls of caramel coloured roasted garlic bulbs and piles of plump olives glisten in the candlelight, inviting you to salivate.
Coco's Cantina takes no bookings and, with a place as wildly popular as this, that can be annoying. But now they've opened Baretta, a cool and cosy wine bar right next door and I guarantee you won't mind how long you have to wait for a table. We certainly didn't. We sipped martinis and asparo cocktails and relaxed until they were ready for us. Easy.
Now sometimes the things that go wrong, can prove you right. Here's what I mean: I've reviewed Coco's well in the past but after just one mouthful of my fish main, a polenta-crumbed turbot on caponata, my sodium levels went through the roof. I implored each of my three dining pals to taste it. All had the same reaction - too salty by far. Just then the waiter checked whether everything was all right with our meals. "Great thanks," the New Zealander in me assured him. What was I thinking? Surely they would rather I gave them the feedback. So I garnered the courage and discreetly called the waitress over. Quietly, I asked her if she'd mind checking with the chef because it was too salty. I waited nervously. She was back in a flash. "The chef agrees, we're making you another one, sorry." The relief of not being told a version of "the chef said that's how it's meant to be" was immense. No defensiveness, no making me feel "difficult", just genuine appreciation that we'd told them.
While I waited for my replacement meal my generous friends shared bites of theirs, and each was terrific; the half-chook was cooked to perfection with a taut golden skin and flesh that was still succulent and luscious. The quinoa salad was a sprightly companion for the bird. The steak - a sirloin that the menu warns "comes with fat" - was cooked to perfection, albeit that the eater had ordered it "well done, please". How the chef managed to cook it so and keep it juicy was a feat in itself. That lack of judgment was another. The veal cotoletta was beautiful; soft and tender leaves of veal crumbed and fried to golden and piled with rocket and flakes of parmesan - and dressed, it's fair to say, with a little too much olive oil. Tut tut, we loved it.
They'd captured the seasons perfectly in the side dishes too with fresh asparagus, chargrilled with a lemon crumb; and beetroot baked to meltingly soft and given a lick of balsamic. These were sides that sang, not sagged.
The second version of my fish arrived and it was a different dish altogether - I could taste the delicate turbot, the polenta crumb was still seasoned, but not overpoweringly so. Marvellous.
We'd started the night with bruschetta - gently chargrilled so the lingering taste was reminiscent of a campfire - topped with chunks of slow-cooked lamb and smashed minted peas and another version had gently smoked trevally paired with orange segments and thin sickles of red onion for a fresh burst of flavour. The risotto balls too, we'd enjoyed, made with beetroot and a soft centre of creamy, salty feta.
And would you think us greedy if I told you we ordered three puddings - the best tiramisu in town, a lemon posset and a suitably wobbly panna cotta with boozy cherries? It was far too much food, to be honest, but we couldn't resist.
Coco's Cantina is still a charmer with its eclectic mix of diners, both pierced and pashmina'd, staff who are cocky but never arrogant and food that's, well, bloody fantastic. You feel like you're dining in someone's home, where mistakes sometimes happen, but you can all laugh about it later. How lovely is that?
From the menu: Bruschetta - lamb + minted peas $16.50/smoked fish + orange $15; risotto balls $12; roasted chicken $30.50; veal cotoletta $28.50; sirloin $29.50; pan-fried turbot $30.50; balsamic beets $8.50; asparagus $8.50; panna cotta $13, lemon pots $12, tiramisu $13
Drinks: Fully licensed
Share this:
More Food & Drink / Dining Out