Review: Conch Kitchen & Bar, Ponsonby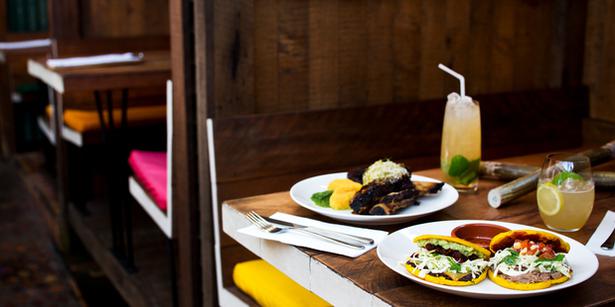 Wednesday July 9, 2014
Address: 115A Ponsonby Rd, Ponsonby
Phone: (09) 360 1999
Conch.co.nz
Cuisine: South American-influenced
From the menu: Ceviche ricepaper wraps $14, Portuguese chicken skewer $14, Arepas $18 for two, Twice-cooked beef short ribs $24, Pizza $24
Drinks: Fully licensed
Rating: 8/10
Fifa is having a strange effect on me. I've yet to watch a game, but in the past month I've become a fervent fan of South American cuisine. When I heard the squad from Uruguay had had their stash of thick, sweet, caramel-like dulce de leche confiscated upon arrival in Brazil, I immediately boiled up a can of condensed milk in sympathy. Then, in a lame attempt to counter its effect, I began slugging back smoothies made with acai berries, which Brazilians claim is a superfood and weight loss tool combined. I'll let you know.
But, mostly, I'm putting my newfound love for South American food down to a record store on Ponsonby Rd that has morphed into one of the cutest eating scenes around - Conch Kitchen & Bar.
It's the brainchild of the Conch Records collective and, with one of the owners being chef Bevan Kaan of Waiheke-based Dragonfired Pizza fame, it's no surprise the menu is terrific.
The design is great, too, with Brent Hollands, another of the record store owners, using his building skills to magically transform the back courtyard into a cosy dining option that has a true neighbourhood feel, complete with wood-fired bread oven and gorgeous individual wooden cabanas to make yourself at home in.
Winter? It never occurred to us, thanks to the laidback feel they've created and overhead heaters smiling their orange sunshine down on us.
The menu has a smattering of dishes and street snacks from the nations that make up South America, with a hint of our local cuisine in there too. Some items are completely foreign to me but instantly become my new favourites. Like arepas - little corn cakes, crunchy on the outside and soft in the middle, that apparently are popular street snacks in Venezuela. They're perfectly designed for eating with your hands and, at Conch, they are filled with lamb or pork - both organic, and slow-cooked in the wood-fired oven - or braised black beans.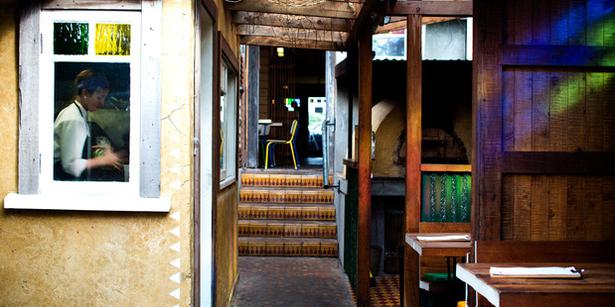 The tender, juicy lamb is paired with a light, fresh slaw of green apple and mint and the way the flavours and textures kick off each other makes us hungry for more. By comparison, the pork carnitas are deep and smoky with plenty of pickles bouncing about, but it's the black bean arepa that blows my mind. Velvety beans spill out of the corn cake, and fiery chipotle, pungent onion and fresh coriander come together with smoked cheddar to make each mouthful a heavenly bite to behold.
Also winners are the ceviche rice-paper wraps, bulging with juicy, lime-drenched pieces of the freshest fish. I may have ques-tioned the rice-paper but my mouth is too full of happiness and my mind so taken over with the explosion of citrus and chilli that I don't much care where the concept has come from.
There's a concise pizza menu, too, and given the pedigree of Kaan - his artisan wood-fired pizzas are alone worth the return trip to Waiheke Island - we know we need to order one. But no sooner does our pizza order make it to the kitchen than our waiter is scurrying back: "There is an anchovy situation."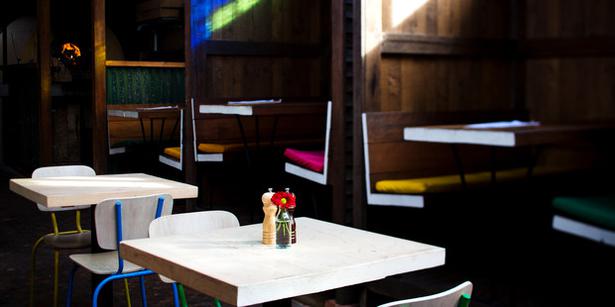 Turns out they had a run on anchovy pizzas at lunchtime so there is only enough of the salty fish for half a pizza. We opt for margherita on the other side and it arrives bubbling and singed in all the right places, not too sparingly covered, as is the trend, but not sagging with ingredients, and every one of them there for a reason. The side sporting capers, olives and anchovies would win easily in a shootout between the two halves.
We are already deeply impressed with the food but our final savoury dish has us almost punching the air. A plate of glistening, twice-cooked beef short ribs collapses away from the bone and, combined with a tangy Peruvian mash, spiked with yellow chillis and lime juice and a beautifully balanced salsa verde, it has us applauding each delectable mouthful.
Up until now Conch has always been an intimidatingly cool record store to me, but now it's my new favourite place to eat when I'm looking for a neighbourly, backyard vibe with great food. They're playing their own game, have pitched it perfectly - and I'm picking that this winter, Conch Kitchen & Bar will win more hearts than just mine.
Share this: