Review: Ebisu, Britomart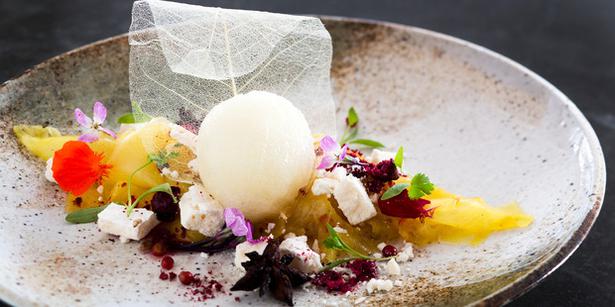 Friday Jan. 24, 2014
Address:
Ebisu.co.nz
, 116-118 Quay Street, Britomart
Phone:
 09 300 5271
Cuisine:
 Modern Japanese
Rating:
 7/10
I'm hopeless at eating healthily when dining out. My problem is that even if I've managed to be restrained at the front end - denying myself a side order of hand-cut chips cooked in duck fat - I have utterly zero resolve when it comes to puddings. They are my undoing. So imagine my delight, when seeking a healthy option for dinner, that it would be the desserts that turned out to be not only the taste highlight but also so inspiringly healthy that they make it possible to leave the good intentions of a new year intact.
I'd selected Ebisu because, aside from its stellar reputation and the brand new summer menu it was boasting, it was a good fit for my dining companion, Viva's editor, who was fresh off a detox and wanting to stay with the vitality vibe. Ebisu's menu offers exciting and modern Japanese dishes with plenty of twists and takes on traditional Japanese fare, and the location - in a historic building in Britomart - gives it an impressive air with the clever combination of industrial warehouse space - all that concrete and tan leather booth seating - and nature reserve - the stunning flax flower silhouettes through which the wharf and waterfront shines.
There's plenty of refreshing, inventive, light options like exquisitely laid out platters of sashimi, beautifully presented rows of sushi, sashimi taco and more, and I couldn't help feeling just a little bit guilty for my selections, of red meat/deep fried/mayo-laden dishes, in the face of my dining friend's more health-giving options. As it transpired, my guilt turned to smugness as each of my dishes proved spectacular on almost every front, while hers fell short.
Rock oysters were not served chilled enough and frankly were squeamishly creamy due to their cycle (I dined later that evening at an establishment who get theirs from the same source but they'd wisely taken them of the menu for the time being) and a billfish main dish was slightly overdone and overpoweringly fishy so the delicate vegetables were swamped.
I'd used the logic that, as I was heading for a healthy dessert, I could afford to take some license with the rest so I polished off a plateful of fried pork belly, presented in perfect golden cubes and cupped in bright green and crunchy petit cos lettuce leaves with a dollop of mayo and spicy Japanese barbecue sauce. Each was a juicy mouthful. Soft wagyu and shiitake mushroom dumplings were sticky, delicately translucent and rested in a light spicy broth, topped with roasted almonds. So satisfying. I followed up with a seared duck breast fanned out, its golden skin moist with soy and ginger and the flesh cooked rare and tender, accompanied by a startling pickled nashi pear and a pile of green tea salt. It was a wickedly good combination. Wilted greens catered for both our needs and were packed full of flavour with hits of fresh chilli, ginger and crispy shallots.
If we were divided over the consistency of our savoury dishes, the sweets united us and left us singing the praises of the kitchen. Aside from being explosively pretty, each plateful overflowed with gorgeous flavours that were stunning in their intensity. Black sesame ice cream and a simple compote of fresh cherries was paired with a crisp, soft, dark purple cherry macaron that collapsed beautifully and was the essence of this star of a stone fruit. It left my taste buds zinging with delight.
A pile of ripe pineapple, sliced so thinly it resembled the shiny folds of satin, was insanely sweet and luscious. Balancing the tropical sweetness were shoots of coriander, dehydrated lychee, shards of sesame meringue and an icy ball of yuzu sorbet. Pink peppercorns completed this dish offering a floral flavour, and I can't tell you how refreshing the whole effect was.
Though we were let down by some of the dishes it goes to show that a stunning late effort in the dessert department can go a long way in making up for lost ground. We left Ebisu convinced of a return visit. Whether for a simple bento box for lunch, or a more substantial multi-course dining affair, Ebisu manages to slide stylishly in to match either occasion.

From the menu: Rock oysters $23.90, Wagyu dumplings $18.90, Tonkatsu cup $17.90, Seared duck breast $33.90, Market fish $35.90, Side of wilted Asian greens $7.90, Pineapple carpaccio $14.90, Black sesame ice cream $12.90
Drinks: Great wine list, even better sake and shochu list
Share this:
More Food & Drink / Dining Out