Review: Farina, Ponsonby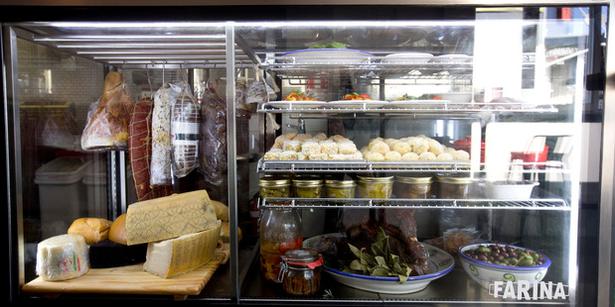 Wednesday May 28, 2014
Address: 244 Ponsonby Rd, Ponsonby
Bookings: Walk-ins only
Online: farina.co.nz
Cuisine: Italian
From the menu: Sfizi $12 each, Ragu of the day $18, Tortelloni $20, Pork and veal ragu $18, Spiedini $36, Radicchio salad $11, Panna cotta $10, Limoncello custard cake $10.
Drinks: Fully licensed
Rating: 7.5/10

To declare any one country's food "the best" would rule out so many other fantastic, exotic, intoxicating examples, but guess what? There is one country that nibbles at the back of my mind, that secretly I believe surpasses all others. Italy. Where else can you find food that seduces so utterly with its simplicity? Be warned though, you've got to work at it. While people like to brag that, when in Italy, they dined relentlessly at tiny trattoria, which they stumbled upon of course, where the chef sent out glorious dish after glorious dish, it is equally possible to keep stumbling over nothing but cheese-drenched touristy lasagne and bland, unseasoned, cardboard-like pizza. In my experience it requires a subtle shift of attitude to experience the first of these scenarios. Most crucially, you need to relinquish control and become demanding, both at the same time. A good place to practise is at Farina, the new Italian eatery in Ponsonby.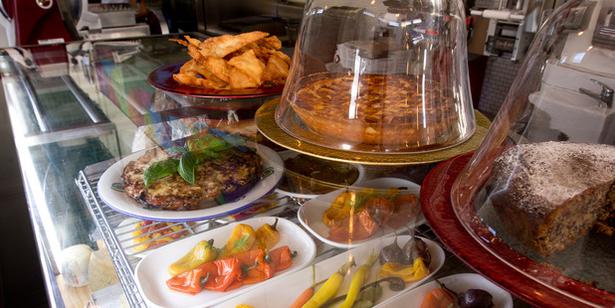 Propping ourselves at the marble counter opposite co-owner and head chef Sergio Maglione, we are immediately greeted with "What you feel like eating tonight?" to which we shoot back "What's good today?" and this is met with a shrug and a hand gesture which says "Are you crazy, everything is good, but let me look after you." So we relax into not getting too attached to the detail of the menu - which sets out everything from the salumeria offerings to house-made pasta to Toto pizza (Maglione also owns this established Auckland eatery) to small plates of Neapolitan streetfood - in favour of trusting the chef.
We start with a trio of sfizi, small plates, our only instruction being that they be one of each vegetarian, meat and seafood. A seafood salad is a generous mix of white fish, cuttlefish, prawns, tuatuas and clams bound in a simple olive oil and lemon juice with a scattering of chilli slices to add bite. Then comes a plateful of astonishing colour and flavour; a rainbow of softened peppers and warmed olives, tasty pork and fennel sausages, sauteed fennel bulb and thin tendrils of orange rind. A rich, but modest, portion of eggplant parmigiano is also outstanding, a shower of parmesan and lively basil leaves adding a final moment of freshness in contrast to the layers of long-cooked tomato and eggplant. Exquisite.
Interior of Farina Restaurant. Photo / Dean Purcell.

 

Positioned across from the heart of Farina, the pastificio, has the advantage of being able to trade in on the "me too" factor, choosing dishes that catch your eye as they're being prepared but alas we had to abandon our front row seats after the first round of dishes because as we lifted Maglione's beautifully crafted food down from the counter it was rendered brutally monochromatic by the green strip lighting, steadily eroding our enthusiasm. Clever design is only smart when it functions well.

Re-positioned on the plush red banquette our feasting continued with tortelloni; tender pasta tucked around a smooth duck farce with a preparation of slippery, stocked-up mushrooms spooned lavishly into the bowl and just a hint of truffle oil. The daily ragu, pork and veal, was deeply satisfying with the meat sauce clinging to house-made rigatoni and finding its merry way into each ridge and nook of the pasta. Cold plates let both pasta dishes down slightly, but we licked them clean so you can safely assume they still did the business!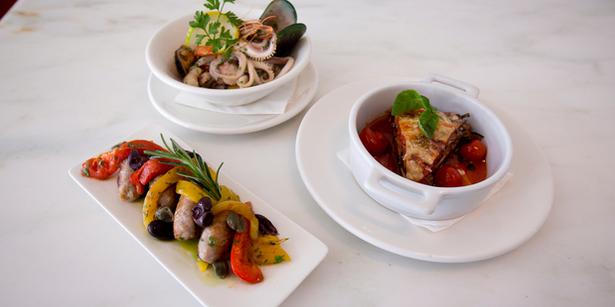 Maglione has a thing for length. He is the man who created the sensational Toto pizza-by-the-metre concept, also offered at Farina as well as half-metre long chargrilled skewers, seafood and meat, and half-metre sandwiches. A few of the sandwiches went out and they looked luscious - slow-cooked porchetta, spicy greens, mustard and sharp cheese - but we opted for a meat skewer which came crammed with chunks of tender, flame-licked lamb, beef and Italian sausage, dabbed with a decent salsa verde and a grilled half lemon.
The highlight from desserts of limoncello custard cake and panna cotta was the poached tamarillo, its tartness mellowed by the gentle cooking process. Divinely autumnal.
We left Farina heaving with locals, who look to be ignoring their own kitchens in favour of this authentic Italian cucina, and the night after I found myself walking back in, then again two days after that. The food is not faultless but it's casual and easy and fun and reminds me of a nation who show their love through food.
Share this:

More Food & Drink / Dining Out