Review: Federal Delicatessen, CBD
Nici Wickes tries Al Brown's new diner-inspired delicatessen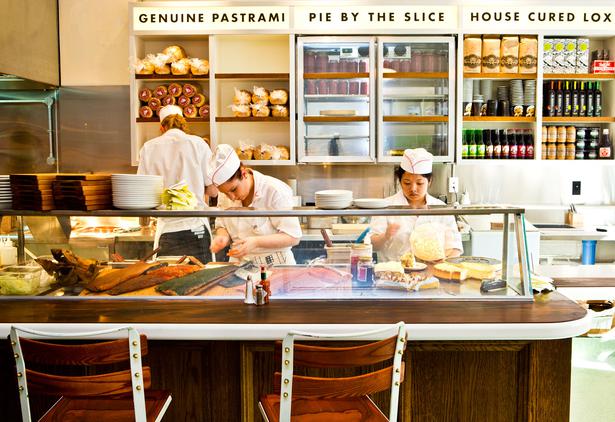 Wednesday Sept. 11, 2013
Address: 84 Federal St, City - www.thefed.co.nz
Phone: (09) 363 7184
Cuisine: New York deli fare
Rating: 9/10
They've nailed the all-important first impression.
Brush through the frosted "IN" door and a different world opens up. You feel as though you've been teleported to another time and place altogether, far from Auckland's Federal St in 2013. Jars of pickles and mustard line the shelves, back-lit signs in bold, black type proclaim Genuine Pastrami, Pie by the Slice and Sour Pickles, waitresses wearing cute matching pastel-shaded uniforms bustle about and the team manning the deli counter are straight-up in their neat white hats. This is Al Brown's newly opened Federal Delicatessen and it's already humming.
As I waited for my dining companions, I sat and watched incredulously as the whole place buzzed around me. Why my surprise? For starters, it has been open not even a week, but already the staff (many of whom you'll recognise from Depot) own the floor like they've been there for decades. And then there's how crowded it is; the booths and counter seats were nigh on full when we called in for dinner, proving that those in the know have already cottoned on to the fact that "The Fed" isn't a delicatessen of the supermarket variety, where you go to buy your cheap shaved ham and pots of watery olives, it's an authentic delicatessen where the menu is available all day, every day, from early until late.
Similar places in NYC have been providing a meeting place, a kitchen and a dining room, for locals to meet up in neighbourhoods across the city for decades, so much so they become institutions. The Fed feels set up to do the same here.
The menu includes sections for breakfast, featuring latkes, bagels (Best Ugly, of course), hashes, mashes and griddle cakes, as well as the bottomless cup of joe (that's filtered coffee, by the way) so typical of American diners and delis; and once noon rolls around the menu opens up to include sandwiches, bagels, kettle soups, meats, rotisserie chicken and more.
We started with some deli favourites, a plate of smoked brisket, pickles and mustard, which was soon demolished despite two of us 'fessing up to a lack of love for corned beef. Wow. The rich, pink meat had the perfect balance of smokiness and salt. I'm told it took more than 12 months of trialling to get this pastrami just right - and it is. A plate of fries came with stock-heavy gravy, which was so bad it was good (think KFC) and cheese curd, a style favoured in Canada, while a generous slab of turkey meatloaf was sweet and peppery and served with a delicate salad of granny smith and young celery heart that brings New Zealand to the table. Lighter dishes, like pickled ox tongue salad and "lots of lox" -cured salmon - were refreshing and the nifty steam kettles pumped out single-serve soups, cooked from scratch in 45 seconds. We took the one crammed with Cloudy Bay tuatua and soft white fish in a pernod and tomato broth, which was simply fabulous. Likewise, a veal schnitzel was outstanding, prepared with sage and lemon, though I have to say both seemed out of step with the rest of the menu price-wise - and I make this observation as someone who rarely complains about price when quality is assured - at $28.
Salads are billed as "deluxe" at The Fed and they certainly are. Each is packed with carefully prepared ingredients that combine to deliver huge flavour; roasted pumpkin is enhanced with a magical orange-infused oil and cashew cream, cauliflower and quinoa are pepped up with fennel, and soft grilled eggplant is pure comfort with skordalia, cumin and couscous.
The menu cheekily suggests you keep your fork because "there's pie" and that was all the encouragement I needed. A first mouthful of New York cheesecake and I put my fork down. I closed my eyes and sighed, savouring the silkiness of the sweet, rich, cream cheese filling. The biscuit base was suitably thin so as not to interrupt the smoothness. Utter bliss.
A generous slice of warm, home-style apple pie was just as sensational, served simply with a cloud of fresh whipped cream, the stewed apples flirting with tartness but eventually erring on the sweet side.
When Al Brown opened Depot I commented in this column how heart-achingly New Zealand it was, like coming home. The Fed is the opposite - the feel is old-school Jewish New York deli in the 1950s - yet it's right where it belongs. Here.

From the menu: Poutine (fries with gravy and curd) $9,
ox tongue $18.50, lots of lox $22, turkey meatloaf $20, clam cioppino $28, pastrami $24, veal schnitzel $28, 3-way salads $29, apple pie $11.50, NY cheesecake $11.50
Drinks: Fully licensed
Share this:
More Food & Drink / Dining Out