Review: Food Truck Garage, CBD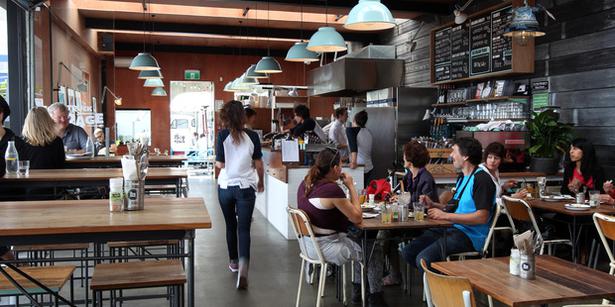 Wednesday Oct. 23, 2013
Address:
 City Works Depot, 90 Wellesley St West, City
Phone:
 (09) 973 2305
Web:
foodtruckgarage.co.nz
Cuisine:
 Dine-in and takeout fast food
Rating:
 8.5/10
Have you seen the way teenagers eat when they're out? Their lack of seriousness is fantastic. With the constant checking of their phones, scant attention is being paid to their surrounds - let alone what's in front of them - you could be forgiven for thinking taking them to a restaurant was a waste of time and money. It's not: you just have to find the right eatery.
My destination was the Food Truck Garage, a bricks and mortar spin-off from TV series The Food Truck. It's a clever collaboration between chef/presenter, Michael Van de Elzen, a seasoned restaurateur, and the production company that created the show. It follows the same philosophy as the series, of turning out fast food that won't send you to a fast grave.
I have friends who, with their two teenage daughters, have recently relocated to New Zealand from LA, and I had it in my mind that if I could fill them with burgers, fries and hot dogs and show them some of our own little tinsel town, it may serve to lessen the feeling of dislocation. It worked a treat.
First, the Food Truck Garage is situated in the lively City Works Depot development, a great precinct showing off Auckland's growing commitment towards creating spaces with the "great-to-hang-out-in" factor and, second, Van de Elzen's concept is brilliantly executed and unmistakably Kiwi. The atmosphere and design is fun, with the original Food Truck parked outside pumping out hot dogs and the open-plan space inside feeling every bit the backyard plywood shed, albeit with a designer spin. Character comes with old metal school chairs, table water served in retro milk bottles and pots overflowing with fresh herbs.
The menu is a riot of suggestions all derived in some way from popular fast food but given Van de Elzen's healthy spin. Prawn tacos and mini meat potato-topped pies got us started. The tacos had plenty of zing and slap from fresh lime and chilli, with smashed avocado and green beans going even further to freshen them up. The mini pies bore no resemblance to those served at badly catered events. This version consists of crisp golden pastry shells with a filling of braised beef and mushrooms in a rich gravy topped with a puff of mashed potato, which is soft and creamy and sharpened with a light layer of melted parmesan. It's all served with a puddle of the most gorgeous house-made tomato sauce. Moreish in the extreme.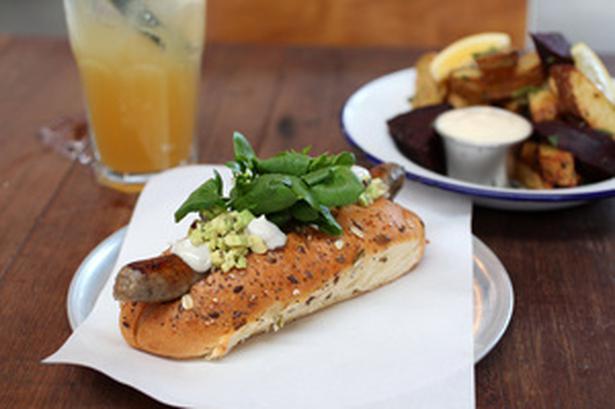 Next to arrive on the cute, beat-up tin plates were our burgers and hot dogs. Van de Elzen made his name on TV by cramming his fast food with vegetables wherever possible and these were a great example of how good it can get.
A vegetarian burger had a pattie of spinach and pumpkin, hence its cheeky name "spinkin burger". There's also beetroot pickle and satay sauce made of almonds, which all added up to a plateful of tasty goodness. Likewise, the chicken burger was kept healthy with courgette bulking out the pattie and cucumber and hummus to keep it moist. The buns are made from wholemeal spelt and are soft and tasty, though they could be smaller to reduce the carb overload. From the hot dogs, the knock-out favourite was the paua dog - a remarkable dark sausage of minced paua and pickled pork, with lashings of horseradish and avocado salsa. The cheek dog is a mix of free-range chicken, leek and spinach with a tomato salsa and brussels slaw.
The Food Truck concept plays heavily on the "healthy" aspect of its fast-food fare and, without a more scientific test, at the end of our meal we all reported feeling fabulous and remorse-free. It helps that there are no desserts on offer and the sweetest items on the menu are the house-made sodas. I happily supped on "promenade", made from organic pomegranate juice, beetroot puree, lemon syrup and fresh mint.
If you feel as though dining out has become a bit serious of late, parking up at the Food Truck Garage is the perfect antidote.

From the menu: Prawn tacos (2) $10, Steak potato pies (2) $8, Baked vege chips $6, Slaw $6, Cheek dog $8, Paua dog $8, Chickette burger $12, Spinkin (vege burger) $12. 
Drinks: Wine, Hallertau beer and house-made sodas.
Share this:
More Food & Drink / Dining Out