Review: Hammerheads, Okahu Bay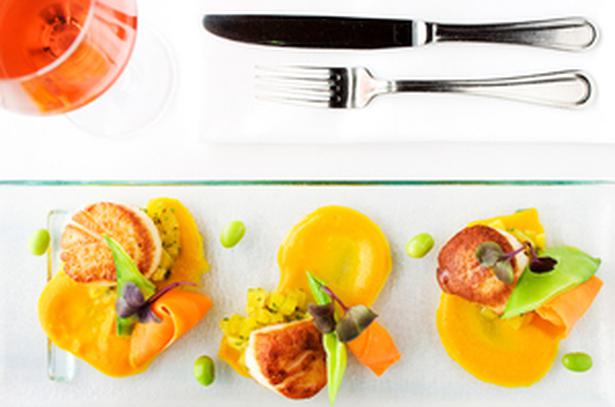 Friday March 16, 2012
Address: 19 Tamaki Drive, Okahu Bay
Phone: (09) 521 4400
Website: hammerheads.co.nz
Cuisine: Modern New Zealand
Rating: 6/10
Not all restaurants are created equal. There are some that lure us in with food that is so exceptional that we may be willing to disregard the surrounds if they are a little shabby while we choose others based on the magnificence of the multimillion-dollar fit-out. Or perhaps it is the head waiter and their sassy team that keep us coming back for more. The mix of all three is key and when I'm reviewing, I'm taking a keen look at all of these areas - service, food and ambience. Rolled into one, "an overall experience" will leave, or not, a lasting impression.
So, when I headed to Hammerheads I was looking forward to the visit, in the first instance, because this is a restaurant which enjoys a splendid location, nestled into pohutukawa trees and overlooking the sparkling waters of Okahu Bay.
My dining companion was a friend visiting from LA, that land where service is everything so I was mindful of how the Hammerheads' front of house team would stack up. From the outset, they were pleasant enough but every one of them appeared to be on their first night, offering a level of service that was uncertain and hesitant.
Management could overcome this by putting more effort into staff training, which I know can seem counter-intuitive if turnover is high. I can already hear the cries of "We train them and then they leave" to which I say, what if you don't train them and they stay? Every successful restaurant in Auckland has one thing in common - the front of house staff are fabulous, offering service that is assured, upbeat and engaging. It's here that a lasting impression is first created.
To the food. The menu is skewed towards seafood and that was another reason I'd decided on meeting my international friend there - the quality of our seafood makes me proud. He ordered lamb. Oh well, we're pretty good at that too.
To tide us over until our entrees arrived, we ordered chorizo and manchego croquettes. They arrived promptly but were underwhelming. I wanted creamy bechamel and oozing manchego. Instead we got potato and hard pieces of non-descript sausage in a form that resembled Tatties, those naughty frozen-then-fried treats, as opposed to their wonderful Spanish namesake.
Entrees arrived looking colourful, fresh and pretty as a picture and my heart leapt with hope, but after a few mouthfuls of my lime-cured Akaroa salmon, my optimism drifted. The dish contained plenty of ingredients that I adore - sweet shallot, fig, green olive, walnut, verjus - but none of them supported each other terribly well and the verjus that could have formed a bridge between them, was barely evident. Mr LA fared slightly better with his scallops. They were the large Atlantic variety, served sans roe, and they were perfectly cooked - caramelised on the outside, almost raw in the centre - and adorned with complementary flavours of macadamia, yellow beetroot and carrot.
For our mains we'd selected the market fish, kingfish, and lamb rump. Two rather thin steaks of kingfish were prepared with coconut cream, Vietnamese mint, coriander and a seafood medley of poached mussels, prawns and calamari. While not blow-your-mind fantastic, it was good enough. The lamb rump came sliced, perfectly pink and there was plenty of it. It was tasty but slightly chewy. The best part of the dish was the salad of ribboned zucchini, crumbled feta and hazelnuts, which was fresh, seasonal and alive with flavour.
While we ate, we took in the view, with the sun blasting through our port-hole window, until it slowly sank into the horizon, giving way to the glittering city lights of Auckland's skyline. Various staff came and went but none made a huge impression on us, except for the guy who insisted on closing up the windows around us as part of his "end of night routine". Sure, we were the last to linger in the dining room but c'mon, it was only 9.15pm and we were still enjoying our desserts.
The zabaglione and pistachio parfait was a highlight. This frozen creation was true to its name and was perfect - light, airy, creamy and deliciously studded with bright green pistachios. With a huge dollop of white chocolate ganache, fresh strawberries and a yoghurt gel it was a strong finish.
Hammerheads is a mixed bag and it doesn't need to be. It boasts a great location and landmark building and it should be a roaring success.
I'd start by investing in the wait staff and insisting on food that is less clever and more flavourful. The gorgeous waterfront views will take care of the rest.
From the menu: Croquettes $10, cured salmon $19, scallops $21, market fish (kingfish) $37, lamb rump $38, sides of new potatoes and mesclun salad $9 each, zabaglione parfait $15, Valrhona manjari ganache $15
Drinks: Fully licensed
Share this:
More Food & Drink / Dining Out