Review: Harbourside Ocean Bar Grill, CBD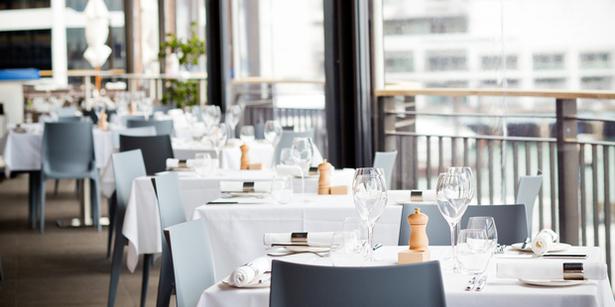 Wednesday Dec. 4, 2013
Address:
 Level 1, Ferry Building, 99 Quay St, City
Phone:
 (09) 307 0556
harbourside.co
Cuisine:
 Modern NZ — seafood
From the menu:
 Saffron seafood chowder $20.95, Harbourside seafood cocktail $21.95, Flounder $29.95, Hapuka $29.95, Sides — coleslaw $8.95, seasonal greens $8.95, Pavlova $16, Raspberry & hazelnut fondant $16
Drinks:
 Fully licensed
Rating:
 6.5/10
They take bookings. It's a hipster-free zone. The view is one of the best in Auckland. The service is polished. You won't have to ask for the music to be turned down.
If you like the sound of all that, you'll probably like the newly refurbished Harbourside Ocean Bar Grill in the historic Ferry Building.
I'd been eagerly waiting for the doors to open after what seemed like the longest "closed for refurbishment" period ever and, when they did finally re-open, I was overseas so missed the moment anyway! On my return this iconic restaurants was one of my first stops.
I'd heard all the hoopla about the engineering feat required to install the retractable roofing on the terrace so that dining in all weather would be possible. The evening we turned up was so still and pleasantly warm that our outdoor table needed little by way of shelter, but I could see the effort that had gone into the design.
Working with an historic building is restrictive to say the least and perhaps this is the reason why the "major redesign" of the bar and dining rooms didn't have the impact I was expecting.
Sure it feels fresher, but aside from that, slightly underwhelming.
Likewise the menu. At first glance it didn't appear to be trying to break new ground but my attitude was, it doesn't need to, as long as the seafood is outstanding.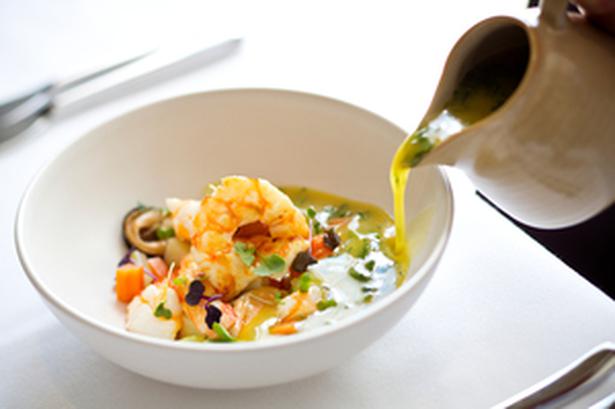 Chowder's a good test, so is a seafood cocktail, so we ordered both. The seafood chowder is fantastic.
A small bowl of beautifully buttery seared salmon and gurnard pieces, mussels and a prawn arrives on its own and then a small pottery jug of saffron infused liquor is poured over the seafood, and that's quite lovely.
It was tableside drama that avoided being ostentatious. The flavour was balanced and comforting, the perfect cubes of potato adding texture to the not-too-thick soup.
Harbourside's modernised seafood cocktail is also impressive enough, with a plump caramelised scallop, smooth avocado puree, a decent creamy and tangy seafood sauce and poached, chilled cherry tomatoes that were the very essence of this summer fruit.
Sadly, the crowning glory, the prawn, was dry.
For mains, there's a decent list of seafood, on the bone and off the bone, to choose from and me, being the sort of person who doesn't mind picking my way through bones, opted for the flounder.
This gunmetal-grey flat fish arrived simply presented, with a cheek of lemon and a clump of pickled cabbage. The skin was crispy and sticky, well-salted and buttery.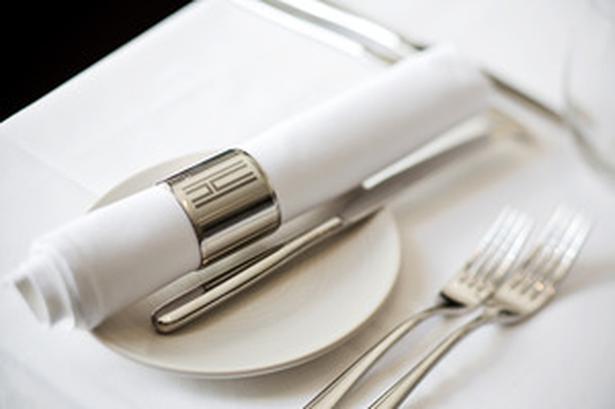 The flesh was soft and cooked to perfection and it all made sense, except that I have no idea why the kitchen chooses to serve all of their on-the-bone fish with three little side dishes of salsa verde, chopped fresh chillies (complete with seeds) and a very standard tartar sauce.
I could only think it is an attempt at a catch-all for the different palates that must dine here but it's not well thought out and a lost opportunity.
Our other main dish was the fish of the day - hapuka. At the best of times this fish has a very steak-like texture, but the one we were served was overcooked and dry in the extreme. A quiet word with the waitstaff, however, was managed extremely well and it was replaced with a vastly improved version and not charged for. Polite and professional sums up the approach taken. Thankfully.
Kitchens should be aiming for the "swoon factor" with all dishes, but especially with desserts where it's easy to impress and generally the impression you leave with. The warm hazelnut and raspberry fondant left me cold.
Undercooked, bland, neither rich nor refreshing. And the other, the "pavlova", was too much of a stretch even for me; shards of meringue are scattered over chopped fruit, topped with a quenelle of passionfruit sorbet. Had it been called "summer" I might have been a believer. Pavlova it was not.
Between courses we'd been able to breathe in the beautiful views across the water, watch the ferries and their commuters bustle back and forth and watch as the light faded and the city lights sprang up. We also got to talking about how Auckland still needs a knockout seafood eatery.
Harbourside, with its location and pedigree could be just that, but with our dining scene so sharp these days, you've got to be doing everything right and it still has a way to go yet.
Share this:
More Food & Drink / Dining Out